The gamification of education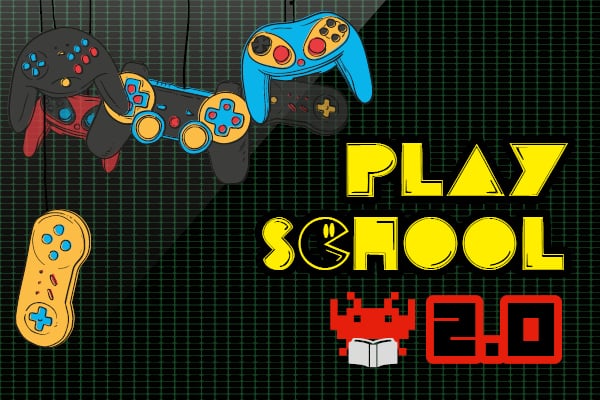 Playing has long been recognised as being a vital element in a child's cognitive development – but now, Ian McMurray finds that technology is taking that to a whole new level.
I was talking to someone the other day who said: "Ian, I really enjoy your articles – but don't you think you tend to overdo the 'I'm a bit on the old side' thing?" I knew in my heart of hearts he was probably right, and started to justify it with the notion that I bring perspective – not to mention a healthy dose of cynicism.
And then I thought about it some more, and realised that not only was he probably right – but also that I really didn't care (which is one of the real benefits and pleasures of getting older…)
Take education, for example. I've written in this magazine before about how the apogee of school technology when I started secondary school at 11 was the epidiascope, and how the advent of the overhead projector was transformative (but not necessarily in a positive way). Those were the good old days when the principle techniques for encouraging children to learn were detention and the cane.
The desire to encourage children to learn hasn't gone away, of course – but we now live in what are widely considered to be more enlightened times. Now, all the talk in education circles is about student engagement: how do you get them to want to learn?
Playing games
Currently, the answer to that question seems to be 'gamification'. First, it should be said that gamification is far from a purely educational phenomenon: it's widely employed in business too. As its name suggests: it's defined as the application of the principles of playing games – such as rules, scoring, competition, role playing, completing missions and so on – in a non-gaming context.
The thinking behind gamification can perhaps best be defined by a reference to sport. If you're anything like I am (or used to be, anyway) you couldn't contemplate running around the streets for an hour and a half just for the sake of it – but if you'd have asked me to run around a football pitch for an hour and a half, you'd have my attention. The outcome, in exercise terms, is probably about the same – but it's just more motivating to get your exercise via a game, so you're more likely to do it.
Back in my day, the closest we got to gamification was that the whole school was split into four teams, and good academic work or prowess in sport resulted in points for your team – but poor behaviour would receive so-called 'demerit marks'. If the concept had been implemented in more depth, we'd have probably been playing Snakes and Ladders in the classroom (which, if nothing else, is a great lesson about the randomness of life itself…). Today, inevitably, it's primarily about video gaming.
Billions
I was staggered to find, while researching this article, that the global video gaming industry is worth well over $US100 billion (more, apparently, than the movie industry) and that there are more than two billion gamers around the world. On the basis that there can't possibly be that many geeky nerd teenagers holed up in their bedrooms, you have to believe that gaming is pretty mainstream.
Gamification today is pretty much synonymous with tablets and phones – the whole BYOD phenomenon. It can also be applied to almost any discipline, with games available for learning languages, mathematics, spelling, history, geography, science – all recognising the value of play in learning. They are even available for managing classroom behaviour.
So: how does gamification play out in the classroom – and what's in it for integrators? In the classroom, experts are unsurprisingly vehement about four things. The first is that gamification is complementary to, rather than a replacement for, more formal teaching approaches. Secondly: before introducing pupils to any game, it's vital to be clear about what the desired learning outcomes are. The game is not an end in itself. Related to that is the need for the educational value offered by a game to be clearly identified.
Tech-savvy pupils
The fourth is that, in a gaming world in which photo-realism is ubiquitous, and in which tech-savvy pupils may have been regularly exposed to the visual delights of games like Call of Duty or Grand Theft Auto, game quality – both in terms of the structure of the game itself as well as the sophistication of its graphics – is key. A boring or poorly structured game and/or unappealing graphic treatments will not engage students in the intended manner.
Does gamification work? Apparently, it does. There have been numerous studies to assess its effectiveness, with a notable one undertaken by Oxford University of 13,000 schools which concluded that pupils' achievements in maths were substantially superior when teaching was supported by game play. Other studies were similarly positive.
So: what's in it for integrators?
First and foremost: awareness is key. If you're regularly calling on schools, colleges and universities, understanding what's going on in the world of education is key. You'll probably already be familiar with interactive white boards, and what they're designed to achieve in educational terms. The chances are, you're familiar with the whole BYOD phenomenon, and how that's transforming the classroom. We're talking about the context into which you're looking to provide a solution. At its most simple level, it's all about speaking the customer's language.
Rapid market growth
And then, there's the size and growth of the gamification market. Markets And Markets has the value of the education gamification market at over $US11 billion by 2020. P&S Market Research says it was worth $US960 million in 2014 and will see a CAGR of 41% to $US22 billion by 2022. That has to be attractive by anyone's standards.
Beyond that, there are plenty of established companies in the education gamification market – and plenty of new entrants too. What all of them share is a need for a channel to market. Any integrator who is regularly calling on educational establishments has to be an attractive proposition for them. As well as being someone who is perceived to understand what's going on in the education business, that can give rise to the opportunity to add value and to differentiate – something that's close to most integrators' hearts. It's got to be worth thinking about.
You know, what's perhaps most remarkable about computer-based gamification in education? It's nothing new. The first ever instance was, it seems, Oregon Trail, developed by two American history teachers in – wait for it – 1971. That's the year I left school for university. Suddenly, I don't feel so old anymore.