The clash of art and science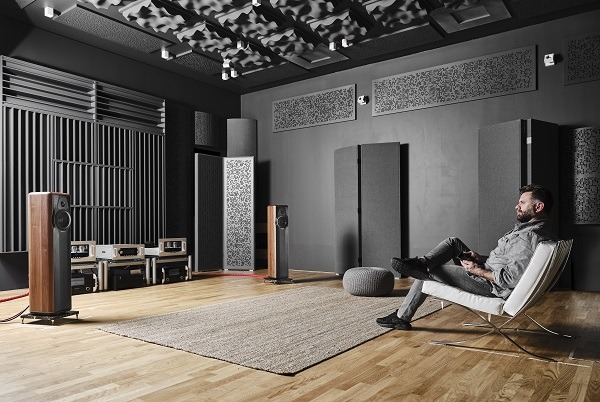 Audio technology has grown immensely in the past few decades and the custom install channel is doing some great work on this side of the industry. Sean Carroll writes about what goes into great loudspeaker design.
I'll let you in on a little secret. When I'm writing long-form articles, especially for Connected, one of the best ways to start an article is to talk use a pop culture reference in the intro. Try and describe a scene from a movie, mention the beautiful base lines of a song or even grab an excerpt from a book.
I once started writing an article for our sister publication, Electrical Connection, by describing John McClane's unfortunate situation atop Nakatomi Tower in Die Hard. It was an article on the latest wiring rules and how they apply to lifts and elevators.
To kick off this piece, writing about the latest and greatest in loudspeaker design, I couldn't think of anything relating to loudspeakers. In my time of need, I turned to my reliable ol' pal Google, but even it came up short, only pointing me in the direction of 2009 Malayalam film Loudspeaker.
But that's exactly it, isn't it?
We take audio for granted. For as long as we've known, people have been working in the audio space and it has always been heads and shoulders above other technologies. Nobody is making films about incredible loudspeakers, they're making movies about AI, smart home technology and state-of-the-art video.
Video has progressed to 4K and above, home automation is bringing us closer to our sci-fi dreams and the world is benefitting practically from automation. Regardless, audio is the most lifelike technology and loudspeaker systems can be made to sound impeccable.
Even in the days of humongous ugly TV screens, the sound quality was still streets ahead compared to its video counterparts.
Today, we're seeing much of the same. While other technologies grow, integrators have access to outstanding audio technology that is still well ahead of the other tech out there.
"It's a wonderful example of electro-acoustic design because it's not just about the electrical properties, it's about the acoustic and physical properties of the speaker," Synergy Audio Visual managing director Phil Sawyer says.
He adds that loudspeaker design is a blend between science and art, there's obviously the specific way to create and amplify sound, but there are a thousand different ways to produce a certain sound and each final product can be, quote, "subjective to the end listener".
"You could spend an entire series of magazines exploring different components of loudspeaker design, and I think, a dedication to core engineering and research and development, and attention to detail is absolutely critical. Every part of the speaker plays a role in how to perform, the cabinet plays a role, the driver plays a role, the materials play a role and much more, so everything has an impact," Phil says.
But let's assume we only have an article to get into it, what makes for successful loudspeaker design, both from a manufacturing and installation point of view?
"The first thing to do is to understand the customer's need or the people asking questions' need and his or her own particular situation, from the environment standpoint, which translates into the acoustic standpoint," Sonus faber brand ambassador Paolo Tezzon says.
Sonus faber, part of the McIntosh Group, is an Italian loudspeaker manufacturer and designer that creates spectacular custom installation audio solutions. It's also heavily involved in the integrator market and helps deliver personalised, exceptional audio solutions in a bevy of settings.
"Basically, there are, of course, things that good speakers always do in any given situation, but then there are the specific situation requirements, which allow us to understand which among our portfolio offers the best solution for that specific person," Paolo adds.
"What we understand is this, they mention the kind of furniture they have in the room, the number of carpets, the number of curtains, the speaker position, what are the speakers meant to do? Do they want a two-channel system? Do they want a multi-channel system, the seating position as well, we try to get as much information in order to suggest to the customer the right solution for that specific need."
After learning what the end user's setting looks like, loudspeaker companies compete on the individual components of the systems. What kinds of materials are being used, what shape are the components and so on.
Amber Technology brand manager Stephen Small says there have been plenty of advances in materials in the past couple of years, especially when it comes to driver technology: "When you put an input into that loudspeaker, you want it to be able to react quickly so that it sounds natural. But you also need that material to be quite stiff, so that you don't end up with colourations being added, taking away from the natural sound.
"When you're pumping out at say, 50Hz or 100Hz, the elements inside the speaker are being accelerated out and stopped say 50 or 100 times a second."
He says that with the right design and components inside the speaker driver, it's able to accelerate and decelerate more accurately, reducing the amount of unwanted noise or distortion.
"To create the best products, you need more than just the latest technology and engineering.  Great designers have solid engineering knowledge. But there is also an art, where the designer must rely on their own intuition, creativity, and imagination to solve problems. Skill and passion are an important combination."
Stephen says that the end goal is to engineer a sound that is as natural as possible, limiting the colourations being put into the sound by the cone flexing. To do this, manufacturers are always trying out different materials, sizes, shapes and so on.
Paolo says that Sonus faber was extremely coherent with its audio offerings in the traditional home loudspeaker area: "We're sharing the same technical elements, particularly the drivers so we can create the most natural sound that we want wherever our speakers are installed.
"Our approach to sound reproduction is to have it sound as natural as possible, whether it be music or for home cinemas. Nothing has to sound artificial, and we do take the greatest consideration into the way our listening apparatus as human beings works.
"One of the main cultural elements of Sonos faber and the way we voice our speakers since our earliest days, is how we achieve our specific tonal balance. We have the ability to offer this which is about a certain tonal balance, it is about setting up the crossover in a certain way, it's about using certain materials."
Different manufacturers have their own secret herbs and spices that make their sound more unique. The Sonus faber team uses carefully chosen materials in each of its loudspeaker systems, resulting in different sounds and different counters to environmental factors.
"We have, for the high frequencies, hand-coated silk diaphragms for the tweeters, and the combination with knowing how human hearing works helps us create the most lifelike sound," Paolo explains.
"The combination of these materials and the tonal balance we are able to achieve with our design creates a unique sound, which differentiates us from quite anybody else."
Stephen says entering the world of materials is huge, there are so many tiny variations manufacturers can make and they all make slight changes that could make the final sound output different: "You can't really say that there's a right or wrong material here. The application also dictates a lot of the materials, same with the desired performance, power handling price and so on.
"Something that's being used at the moment is textured polypropylene which will have some dimpling when it was injection moulded or manufactured. The different types of textures are designed to get extra stiffness, it does add a little bit to the price because there is quite a bit of research and development that goes into different designs.
"Then you get into materials like Kevlar and Nomex carbon fibres. That's the type of materials that are being used in bass drivers by manufacturers like Sonance. This is an alternative to paper, which is still being used by some manufacturers. There are so many options."
It's incredibly complex because while some manufacturers might use different materials or techniques, once at a high enough level and the audio offerings are at the same level of prestige, it becomes as much about personal preference – who likes what sound more.
As Phil explains, some of the writing on this topic can get rather controversial since there's no settled best practice and plenty of players in the field.
And that's the intersection of art and science that is loudspeaker design.