Techstyle NZ takes to the streets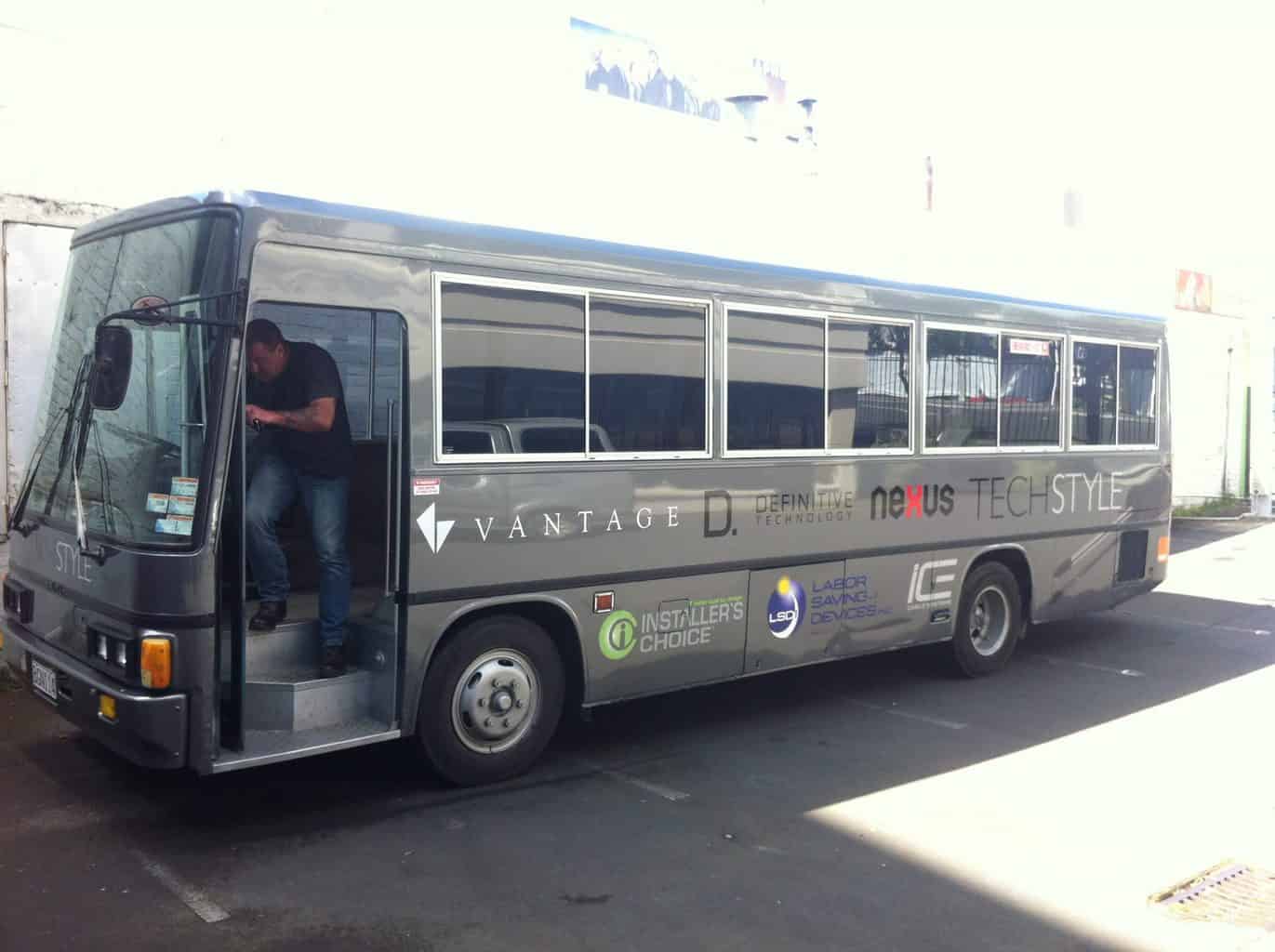 The team from Techstyle has hit the road, taking its showroom to its dealers, writes director Brendon Reid.
It was peculiar afternoon in July 2013: CEDIA had canned its NZ expo and our annual opportunity to catch up with new and existing dealers from all over NZ had evaporated.
After thinking long and hard (for about five minutes), I realised that the cancellation of the show actually provided the perfect excuse to realise a long-held dream of mine: a mobile showroom – a sales platform to take around the country and show off all of the latest tech that the Techstyle team was bringing in to the market.
I checked out Trademe (aka 'the Kiwi eBay') for a second-hand bus and whittled the options down to five. At that point, Techstyle manager – and my wife – Alex Pardington got involved and vetoed anything that didn't have opening windows, which left me with a choice of one.
I then spent an afternoon sketching a layout for the mobile showroom, cramming in as much cool stuff as possible.
I flew to Napier the next day to check out what would become 'Techstyle on wheels', or as I preferred to call it: "The Battle Bus". The trip turned out to be a total waste of time. My life has been spent in the service of moving electrons around; I had no idea what the undercarriage of a bus should look like.
To be honest, it looked like an old school bus to me – blue and white on the outside and an interior chic décor straight out of the '70s (two tone brown, complete with requisite lolly wrappers and chewing gum).
Sounding more confident than I felt, I declared it perfect for our purposes and while the ink was drying on the pink slip the vendor's mechanics took to it with grinders and ripped out the vinyl bench seats.
The next day, a mate with an HT license was in the driver's seat and we were rattling our way up to Auckland to pick a coachbuilder. The timeframe was a bit tight, so I decided on wrapping over paint and signed off on graphics proofs while bouncing over the Kaimanawa ranges. For future reference, this is not recommended.
After a couple of hours looking at colour samples, ceiling materials and balsa laminates, I contracted Mike from Frontier Motorhomes to fit out the rig, because he seemed like a good dude, handed him the plans, wished him well and got on a plane to go to the US CEDIA Expo with Alex.
Two weeks later, and with two weeks to go until our roadshow commencement date, we arrived back in NZ to a completed showroom. Mike had done a great job and all that remained now was to fit-off the kilometre of cabling and $250,000 worth of AV technology.
In the midst of this we sat our HT licenses – a three-day crash course culminating in a 'once-around-the-block' in the instructor's 3T truck, which had a water tank strapped onto the flatdeck and very grabby brakes. It was a sloshy ride, but the inspector seemed happy so we were good to go.
The kit consisted of Nexus and Autonomic Controls multi-room audio systems, Mozaex and Apple TV media streamers, a 40" LG TV on an Ultralift lifter with Definitive Technologies speakers throughout and underneath the bus.
Axis IP cameras and loads of RGB LED strip controlled by Ikon AVS LED dimmers were included, as was a Vantage Equinox control system with keypads, touch screens and app to control of the whole system. There was even a 6" colour touch screen mounted in the dash for the driver to crank up the stereo and skip all the anthems that the girls had loaded on the media servers.
After a couple of 100-hour-weeks, and a lot of help from staff and friends, we got it all installed, tested and running and at 6am one Monday morning, grinding the gears we set out from the carpark towards our very first roadshow at Tauranga Ideal Electrical.
The trip was a great success and the rest is history, with the bus making three circuits of NZ every year, from Auckland to Bluff and back. We stop in big towns, little towns and everywhere in between bringing the latest cool stuff to custom installers up and down the length of the country.
Its great to get out of the office and meet our customers in their own markets, and we have had a ton of fun and made a lot of friends along the way.