Teamwork makes the dream work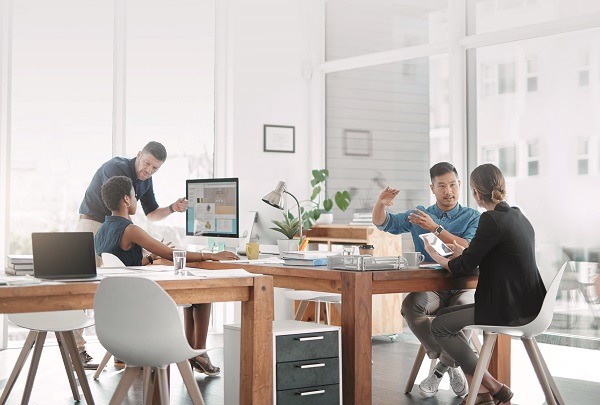 With the proliferation of technology and devices available, it is inevitable that, at some point, AV managers will have to marry some different tech together. Sony, in its new Collaborative Alliances program, has made that a breeze.
Over the course of the past two years, we've seen a lot of partnerships between software and hardware, mainly in the area of video conferencing and collaboration.
We've had microphones and video bars and numerous other devices certified for Zoom, Teams, Cisco and a whole host of other platforms that aim to offer the best possible experience for the respective user.
It makes sense that hardware and software need to talk to each other and, preferably, in the same language.
The same can be said for hardware pairings and, with so many different providers and so many diverse requirements by clients nowadays, it makes sense that some kind of system whereby hardware can be linked up with the best possible partner is being developed.
The company behind that development is Sony, which recently announced its new Collaborative Alliances Program, an initiative which will allow the company to offer even more capabilities by providing integrated solutions through alignment with industry leaders among a variety of categories and applications.
A wide-ranging ecosystem
Sony's professional range of AV solutions and products is vast, including 4K HDR displays, 3LCD projectors, immersive direct view LED displays, flexible remote cameras, and AI-based audio tools, to name just a few.
In order to better serve that wide-ranging partner ecosystem, the Collaborative Alliance will prioritise integrating and optimising hardware and software solutions that meet the needs of channel partners, resellers, integrators and consultants working in corporate, education, government, healthcare, faith, retail, entertainment and transportation verticals and their end users.
Mike Bromley, business development manager for Sony Australia, explains that the alliance is currently a US partner portal, but it speaks to cooperation between varying brands.
"It's designed to give us an idea of the key partners that we have done quality testing with. 'Who are the products that we play well?' with is probably the best term to use," he remarks.
"For example, if you plug an Extron product into a Sony system, how does it behave? Are there APIs available? Have both companies carried out quality testing or is the product more-or-less plug-and-play? Are there predefined settings and preferences, etc?"
In essence, it's that question of whether the devices talk nicely to each other – a bit like introducing your dogs at the park…
Mike adds: "It's about making sure that our third party relationships have merit, and it's not just a name on a piece of paper. It's showing that we have done the testing and have worked jointly on projects to make sure that customers get that out-of-the-box experience and know that these products will work together."
Testing 1, 2, 3
While some products are more straightforward to integrate with than others, testing is the key factor in this operation.
While control brands, generally speaking, play well with TV brands, Mike says that there are other verticals where the path to a partnership is not always so devoid of obstacles.
"When it comes to cameras, digital signage or IPTV, there's a lot of quality testing that has to go into these areas to make sure that products work well together."
For example, he points out, different versions of Android behave differently.
"We're an Android 10 brand, some other brands only support an earlier version of Android. So, you could take your Android TV out of the box, get the Google Play Store and download a whole bunch of different IPTV or digital signage applications. They won't all be written for Android 10, some might be for Android 5 and if we try to use those, they won't work very well."
He says that, ultimately, it is about providing peace of mind to partners, integrators and consultants that if they recommend a product to work in tandem with what they've got that they can be confident that it has been tested by Sony and it works as it should.
There is a small element of being 'all things to all people' says Mike, who acknowledges that personal preference often comes into these decisions and that, to that end, Sony tries to be agnostic in terms of offering support for as many brands as possible.
"There's room for us to be very Sony centred but also to be agnostic as well. We know our place and we're not going to dictate to customers which control brand, or IPTV brand, or CMS that they use. It would be pointless for us to only support one brand for any of those categories."
ADVERTISEMENT

ADVERTISEMENT
ADVERTISEMENT

ADVERTISEMENT