Surrounded by sound: Object-based audio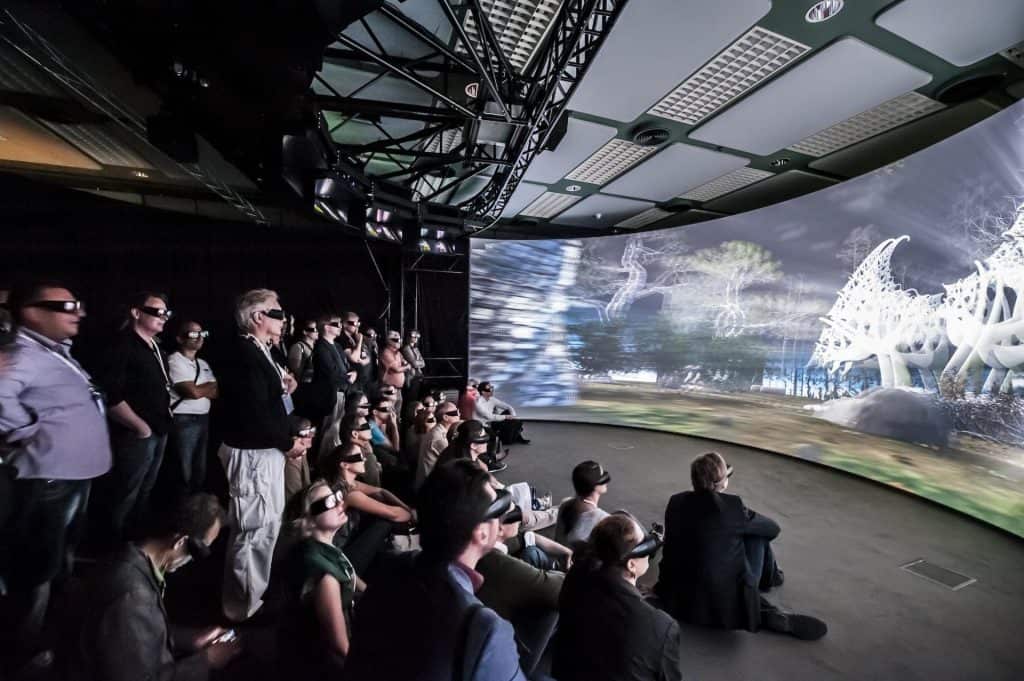 3D spatial audio is making waves for the immersive experience it delivers to audiences. Simeon Barut explores its development and future in the entertainment space.
We hear sounds from all directions at the same time – front, back, up and down. The ability to identify sounds and their locations allows us to navigate through our environment with relative ease.
However, until recently this natural listening experience could not be replicated by audio processors.
With this in mind, 3D sound processors have been developed to deliver an immersive listening experience similar to how a person would experience sound which is naturally three-dimensional. These techniques were largely deployed in the early stages for live environments but in the last few years have been adopted by engineers into installations and buildings to electronically enhance the acoustics.
When creating 3D audio content, according to Sounds and Motion director Des O'Neill, reproducing sounds that come from all directions simultaneously is the ultimate goal to give the listener an experience similar to being in a realistic virtual location.
While high quality entertainment is what the user wants, Des says there are a lot of different techniques – that can either be combined or used separately – to record sound for 3D delivery.
"There are a number of ways to record sound to give it that 3D effect. The particular technique or combination of techniques used really depends on what the final delivery medium for the soundscape will be," says Des.
"Traditional recording techniques such as using microphones to capture mono sources, as well as housing higher order ambisonics and binaural recording techniques are very common to create a 3D sound environment. For example, ambisonic recordings work very well for 360o video applications and some VR applications as it can be easily rendered to a binaural format, which is ideal for 3D sound through headphones.
"However, for 3D sound delivered through speakers, we tend to record isolated mono sources – otherwise known as sound objects – that can be placed anywhere in the scene. These sound objects then become part of the scene once reverberation and reflections are added. The reverberation of the space combined with tonal equalisation and the physical movement of that sound object is what allows the listener to gauge where the sound is coming from"
The engine room behind the creation of this 3D sound is the IOSONO CORE mixing system by Barco, which uses the principles of Wave Field Synthesis (WFS). WFS is a technique that generates acoustical sound fields matching the sound transmission of real sound sources. It allows for the reproduction of complete sound fields with the help of speakers placed all around the designated listening area.
"Using this technique, special spatial sound effects that normally can't be reproduced using typical surround systems can then be realised," says Des.
"Additionally, the sweet spot can be enlarged considerably, creating a natural listening experience across the entire listening area, freeing the listener of speaker placement constraints and creating a new level of immersion.
"The combination of WFS technology and object-based 3D audio optimised by IOSONO means that it's possible to remove the speaker placement and listening sweet spot constraints from the equation. We can then produce sounds not just around the listener, but inside and outside the room and overhead in any direction."
In order for it to be played back, the 3D soundscapes require a real-time spatial rendering of the sound objects in play. The IOSONO CORE knows the position of all the attached loudspeakers and renders the object based mix to that specific loud speaker system. This functionality allows 3D sound creators to create and mix the soundscape once and have the spatial characteristics translate to any loudspeaker system in any venue or application.
As a result, every listener is able to enjoy their own sonic sphere where they can perceive dialogue and effects from the right acoustic perspective. IOSONO is also incredibly versatile with its connection possibilities which make it incredibly easy to install and maintain like any other traditional sound system.
Technology like this has heavily aided the development of 3D sound, and audio reproduction systems have progressively evolved as a whole. Initially, these systems started off as mono before transitioning to stereo and then surround, which allows sound to be rendered as realistically and as immersive as possible.
Despite the evolution of audio solutions and the development of multi-channel audio formats and systems with different speaker layouts like 5.1, 7.1, 9.1 or 22.2, the limitations of multi-channel solutions have remained unchanged. Placement sensitivity and the ability for systems to adapt stand out to Des as the biggest hurdles for the industry to overcome.
"Surround reproduction relies on the listener to be evenly spaced between the speakers for the full effect to be heard. But moving outside this small area, the so called 'sweet spot', causes the illusion to collapse," Des explains.
"On the production side, content is produced for specific formats by assuming the matching correct multi-channel speaker setup will be available at the reproduction side. It is not possible to adapt on-the-fly the reproduction rendering to the actual loudspeaker system configuration.
"To overcome these hurdles, 3D systems don't rely on predefined speaker positions to create the desired sound. Instead, the 3D processor knows the physical location of the loudspeakers and renders the object based sound mix to those loudspeakers on playback."
Due to the development of 3D sound, its applications are expanding. The typical applications such as museum exhibitions, visitor attractions and art installations are no longer the norm, with office areas, foyers and any space that lacks atmosphere starting to headline project lists.
Sound and Motion has been a main contributor to the development of 3D sound and its applications as it found traditional methods like stereo and surround just didn't work the way it wanted it to in large areas.
"The sound image couldn't be maintained in larger areas or anything outside of a cinema or venue as the large space and distance between the speakers 'destroyed' it so we came across 3D sound as a way of achieving this," says Des.
"Since then, we've changed our focus from film, TV and large concert productions to exclusively 3D sound creation and delivery. We believe that's the future of entertainment and will be an emerging trend for activations in public spaces."