Sound and Vision: Upgrade for success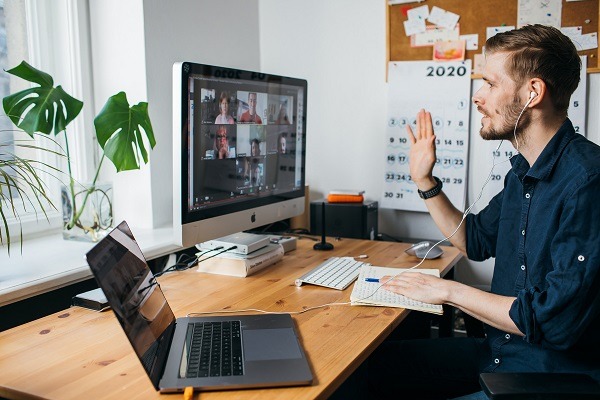 With hybrid working here to stay, David Meyer explores how to create the performance home office – a space designed for longevity rather than the short term.
In the March issue of Connected, Anna Hayes explored the trend towards a distributed work force and the work-from-home (WFH) movement. I've been working predominantly from home for the last five years, so I totally get it. It's just a pity it took a pandemic as the catalyst for wider adoption— at least for a hybrid model longer term— but perhaps that's a silver lining?
Whatever the case, the forced pivot saw people scramble to throw together a workspace at home, attach a webcam to their computer (if they didn't already have one), and get on with it. It was totally reactionary. But for those now making some permanent change, they may realise that to be more effective and professional they need a better space, a more stable, secure network, and better audio and video. They need a performance home office, and they need help doing it. And therein lies opportunity for integrators.
There's actually quite a lot to creating a performance home office, but I've whittled it down to three broad categories — network, audio, and video. The latter two also encapsulate the workspace itself, and how to make it look and feel better.
The Network
We already know that the network is absolutely essential for connectivity, but home office demands take it to a new level. For example, I was listening to talkback radio a few months ago and heard a story about a Victorian Supreme Court judge that needed to preside over a virtual hearing early in the pandemic-induced lockdown. But their home Wi-Fi proved insufficient, and the video connection to the virtual courtroom could not be reliably sustained. I'm thinking that was probably just their "normal" home Wi-Fi, and security didn't even get a mention! Long story short, an integrator was called in to upgrade the judge's home network to enterprise grade. Several thousand dollars later the connection was robust, and many referrals followed.
For years CEDIA has been talking about "enterprise grade networks" in the home. That's always been about stability and security. Still is. It's also the beating heart of a performance home office. Some tips to setting up a reliable, secure network include:
Specifying and using a high-quality router. Most ISP-provided or consumer retail routers are budget rather than performance and security focused.
Gigabit speed is fine for home office applications, but make the switch a good, non-blocking one!
Always change the username and password in the router and other network devices, and also change the wireless SSID to something generic to mask its location/owner. Complex passwords are best.
Use wired connections to the computer for video calls (Zoom, etc.), as the connection is typically more consistent, not to mention full-duplex.
Consider setting up a subnet for the home office, to keep it segregated from the family's networking needs.
Establish VPNs for connection to remote locations, such as the commercial office. Avoid using port address translation (PAT), commonly known as port forwarding. If PAT is necessary, change to non-standard ports to hard it as hard as possible for hackers.
Home Office Audio
We all know the social etiquette about talking on the phone while in the bathroom — you don't do it! The reverb is horrible, making it harder to understand what's being said, and let's not even talk about overhearing something you'd rather not! I can't understate the importance of good audio. The more natural and focused the sound, the more comfortable the listener experience, and that promotes better understanding and amongst listeners.
Having a home office space with lots of hard surfaces causes reverberations, albeit not as bad as a bathroom. I don't know about you, but I find myself talking a bit quieter when in a reverberant space, because my own voice bouncing back at me is uncomfortable. It also makes voice intelligibility harder for others when on a call. The key is to control reverb, at the very least by including some soft furnishings (rugs, wall hangings, etc.), and preferably with some carefully considered and well-placed acoustic panels to get the balance just right. This used to be the realm of dedicated home cinema rooms, but its use in other spaces is growing, including in the performance home office. To that end, if you're not already working with acoustic management principles and products, I highly recommend you look into it, and get yourself educated.
Once the space is acoustically comfortable, the next consideration is the microphone. Online meeting platforms like Zoom usually place everyone in a thumbnail on the screen, with whoever is speaking in the main pane. A simple dog bark in the background of someone's home can be distracting in itself, but the offending household may also be revealed with the participant suddenly finding themselves conspicuously enlarged even if they're not talking! Sure, participants can and often do simply mute their mic accordingly, but that takes extra attention. Optimising the mic can make the person speaking sound more natural while also mitigating any background noise. That means using the right microphone.
There are many types and quality levels of mics, but for home office use it typically comes down to a choice between condenser or dynamic mic, with omnidirectional or cardioid polar pattern.
Condenser microphones have a thin-film diaphragm and back plate that can be made quite thin. They're generally able to produce a wider range of frequencies and delicate sounds, but that also makes them more sensitive to background noise, ruffling papers, etc.
Dynamic mics employ a diaphragm and electromagnetic coil suspended between magnets, much like a speaker driver used in reverse. As such, they're more commonly cylindrical in shape, and are better for louder sounds, naturally filtering some quieter ambient noise simply through their different sensitivity.
Polar Pattern — Omnidirectional and cardioid are most common.
A small omnidirectional condenser mic will pick up even soft sounds from all around, generally making it the worst choice for the performance home office. But this is exactly what you'll typically find built into laptops and webcams, etc. — you see the problem?
For best results, you'd be doing your client a great service by specifying a high-quality mic with a relatively large diaphragm to improve low frequencies, such as a decent desktop USB mic. A cardioid pattern can go a long way in helping to focus their voice and NOT background sounds. Or if necessary, the polar pattern can be narrowed even further with a unidirectional (lobar) mic.
Home Office Video
Video is the bandwidth hog, but it's what makes people feel more connected when working remotely. I can vouch for this, big time. It can also be the great exposer, showing everyone not only how you look, but also how your room looks, so some care and etiquette is required here too. Some rather funny stories have circulated about people being caught out with their webcam field of view being a little wider than they realised, showing awkward things in the background, or their lack of trousers. The right mix of technologies and settings can provide excellent results.
Tips for optimising video include:
Lighting — This is number one. Good lighting will make any scene look better, and exposure easier to control. Aim for good, even lighting, preferably with more than one source and with colour temperature control to provide a natural look without unwanted shadows.
Camera settings — It seems obvious to say that the use of a good webcam is essential. One of my colleagues uses a digital camera with an f2 lens as a webcam, providing brilliant control over exposure, optical zoom, and depth-of-field — it's stunning! Many webcams are very wide angle, so a digital zoom can compromise image quality by cropping the amount of the sensor actually being used. For this reason, I start high with a 4K webcam, then use the open-source Open Broadcaster Software® (OBS) to zoom, pan, and tilt the image composition, as well as providing full control over the video adjustment parameters. The cropped output is then further scaled down to the res of my choosing— typically 1080p— and virtualised for output to Zoom, or whatever platform I'm using. Keep in mind that output resolution of 720p to 1080p is ideal; anything higher could end up too bandwidth hungry, forcing more line compression on the conference platform that could end up making the video look worse, not better. Oh, and always keep the angle of the camera at or above the user's eye level for a more flattering pose.
Background — Using a virtual background on Zoom can conceal your surroundings for privacy and less visual distraction, but the auto cut-out can leave the user looking like they're wearing LEGO hair. Instead, I use a simple pull-up green screen at home, together with the chromakey filter capabilities within OBS to apply a clean, professional cut-out on my choice of background, even another planet! It can even be used to superimpose a presenter at any size over other live content, including powerpoint. Anyone with an interest in gaming will have seen gamers use this technique in their YouTube or Twitch streams.
There are opportunities abound for helping your clients create and optimise their own performance home office, providing a definitive crossover of residential and commercial integration. Keep an eye out for CEDIA guidelines and a white paper on the topic this year too. And I invite you to share your performance home office ideas and solutions with Connected and myself on LinkedIn. See you online!
OBS is available at https://obsproject.com