Sony releases two compact laser home projectors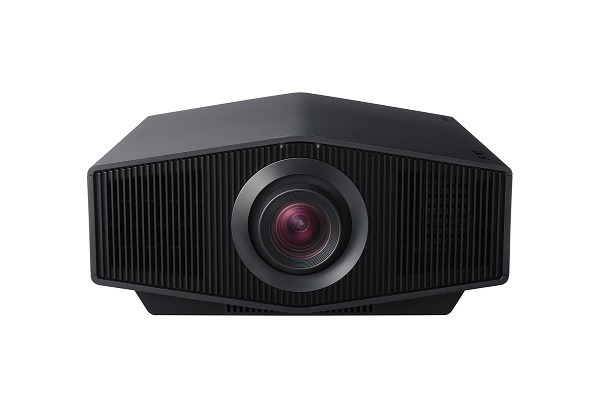 Sony has announced two new Native 4K SXRD (Silicon X-tal Reflective Display) laser home projectors, featuring the world's smallest Native 4K SXRD 0.61-inch panel (3840 x 2160), enabling the ultimate viewing experience with high resolution and high contrast in a compact chassis design.
A new wide dynamic range optics in combination with TRILUMINOUS PRO deliver an unmatched 4K HDR experience on the large screen. Powered by Sony's "X1 Ultimate for projector", the best-in-class picture processor that is based on technology used for BRAVIA TV series and optimised for projectors, this processor enables unique features like Dynamic HDR Enhancer and Object-based Super Resolution to create expanded dynamic range and extreme clarity heightening the viewing experience.
The VPL-XW7000ES is Sony's powerful new Native 4K HDR laser model with 3,200lm of dazzling brightness and Live Colour Enhancer which provides exceptionally high-quality picture performance and vivid images even in bright living spaces, making it the perfect companion for immersing in films, sports and games.
This model also features a new 70mm diameter Advanced Crisp Focused (ACF) lens with aspherical front element and floating focus system that delivers extreme clarity so every detail can be experienced on the large screen.
The VPL-XW5000ES addition to Sony's Home projector line-up is a 2,000lm laser model which delivers higher contrast and resolution with a 30% reduction in power consumption per lumen, as well as object-based HDR remastering for powerful real-time picture processing. The XW series, over a billion colours are brought to life by TRILUMINOS PRO with 95% DCI-P3 Colour Gamut.
Compared to the VPL-VW790ES, the VPL-XW7000ES is 20% smaller in size and 30% lighter in weight, the VPL-XW5000ES is 30% smaller in size and 35% lighter in weight making it the most compact Native 4K HDR laser home projector in the world. The sophisticated compact design blends in various type of rooms in the house.
As with the model's predecessors, these new projectors also feature input lag reduction mode which dramatically improves the performance of the display reaction speed to ensure gamers can enjoy the best possible experience alongside the breathtakingly detailed image quality they have come to expect. The new XW range supports 2K 120Hz input with 13ms input lag.
The VPL-XW7000ES and VPL-XW5000ES models will replace all existing 4K SXRD lamp, 4K SXRD Ultra Short Throw laser and 4K SXRD laser Home Cinema projectors (excl. the GTZ380 which will stay in the line-up).
Sony home cinema product manager, Anna Tan, says: "We have been delivering the highest quality projectors for our customers to enjoy immersive entertainment experiences for 50 years this year, and our Native 4K SXRD projectors have been market leading in providing these experiences for over a decade.
"We are so excited to bring the world's most compact and high brightness laser projectors to our customers, with a sophisticated new design that blends with many home environments and enables more flexibility for use in dedicated rooms as well as media or living rooms with ambient lighting. These new models show our continued commitment to developing products that provide extraordinary viewing experiences whilst delivering more value to the consumer with each generation".