Snap One pushes new products and platforms at Integrate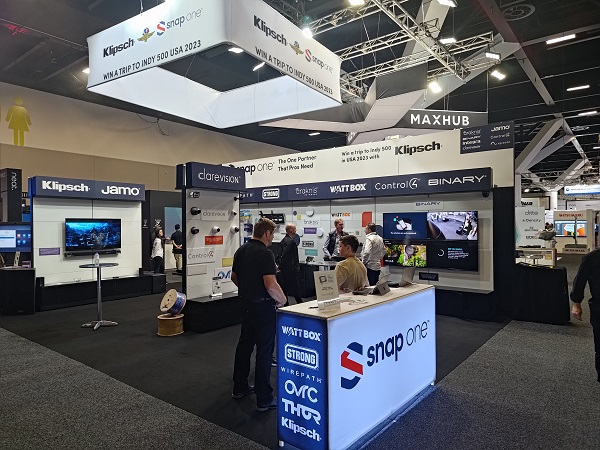 A lot has changed since the last in-person Integrate show – for one thing, Snap One wasn't Snap One!
The company's vice president and general manager for Asia Pacific, Adam Merlino, pointed out that the company hadn't exhibited in Australia since it existed as Control 4 (pre-merger) back in 2018.
He added: "The big thing at this event is exposing Snap One to a much broader audience. We've always been in the residential integrator channel, but we're at a security and commercial expo because our product portfolio now has expanded drastically."
There were many products on show, but he stressed that Snap One: "is a solution provider for the integration market. Whether they use our automation platform, Control 4, or not – our products play nice with everybody. They're also underpinned by our 'OvrC' Remote Management Platform."
He added that OvrC: "enables our integrators – our partners – to be able to remotely monitor and manage their job sites. It can be rapidly deployed, supports Wi-Fi and power management and provides early warning and notification systems to let people know if something's wrong on a job site. It can also carry out rectification work. So, it's making people more productive and efficient while also cutting out travelling, which is a killer."
Other third-party products shown on the stand worked with the OvrC platform and included Integra, Sony and Denon. All could be remote-monitored and have firmware updated using the platform.
Adam also focused on Wattbox which was launching on the stand. He said: "These are intelligent, IP-based, remote-controlled, 240V systems to remotely control connected devices. These have been in the USA for multiple years, but they're launching here today. Overseas they're already used by 20,000 integrators worldwide – the vast majority in North America."
He continued: "The other product we're launching today is our new surveillance line called, Clarevision." The surveillance range can operate standalone or integrated into multiple other systems. He repeated: "We play nice with everybody!"
He also noted: "In North America, it's government approved for government installations, which has been bit of difficult spot for some people," before concluding: "We're bringing what's been on sale for decades in America into this market, including brackets, mounts, cables and anything that's required to complete a project."
ADVERTISEMENT

ADVERTISEMENT
ADVERTISEMENT

ADVERTISEMENT