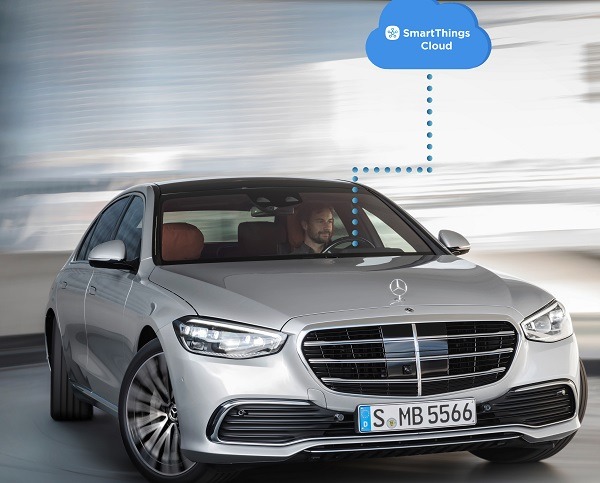 Mercedes has teamed up with Samsung's SmartThings to expand its smart home ecosystem into vehicles. Anna Hayes found out more.
In the classic Christmas movie series 'Home Alone' (yes, I know it's a little out of season) we see the McAllister family misplace their youngest son. Twice.
In their defence, it was the 1990s. They were disorganised and they were piling into packed shuttle-buses in the hope of just getting out of the country – sounds somewhat familiar after 2020…
But if you made 'Home Alone' now, it wouldn't play out. For a start, the family would drive themselves to the airport and Catherine O'Hara's concern that she'd forgotten something would have been confirmed to her by the car.
"Yep, Kevin is at home, sledding down the stairs…"
While we're not quite there yet, Samsung and Mercedes have recently teamed up to expand the smart home ecosystem from your house to your car, offering functionality that will make the morning commute, and the evening return, all the more streamlined.
The new Mercedes Benz S-Class features the first native in-car voice assistant to be integrated into a smart home platform. Car-to-home experiences represent another step in creating a universal smart home standard while simplifying development for manufacturers and increasing compatibility for consumers.
The team at SmartThings says that users will be able to seamlessly connect and control many aspects of their home environment including lights, locks, thermostats, electric outlets, garage door openers, sensors and home security systems.
It will also understand more natural language such as: "Hey Mercedes, is anyone at home?" or "Hey Mercedes, did I forget to turn off the lights?"
The whole 'control in cars' topic has been on the agenda for quite a while but has been slower to come to fruition. The SmartThings team points out that many components had to be factored into this development but stressed that its main focus was always on the user experience.
"Our technology has continued to evolve and our ecosystem continues to expand, making it possible to integrate into new, or already existing, technologies with cars."
However, as integral as a car or vehicle is to a person, it's an area that seems to be only in the infancy of its development. The team believes that this is down to changing consumer attitudes as much as anything else.
"The consumer has evolved over the years and is looking for ways the technology around them is able to assist and make their lives simpler. SmartThings is the 'glue' that allows the connectivity to both car and home, which is appealing to manufacturers as it brings both worlds together."
They add: "A car is just as much a part of a person's life as their house is, and so it was the natural next step integrating them together."
Samsung built the technology so that it could be seamlessly integrated and work cohesively with existing platforms, in this case the Mercedes-Benz voice assistant.
"The technology itself is very fluid, and the platform was able to fit right into the rest of the SmartThings suite of features."
The key aim here is to enhance the user experience and the team at SmartThings says that it's only getting started.
"Connected living is the future, children are growing up to expect this with all of the technology around them, and manufacturers need to take note. It makes sense to be able to pull into your driveway, and from there prepare your home for what's next on your schedule. It goes both ways – getting ready to leave you home and knowing that you can prepare your vehicle helps to keep things moving."
They add that there are endless possibilities for connected living.
"Soon, a driver will be able to pull into their driveway, the garage door will open, the kitchen lights will turn on, and the temperature will be set to a comfortable level, all without having to push a button."
The team adds that the mission is to create an entire connected ecosystem of products that can work together to make people's lives easier.
And it's just one step in this journey for SmartThings who announced updates to 'Android Auto' at Samsung's Unpacked during CES 2021.
"This update gives drivers and passengers unprecedented ability to use their vehicle as a control centre for their home when they are on the road. Drivers can check their car status wherever they are, to start or stop their car, and turn on the AC/heater before even stepping in."