Sennheiser sings praises of dynamic beamforming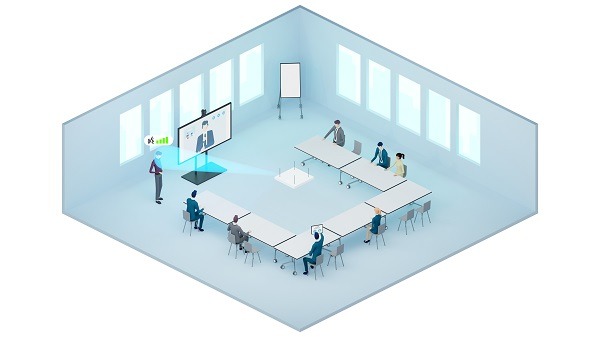 A new white paper drawn up by Sennheiser explores the advantages of ceiling microphones boasting dynamic beamforming technology.
With particular focus on its TeamConnect Ceiling 2 microphone, the paper looks at the differences between static beamforming and dynamic beamforming.
Beam forming technology localises and evaluates sound sources, while suppressing interference. These intelligent microphone arrays offer lower installation costs, invisible cabling, enhanced audio quality for remote participants, and freedom of movement thanks to a wide pick-up area.
But Sennheiser stresses that not all beamforming technology is the same, pointing out that while some solutions use static beamforming with fixed speaker zones, it uses dynamic beamforming as it delivers greater flexibility. While the static option uses several beams at the same time, dynamic solutions use just one, which has the ability to automatically align, within milliseconds, to the position of the person speaking.
Dynamic beamforming, Sennheiser says, gives maximum freedom of movement during meetings. There are fewer requirements for technical support as there is no need to reconfigure the direction of the microphone's zones when a room layout is changed or if more people are in the room.
Sennheiser's TeamConnect Ceiling 2 is the only ceiling microphone array with a patented combination of real-time recognition of the person speaking and automatic, dynamic beam forming technology. The microphone identifies the person speaking and aligns its directivity to their position, regardless of whether they are sitting, standing or moving around.
Sennheiser business communication portfolio manager Jens Werner says that understanding the different options in this area is key to finding a solution to suit the type of flexibility required.
"By comparing the two beamforming technologies, our white paper helps those who are new to this innovation understand advantages of automatic dynamic beamforming over products that are limited to pre-defined speaking zones. More isn't always better when it comes to beams, but more flexibility and freedom for your business certainly is."