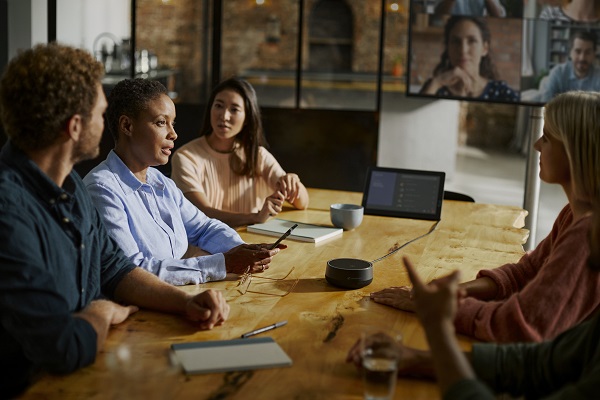 Sennheiser is upping the ante with its latest range of business communication solutions. San Williams finds out what's on offer. 
In today's fast-paced digital world, unified communications (UC) solutions are paramount to a business's success. Despite this, several companies aren't prepared, with 60% of businesses not having a long-term strategy in place for internal communications despite 38% of companies recording an increase in remote work-based employees according to Tanda and Tech Report.
Sennheiser has a suite of conferencing devices. From scalable solutions, through to all-in-one conferencing devices engineered to fit a range of business communication needs, all of which will be exhibited at the upcoming Integrate Expo 2023.
"Integrate 2023 will be a comprehensive presentation of our business communication solutions, including the TeamConnect Family," Sennheiser sales director, business communications Jason Grbevski says.
"Our recently expanded portfolio of AV products includes the TeamConnect Bar solutions, our first-ever line of video bars, which will be presented alongside the full range of TeamConnect products. We are aiming to convey just how our innovative product designs and rich feature sets simplify the customer's technology journey."
The TeamConnect Ceiling 2 (TCC2) ceiling microphone has had incredible success over the past few years, becoming the biggest line in Sennheiser's business communications portfolio. Following this success, the company released the TeamConnect Ceiling Medium (TCCM) to meet the needs of mid-sized meeting rooms and lecture or collaboration spaces.
Delivering all the great features of the trusted TCC2 in a more compact form to serve mid-sized meeting spaces, the TCCM ceiling microphone is a real problem-solver that allows cable-free tables and flexible furniture arrangement. It does this while offering all the TeamConnect Ceiling solutions benefits, such as trusted Sennheiser audio quality, efficient setup, brand-agnostic integration and simple control.
The TCCM also comes with patented automatic dynamic beamforming and TruVoiceLift technology. The TruVoiceLift technology helps users be heard without having to strain their voices as the system tracks and follows the speaker around the room. This feature can be toggled on and off if the end user wants.
Sennheiser is providing Integrate 2023 visitors a sneak peek of its TeamConnect Bar Solutions (TC Bar), a series of two sound and video conferencing bars, which is the first video product from the prolific audio brand.
When asked about why the audio brand is expanding into video sound bars, Jason says that the TC Bars are a result of Sennheiser's continual innovation and after much success in the UC space, jumping into video was the next step. The TeamConnect Bars are all-in-one audio and video conferencing solutions designed to transform any meeting room or classroom into a professional collaboration space. These sleek and powerful devices offer a range of features that optimise audio and video quality, ensuring that every participant can be seen and heard clearly.
The TC Bars are scalable, and come in two sizes, one for smaller rooms (TC Bar S) and one for medium-sized rooms (TC Bar M). Like all other products in the TeamConnect Family, the TC Bar solutions are easy to set up, easy to manage and brand agnostic.
It comes with a 4K Ultra HD camera that's equipped with advanced AI features including 'Autoframing' and 'Person Tiling'. The TC Bars can also be integrated into a room design with multiple mounting options, including wall mount, VESA mount, tabletop or freestanding.
The TeamConnect Bar solutions are the industry's first ever video bars to feature Dante network audio transport. This gives end users the option to add extension mics and send audio from the bar to hearing augmentation systems. Their expansion capability also allows for an external USB camera to be connected, making the device even more scalable and the central AV hub for the space.
"What makes them such game-changing solutions for our customers is that they can also be expanded with the high performance of the TCCM and the TCC2 if the space goes beyond the coverage of the Bar's internal microphones," Jason explains. He continues, "the full suite of TeamConnect Ceiling solutions work together to enable a level of scalability that is unheard of in this product category and offers consistently high performance across the full spectrum of teaching, meeting and hybrid collaboration spaces."
Returning to Integrate is the highly successful TCC2, Sennheiser's audio-conferencing microphone array that comes with patented automatic dynamic beamforming technology to automatically focus on the active speaker. This innovative solution ensures that every participant can be heard clearly, regardless of their position in the room. As a sleek black or white square attached to or flush mount with the ceiling, the TCC2 delivers a seamless collaboration experience for on-site and remote participants alike.
With coverage of up to 80m², there's still no better solution for larger meeting rooms and lecture or collaboration spaces than the TCC2.
Tying Sennheiser's communications together is the EW-DX professional wireless audio solution. Perfect for presentations, lectures and conferences, the solution is made up of microphones, transmitters and receivers that work with the TeamConnect Family of UC solutions.
The EW-DX uses advanced digital transmission technology to provide a stable and secure connection, even in challenging RF environments, to provide reliable wireless performance. With a wide range of microphone options, the EW-DX can be tailored to suit the specific needs of a presentation or event. Advanced features like digital encryption and high-density transmission ensure that every word is captured and transmitted with precision and clarity.
Overall, the EW-DX takes the frustration of complex channel and audio setting management, giving users more control over the finer details. Additionally, it gives users virtually effortless system maintenance with the Sennheiser Control Cockpit, which allows the system to be managed, monitored and controlled remotely. "This type of performance and control is unheard of at this price point," expresses Jason.
Whether for an integrator, consultant or end user, Sennheiser's approach has been about making it easy to experience the full potential of its audio and conferencing devices. Sennheiser's Global Partnerships and Alliances aim to continue simplifying collaboration to achieve more, together.
Sennheiser's network of global technology partnerships and platform-agnostic approach, allows for the seamless integration of Sennheiser technology with preferred platforms and manufacturer brands, resulting in high-quality, intuitive solutions that create audibly better solutions for collaboration and learning.
"I think that's been a key ingredient to the success of those audio-conferencing product families: the TeamConnect Family is able to integrate with whatever existing hardware or meeting platforms exist in your environment. These solutions can simplify your conferencing setup and will never compromise performance at any point, for any participants," Jason concludes.
By aiming to create intuitive solutions that allow for audibly better experiences, Sennheiser has successfully delivered a range of products to which their company vision can proudly shine through. Making collaboration and learning a sound experience.
For more information, go see Sennheiser at stand B16 at Integrate Expo from 30 August – 1 September 2023 or visit this link.
ADVERTISEMENT

ADVERTISEMENT
ADVERTISEMENT

ADVERTISEMENT