It seems we will be using SDTV for quite a while, so it's important to choose a HDTV receiver that also does a good job on SDTV says Stephen Dawson.
Although the very best broadcast picture that can be delivered into a person's home is HDTV, we shall always rely also on standard definition digital TV.
This was hammered home in the past few months as two stations introduced de facto multi-channelling, by separating some of the programming on their HD channels from that on their SD channels.
This doesn't really make a whole lot of sense, as it is the higher-rating shows that are left on SDTV.
For the past couple of years, for example, I watched the TV show Medium in rather good high definition.
But not this year, because Channel 10 is broadcasting something else on its HDTV channel while the program is showing on SDTV.
So we shall continue to rely on SDTV broadcasts. But this multi-channelling has, according to several suppliers, boosted sales of HDTV set-top boxes. HDTV take-up was fairly slow when higher quality was the only thing on offer, but the chance to see different programs really seems to have got things moving.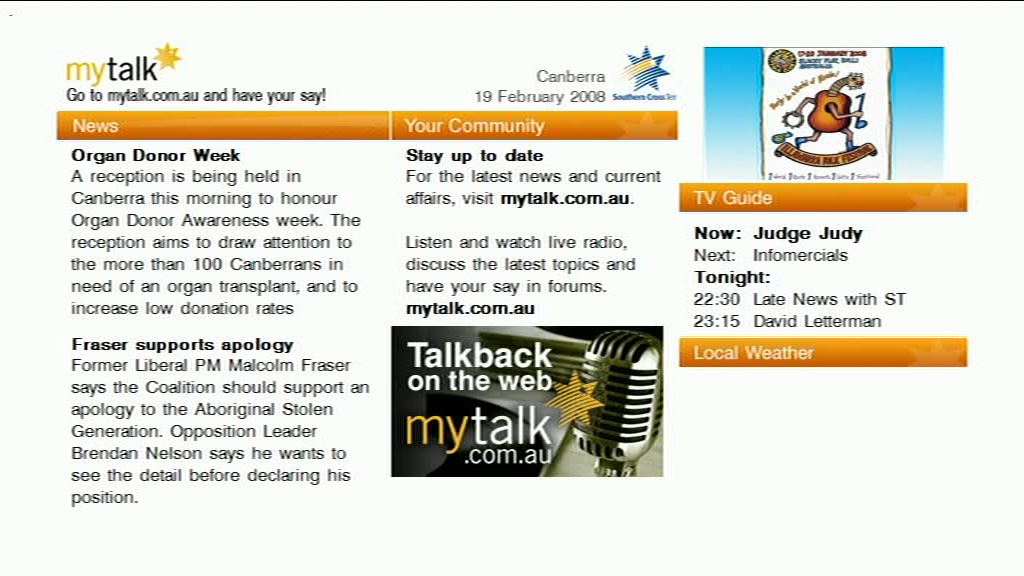 So what's the problem? After all, any HDTV receiver can also receive SDTV.
The problem is that most HDTV receivers do considerable damage to SDTV picture quality.
SDTV is broadcast in 576i50 format. That is, the basic frame has a vertical resolution of 576 pixels, but this is broken up into two 'interlaced' fields, each of which has a vertical resolution of 288 pixels.
If the source of the picture is inherently progressive – for example a feature film – then each of the two fields can be woven back together to yield a fully detailed frame-based picture with the full resolution of 576 pixels.
However, if the source material has been captured in video – such as a sports event – then the two fields were actually captured one-fiftieth of a second apart.
In these cases, the picture can't be woven together because there would be jagged lines to the left and right of moving objects. This is called 'combing' or 'feathering'. To avoid this, the fields are shown one after the other. This is called 'bobbing'.
In modern digital displays, the 288-line fields are scaled up and diagonal edges in the image smoothed to achieve reasonable picture quality.
What this does is surrender vertical resolution to achieve what might be termed 'temporal resolution'. You lose sharpness in the picture quality, but that football's progress through the air is tracked 50 times a second rather than 25.
The best display systems are cleverer than this. They analyse the picture and apply the two processes – weaving and bobbing – to different parts of the picture to provide the best results.
For example, during a cricket match a static score card is shown in the top left corner of the picture. There is no reason for this to surrender vertical resolution. If it is bobbed, a close look will reveal this little box to be jittering up and down rapidly as the fields are shown in succession, 50 times a second.
Motion adaptive display systems look for static parts of the picture and weave the parts together to yield higher resolution and stable images, while bobbing the moving parts of the picture.
The highest-quality connection technology for various pieces of equipment is HDMI. Just about all current HDTV receivers offer HDMI outputs. Almost all of them can deliver 576p, 720p or 1080i video over HDMI. Very few can deliver SDTV in its native 576i over HDMI – even though they can do it over their various analogue video outputs.
That being the case, an HDTV receiver tuned into an SDTV broadcast is responsible for converting the 576i to 576p or higher. If it is set to convert the video up to, say, 1080i, then it will have to convert it to 576p first.
That's where the difficulties set in, because most HDTV receivers do a dreadful job of this.
So far I have found just two HDTV receivers that operate in the manner outlined above in deinterlacing SDTV. I would be remiss not to give them due credit: the LG LST-6100P and the Homecast HT8000 PVR.
Because there are always more ways of going wrong than going right, it shouldn't be surprising that different receivers manage to diminish SDTV picture quality in two ways.
The first is simply by bobbing the picture, regardless of its content. The Beyonwiz units, and the Strong SRT-5490, do this.
When output is at 576p (remember, 576i is not available from those units via HDMI/DVI), vertical resolution is lost.
This is especially evident on shows originally captured on film: that is, most movies and big-budget TV drama. When they are delivered by these set-top boxes you will notice a slight softening of the picture, moire artefacts on some finely spaced patterns and a vertical jitter on fine details.
A good place to check for this problem is with fine-print text on the bottom of some advertisements.
If the output of these units is set to 1080i, as is generally the case, the jitter is eliminated and the picture softness is reduced, but the scaling process introduces other distortions, principally break-up in the vertical detail of fine images.
Figures 1 to 4 illustrate these issues. They are actual photos and captures of broadcast SDTV material. For this I used a Beyonwiz HD PVR, and the excellent DreamVision Dream Bee full high-definition front projector.
Figure 1 shows the full broadcast page (grabbed digitally, rather than photographed) so that you can get an idea of scale. Figure 2 shows the picture as delivered by the Beyonwiz with its output set to 576p.
The shutter speed on the camera was fast enough for it to capture one, rather than both, of the fields in this shot. As you can see in the word 'Opposition' at the bottom, the tops and bottoms of the lowercase letters are missing because the pixels for them were in the other field. This whole image was flickering appallingly.
Figure 3 is the same image, still delivered by the Beyonwiz at 576p, but this time it has been run through the 'PreP' video processing of the DVDO iScan VP50Pro video processor.
This breaks each progressive frame apart into its two fields, then deinterlaces the video properly. Note how the characters are fully formed and much sharper.
In fact, Figure 2 looks distinctly out of focus compared with Figure 3, but in the original photographs the focus is so precise that the fine lines are visible between the rows and columns of pixels.
Figure 4 is with the Beyonwiz delivering the same image, but this time with its output set to 1080i. Notice the vertical break-up in the image.
Some HDTV receivers do an even poorer job. Although it's worse, it often doesn't look as bad because it avoids the flickering issue.
Instead of bobbing the interlaced video (showing all the fields in sequence, regardless of content), these units simply drop the second field.
The frame being used is scaled up to the appropriate resolution, but let us consider for a moment its real resolution.
An SDTV video frame is 576 pixels tall. An SDTV field is only 288 pixels tall. It isn't hard to see that creating a sharp picture from such a low-resolution source is impossible.
Using the Dream Bee projector to produce a large picture of a particular program, then switching between an HDTV receiver and the Beyonwiz corrected by the iScan VP50Pro, the former was obviously softer. In fact, it was pretty wearing on the eyes.
Trying to capture this with photos was difficult during live action, so once again I resorted to text. In this case, it is part of the fine print shown during a TV advertisement.
Figure 5 shows how this text should look, and did look when delivered by the Beyonwiz with the picture corrected by the iScan processor.
Figure 6 shows how it looked from one of the HDTV receivers that drop the second field.
You will notice how much detail has been lost, and how much softer the picture looks. But if you look very closely, you will see that virtually all the softness and smearing is in the vertical direction. Look at the 'l's in 'eligible' and you will see that they are the same width in the two pictures and equally sharp on their left and right edges.
Drop-field deinterlacing cannot be corrected by a downstream video processor, because the second field has been thrown away completely.