Screen Innovations to showcase FlexGlass bendable screen at ISE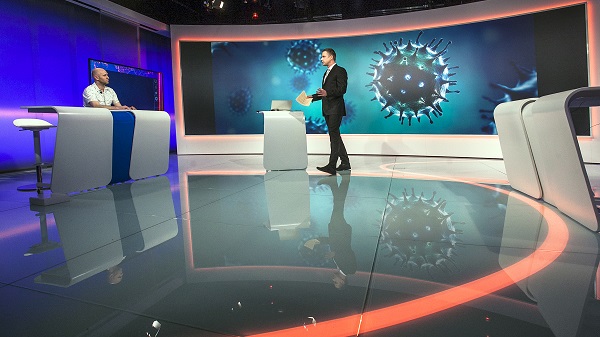 Screen Innovations (SI) will demonstrate the installation versatility of its FlexGlass rear-projection screen material at ISE next week.
SI's FlexGlass re-invents rear-projection screens by providing integrators with a surface that's durable yet bendable, boasts a low profile of just 2-1/2mm thick, and is available in sizes up to 30,785mm wide by 2,616mm tall.
These features make FlexGlass a highly versatile rear-projection screen, supporting applications including digital signage, projection blending, short-throw projection, and as a traditional rear-projection surface. Completely bendable, FlexGlass can be configured in a number of ways, such as an S-Shape against a curved wall and even a 360-degree circle.
FlexGlass is designed and engineered with ambient light-rejecting properties and to eliminate hot spotting that can often occur with rear-projection installations. Engineered from the same material as bulletproof glass, FlexGlass is extremely durable for use in any environment. Plus, due to its flexible composition, FlexGlass can be rolled up for shipping for delivery to the job site, minimising the cost and labour typically incurred when shipping and handling a standard rigid rear-projection screen.
Exhibiting the remarkable versatility of FlexGlass are two distinctly different installations of the product. FlexGlass was recently used on the set of 'Star Trek: Picard' as the main console on the bridge of the series' U.S.S Stargazer. Able to curve to fit the parameters of the set design, FlexGlass afforded an installation-friendly solution that was also able to maintain bright, vivid imagery despite high ambient light levels.
The bendability of FlexGlass came in handy once again in a project spearheaded by the systems integration firm Wipliance. In this case, FlexGlass was used as a "virtual reality window" to display to prospective buyers of luxury high-rise condo units the outdoor view from any of the upper-level residences. As the centrepiece of the developer's sales centre, the 183-inch FlexGlass screen and the images presented on it helped seal many deals.
SI chief executive, Ryan Gustafson, says: "We thought of everything when developing FlexGlass. It suits any rear-projection application, offers unique configuration options, features state-of-the-art screen technologies, and is simpler and easier to ship and install than its competition."
ADVERTISEMENT

ADVERTISEMENT
ADVERTISEMENT

ADVERTISEMENT