SANUS now shipping 10U Stackable Skeleton Rack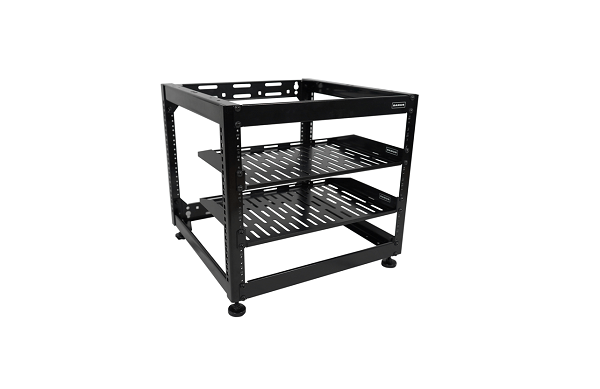 SANUS is now shipping its new compact open-frame rack for housing AV components and network servers, the 10U Stackable Skeleton Rack (CFR1610-B1).
The rack is compatible with existing SANUS Component Series skeleton racks and includes everything needed for quick and easy floor or wall mounting.
Featuring a self-aligning design, the 10U Stackable Skeleton Rack can be set up in only 15 minutes. At 26 inches tall, the unit can be placed on the floor (400lb capacity) using self-levelling casters or wall-mounted (150lb capacity) into concrete or wood studs. When wall-mounted, its keyhole design allows integrators to save time by pre-drilling before hanging the rack.
The 10U Stackable Skeleton Rack's open-frame design includes two fully vented 1U shelves to provide air circulation and prevent high-end equipment from overheating. It can be easily stacked with SANUS' Component Series 15U (CFR1615-B1) and 20U (CFR1620-B1) skeleton racks, allowing integrators to create 25U, 30U, 35U, and 40U custom sizes to meet the needs of any project.
Legrand | AV senior director of product management Steve Frank says the rack offers the same flexibility, convenient features and quick setup as other skeleton racks in the Component Series, while providing a smaller 10U size that is perfect for tight spaces and smaller projects.
He adds: "For added customization, it also enables more possible height combinations when stacked with our 15U and 20U solutions, making it ideal in installations of any size."