Samsung selects ARRI for new Onyx Cinema LED screens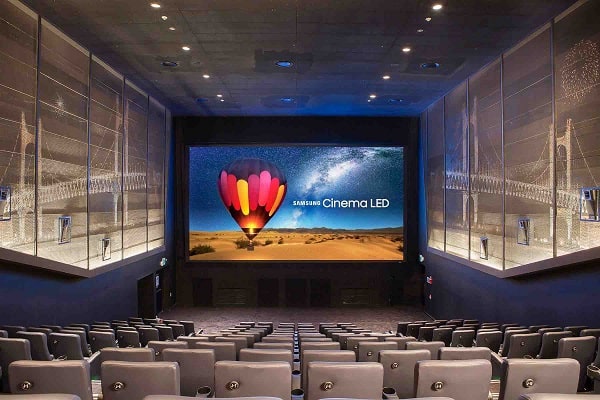 Samsung has announced is has selected footage captured with ARRI ALEXA cameras to showcase the 4K cinema screen capabilities of its Onyx 4K Cinema LED displays.
"At Samsung, we strive to provide our customers with the highest quality products across industries, including film and production. Choosing ARRI ALEXA for our new Onyx Cinema LED screens was a logical next step in our quest for delivering the best movie watching experience for consumers around the world," says Samsung Research America vice president of industrial relations Bill Mandel.
Samsung's Onyx 4K Cinema LED displays use an array of modular LED panels to replace cinema projectors, offering a new format of a cinema screen to enhance movie experiences. To showcase this advancement in film exhibition and present the best visuals in exhibition technology, Samsung chose the productions Liquid Sunshine, shot on ALEXA Mini by Luo Pan and Face to Face, shot by Tom Faehrmann on newly released ALEXA LF cameras.
"The new Samsung Cinema screen impressed us with its HDR technology and remarkable rendition of images. Footage shot on the ARRI ALEXA LF camera are displayed with stunning effects. We are pleased Samsung has recognised ALEXA images as the highest quality to demonstrate their new displays," says ARRI team lead in image science Harald Brendel.
Since ARRI ALEXA's release, six Best Cinematography Oscar winners have been captured on the camera, including Blade Runner 2049, The Revenant, Birdman or (The Unexpected Virtue of Ignorance), Gravity, Life of Pi and Hugo.
ARRI will work with Samsung to provide technical support in prep, on-set and post for productions that want to use the full capabilities of the Onyx Cinema screen.  Samsung has already installed two screens in South Korea, and one each in Zurich, Bangkok, and Shanghai. The first U.S. theater to offer the technology will be in Los Angeles.