SAI Technologies links signage, Squirrels, Parrots and Apples at its Integrate stand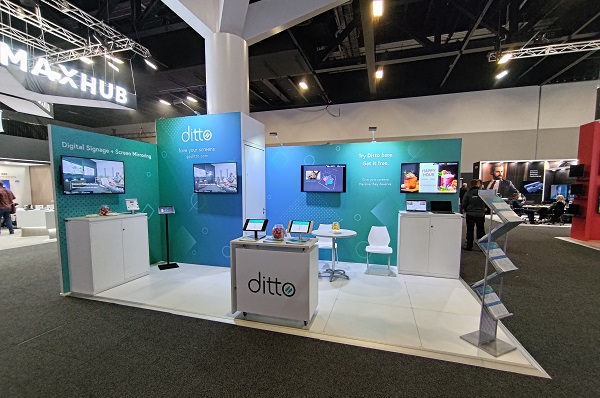 Visitors to Integrate would be forgiven for thinking that the SAI Technologies stand was actually the Ditto stand, such was the brand's prominence. But the two operate hand-in-hand with SAI being the exclusive, Australian distributor.
Ditto is a multi-purpose, screen-sharing, software platform. One element focuses on multiple users of small screens being able to collaborate, present and share information on, say, a large, communal screen at the front of a classroom or meeting room – wirelessly where possible. Naturally, this requires supreme compatibility, robust network connectivity and ease-of-use which our Ditto demonstrations appeared to achieve.
But it's not just used for collaboration purposes, it's also a digital signage management system. In this area, it enables users to schedule: "what they want, when they want and where they want."
Use cases focused on restaurant, bar and canteen signage which changed menus from lunch to dinner or promoted happy hour specials at relevant times.
Managing director of Saitech Systems, Troy Streat, explained that the low-cost licensing was proving attractive along with the primary technology barrier being ownership of an Apple TV.
Troy added that he believed SAI was also probably the only distributor of Squirrels' other popular product, AirParrot.
He said: "This company, Squirrels, has been around for a very, very long time. They pretty much paved the way for what we know now as multi-room streaming in the video field. Most people would know the product AirParrot as opposed to the name of the company. AirParrot is effectively the consumer version of Ditto – while Ditto is the customisable, SMB version."
Streat also showed off the cloud-based, '42 Digital Signage' platform which can also run as an app on TVs. One particular benefit of the latter was that, in an emergency, TV screens could also be used in mass-notification, alert situations.
To round-off SAI Technologies' suite was the Singlewire product, a mass-notification system for phones.
Both tools could operate in conjunction with Ditto APIs.
ADVERTISEMENT

ADVERTISEMENT
ADVERTISEMENT

ADVERTISEMENT