RTI shipping VXP-82 all-in-one presentation system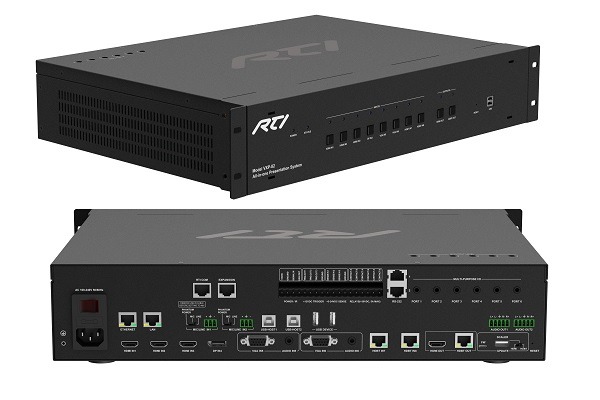 RTI is now shipping the VXP-82, an all-in-one control processor and presentation switcher which combines robust AV switching with powerful control for boardrooms, lecture halls and more.
It combines an 8×2 multi-format video switcher with an RTI control processor, achieving exceptional performance while simplifying installation. The VXP-82 handles video signals from up to eight sources and enables presentations on two monitors or in two rooms at the same time, making it ideal for BYOD settings and socially distanced office configurations.
"The VXP-82 is designed for integrators to quickly deliver a common installation configuration in boardrooms, lecture halls, classrooms, and conference rooms," RTI director of product management, AV Neal Ellsworth says.
"The combined control processor and 8×2 switcher reduces cabling, plus its preprogrammed APEX file significantly reduces on-site configuration, minimising setup time in the customer's facility."
Coming with built-in video switching, 4K downscaling, audio mixing, HDBaseT extension and a control processor in a single 2RU rack-mountable chassis, the VXP-82 gives integrators exceptional value.
With the new presentation system, end users can plug in a laptop or other source and they can immediately launch present adjustments to the room's lighting, HVAC, external audio amplification, video conferencing and more.
Its easy interface makes it simple for users to route sources and outputs without relying on the IT department.
It comes with two microphone inputs which are ideal for large spaces and those with partitions.
Existing in-room USB web conferencing cameras and speakers can be connected and switched, as well as traditional analogue or digital video sources.
"Ultimately, we're making the presentation space more intuitive by combining control and video switching in a single unit," Neal adds.
"From the boardroom to the lecture hall, the VXP-82 allows integrators to elevate the experience while minimising the installation time."