Review: Yamaha WXA-50 and WXC-50 MusicCast amp and preamp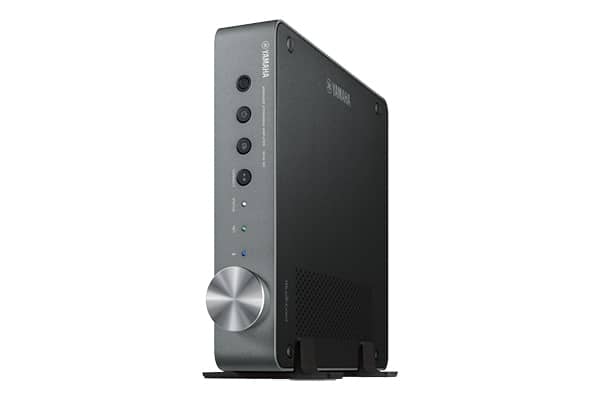 Three years ago we had a look at Yamaha's MusicCast network multi-room audio system. It's time to return to it, this time focusing on two products that are designed very much around it. Stephen Dawson reports.
In most ways the Yamaha WXA-50 and WXC-50 are identical. Where they differ is that the former is an amplifier, whereas the latter is only a pre-amplifier. You'll need to use active speakers with the WXC-50, or a power amplifier.
What they provide is a single stereo analogue input, a single optical digital audio input plus a USB input for stored media, and both network and Bluetooth. The amplifier has two pairs of binding posts for connecting speakers. It has a rated output of 55W per channel into 8Ω, both channels driven, across the full audio bandwidth at negligible levels of distortion. Interestingly, it's also rated at 105W per channel into 4Ω under the same conditions. That's nearly the ideal doubling of output for halving of impedance, which is really a quite rare feat. While you wouldn't typically pair an amplifier at this price point with truly exotic speakers, it should not impose a significant limitation on loudspeaker choice.
The pre-amp has an additional pair of RCA sockets for output to an amplifier or active speakers. Or you can output digital audio via optical or coaxial. It also has an output mode switch. One setting keeps the output under the control of the front panel volume, while the other sets the output to a fixed maximum. You use that mode if you're plugging it into another amplifier and expect to use that amplifier to control proceedings.
Both devices have a subwoofer output as well, in case a bit of deep bass supplementation is required.
The Bluetooth is fairly basic, supporting only the standard SBC codec. But it's useful to have. It's the network functionality that's the main game with these units.
They are single-band (2.4GHz) units, supporting the 802.11 b, g and n versions. These days it'd probably be preferable to have 5GHz support as well, given how crowded the airwaves are.
They support high quality audio, including FLAC up to 192kHz sampling, Apple Lossless up to 96kHz sampling, MP3, WMA and AAC, plus Direct Stream Digital in both standard (DSD64) and double speed (DSD128) versions. Apple Airplay can be used. And internet sources such as Tidal, Deezer, Spotify and internet radio can also be used.
Both come with a credit-card sized IR remote. The same codes are used for both (and some are shared, I discovered, with a Yamaha home theatre receiver).
Setting Up
Central to using this system is the Yamaha MusicCast Controller app. This sets everything up, manages the music flows and lets you do things like group various MusicCast speakers and devices into groups.
Remember, it's not just these two devices. Network capable Yamaha sound bars, home theatre receivers and stereo amplifiers also work with MusicCast, as do some micro systems and special purpose Yamaha MusicCast speakers. It is very versatile.
So the first step is to install the app. I had it on both an Android phone and an iPhone. I installed the amp with wired Ethernet first and used the Android app. This was very easy to set up. You fire up the app and follow the instructions. Basically, you press and hold the 'Connect' button for five seconds. The app notices that the device is on the network and gives you a chance to give it a name. Typically you'd choose the name of the room it's in, but you can enter any name you like. Then you can associate a picture with it, including a photo you can take at that point with your phone's camera if you want.
That done, it's right to go.
So I repeated the process with the iPhone and the pre-amp, this time without the Ethernet connection. It went pretty much exactly the same way. I was a bit surprising because normally with this kind of thing the app takes control of the phone, gets its WiFi function to look for a WiFi access point newly established by the new amp, and then asks if it can communicate your WiFi password to the amp. This didn't ask about that. I think I may well have already given permission for this at some point in the past.
Even assuming that a first-time WiFi-only installation might require the selection of a WiFi access point and the entry of a password, that'd only add a couple of minutes to the process. The important point is that it worked well.
Once connected, the apps gave a little on-screen tutorial on their use. Firmware updates and such are also done through the apps. You get an automatic notification, but you aren't forced to accept them. Both review units requested firmware updates and I permitted it. They took about 10 minutes each, mostly in the time taken to download the necessary files over a non-NBN internet connection.
In Use
The MusicCast Controller app was highly effective. As it happens, I also had a Yamaha Aventage RX-A3070 home theatre receiver connected up and joined that into the MusicCast system so I had three 'speakers' available. I tossed all manner of music at the system, feeding different streams to the three different devices, and all worked smoothly. I'd have Spotify playing through the pre-amp, and music from my network attached storage playing through the amp, and something completely different from the network playing through the Aventage.
Switching the control app between the devices was easy, as was selecting the music. The only wrinkle was, as always with Spotify, that the Yamaha app can't directly control Spotify. Instead all it can do is take you over to the Spotify app.
Within the Yamaha app you can select the various inputs on either device, so it in effect offers full operational control over the unit.
You can also use a web browser on a computer or device on the same network to control either unit. Just double click on the unit's name in the network selection in Windows Explorer on a computer (or do the equivalent on a Mac) and your browser will show a neat interface. Behind the front page are two settings sections which allow the usual range of adjustments, plus such things as saving settings to the computer for later restoration, and trimming the input levels (±6dB for each input) so that they match in level.
In other words, all the things that you can use the onscreen menu for with a Yamaha home theatre receiver can be done via the web interface with these units.
The WXC-50 pre-amp worked in exactly the same way as the WXA-50 amp, but I spent most of my time listening to the latter. I used it with a couple of thousand dollars worth of KEF speakers of a quality likely higher than would typically be used with an amp of this price, and the results were consistently impressive.
There was a true high fidelity presentation of the music, with an excellent stage depth and decent control of the bass drivers. I thought that perhaps the amp used some kind of digital amplifier, given the compact size and healthy power output rating, but it turned out to run quite hot so I assume the technology is more conventional. I'd suggest reasonable ventilation around it.
One thing I wasn't quite certain of was the operation of the 'player' versus 'pre-amp' output mode for the WXC-50. If in the 'pre-amp' mode, would the two digital outputs also be subject to the unit's own volume control? I plugged the optical output into a home theatre receiver, sent some music to the WXC-50 and fiddled with its volume control. And, sure enough, the level changed. So the processing engine within this unit clear can resample the digital signal to a different level as required.
Conclusion
If there is a weakness in the system, it's that there's no integration into one of the voice activated systems currently sweeping the field, such as Amazon Alexa or Google Home. Otherwise, the Yamaha MusicCast system works reliably and effectively and has a full range of products within it. The Yamaha WXC-50 and WXA-50 are likely to find a home within many MusicCast systems.