Review: Focal SIB Evo Dolby Atmos speaker system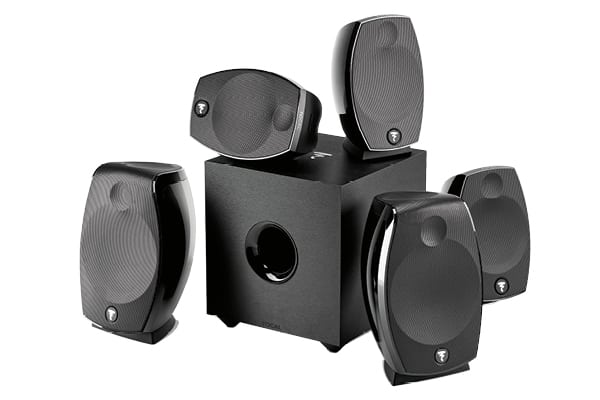 Dolby Atmos is on the rise. Stephen Dawson looks at the latest Atmos-enabled sat/sub system from Focal.
Everything has to support Dolby Atmos these days. Or so it seems. Even sound bars from the big electronics brands have some form of Dolby Atmos support, even at the premium end. This is made possible by what are called 'Atmos-enabled' speakers. These are (usually) front speakers with additional top firing speakers built in.
And here we have a compact almost sat/sub system from French loudspeaker giant, Focal, with Dolby-enabled front speakers.
What they are
There is also a standard Focal SIB Evo system. That's $250 cheaper and consists of five identical satellite speakers and a subwoofer. But this system adds Atmos. It does that by making the front left and right satellites a little taller and incorporating an upwards-firing full range driver into each.
The 'ideal' Dolby Atmos speaker system has two or more speakers physically located above the listening area. But this Atmos-enabled approach works remarkably well. There is a sense in which the upwards firing speakers are 'bouncing the sound from the ceiling', but only a mild sense. Because sound is mostly omnidirectional, particularly in the mid and low frequencies when produced by small Atmos-enabled drivers, you get more sound sooner directly from the speakers, rather than via the ceiling.
But in home theatre setups you have to specify with the Atmos speakers are regular height speakers, installed in the ceiling, or Dolby Atmos-enabled speakers. That special setting causes their signal to be massaged with some secret Dolby processing. I could guess that it has to do with time delays and frequency shaping to make the sound seem more like what one would hear from above, but Dolby is close-lipped about such proprietary processes.
A few years ago I visited Dolby in San Francisco and experienced some A-B switching between Atmos with overhead speakers, and Atmos with 'Atmos-enabled' front and rear speakers. As it happens, the system was based around very high-end Focal speakers, which used Focal's top of the line Beryllium inverted dome tweeters. Much as I'd love to claim that the former was better, any differences were indeed very subtle. In fact, I rarely knew which I was listening to.
Obviously 'Atmos-enabled' makes for an easier installation than discrete ceiling speakers, what with not having to make holes in ceilings. Just as many cables are required, but that's just a matter of doubling up the cable runs to the front two speakers.
Formally, the Focal SIB Evo Atmos system is 5.1.2 channels. Three of the satellites are identical, each including a 130mm bass/midrange driver and a 19mm tweeter. They present a sort of oval face to the front, while the enclosures are rounded at the back, almost egg-shaped. The review models were finished in a gloss black. At the front is a metal grille, not removable as far as I could tell.
The front left and right speakers are similar in theme but stand a little taller to accommodate the 100mm upwards firing driver. This is actually directed a little forwards of directly upright, as seems to be the norm for Atmos-enabled speakers. The metal grille on these models is extended and curved up over the top. The 100mm driver looks to be quite deeply recessed into the enclosure, down between 20mm and 40mm from the top. There seems to be a kind of horn around it.
On the bottom of each of the five speakers is a heavy rubber stand. This can be removed completely or loosened so that the curved base can be slid forwards or backwards by two centimetres. The way these fit together, that has the effect of changing the tilt of the speakers, allowing them to be somewhat aimed. Two wall mounting brackets are included in the box. They would probably be most conveniently used with the two surround speakers.
I've seen pictures around with the centre channel speaker orientated sideways. To do that you remove the rubber stand from the base, and then put the speaker sideways on it. You don't have the security of the bolt holding it in pace, but it seemed steady enough anyway.
All the speakers are bass reflex loaded. The front pair have ports under the grilles, while the other three have them at the back. The connections are made by holes in the back. A press button releases the spring clip. Wire thicknesses of perhaps 3mm should be accommodated.
Focal says that all four of the speakers are suitable for use with amplifiers rated from 25W to 200W per channel, although I suspect actually pouring two hundred watts into one of these might not be wise. The front speakers seem to have a slightly higher internal volume. Focal rates their bottom end at 65Hz; 70Hz for the others. Atmos enabled drivers aren't expected to do bass, so the 90Hz bass rating for these isn't uncommon.
They are quite sensitive, rated at 90dB for 2.83V at 1m. All the speakers have a rated impedance of 6Ω.
The subwoofer is a 210mm unit with an appropriately compact size. The largest dimension is 305mm, so it's effectively a sub-twelve inch cube. The driver fires downwards and is pushed by a 200W amplifier. It's rated at 35Hz to 150Hz, with extension out to 30Hz.
Listening
I coupled the system with a higher end receiver than what it'd normally get – a Yamaha Aventage RX-A3070. I took care to specify that the 'height' channels were Atmos-enabled. I mostly let the Yamaha EQ apply, since I figure most users will run the system with whatever equalisation their electronics can provide. I set the crossover frequency for all channels to 80Hz (the auto calibration system had come up with some odd crossover settings), and to 120Hz for the Atmos-enabled channels.
The first thing that struck me was the ability of this speaker system to produce very high levels of clean, musical sound. I ran through a number of surround music tracks on both DTS-CD and DVD Audio. There was a very tight, tonally balanced performance on the lot. And lots of volume.
There was excellent location of instruments around the room (on those rare occasions when the surround mixing engineers didn't simply lock an instrument into a single channel). In particular, cymbals were delivered with precision in space, the various frequencies constituting each strike all tied together tightly into an effective pulse of sound.
Also well tied together was the subwoofer with the satellites. I kind of overlooked it initially because the bass frequencies were well integrated with the production of the satellites. But then some seriously deep bass started emerging. Sub-40Hz stuff. Typically 40Hz is all you need for a good kick drum and the bottom strings of a bass guitar, but synth often plumbs deeper frequencies.
What it produced was not quite room shaking, but it covered even the 32Hz pedal of pipe organs quite satisfactorily, and again very cleanly.
With movies I started out with the Quidditch match on the UltraHD version of Harry Potter and the Philosopher's Stone. This uses a DTS:X sound track. That's somewhat similar to the Dolby Atmos, with object oriented sound that's re-mapped according to a particular speaker installation. Unlike music, the inter-speaker spaces were used to full effect, and it seems that the engineers remixed to take advantage of the height dimension as well. The audio was thrilling and enhanced the on screen action a great deal.
I moved to what's still probably the best recorded movie gunfight, 1995's Heat. The Blu-ray sound track is only 5.1 channels (Dolby TrueHD, and only 16 bits resolution), but played with Dolby Surround engaged, the sound field was lifted and broadened even further. Most importantly, I wanted assess the impact of those gunshots at a high level. I wound up the volume until they were registering at well over 100dB using the fast setting on a digital sound pressure level metre, and the system delivered. Without overhang or muddiness, and excellent impact.
Back to UltraHD, the opening scene of the Dolby Atmos sound track on Blade Runner 2049 has truly room shaking bass when played through my regular (15", 400W, 16Hz) subwoofer. The results with the SIB Evo cube subwoofer were of course nothing like as extensive into the deep bass, but it was nonetheless just about as loud. It's just that it wasn't loud in the infrasonic frequencies. There wasn't the body vibration effect, but to the ears it was really quite convincing.
Conclusion
The Focal SIB Evo Dolby Atmos speaker system is a very good way into the newer height sound formats at a remarkably affordable price. It's particularly good where space is at a premium.