Review: Casio XJ-S400UN data projector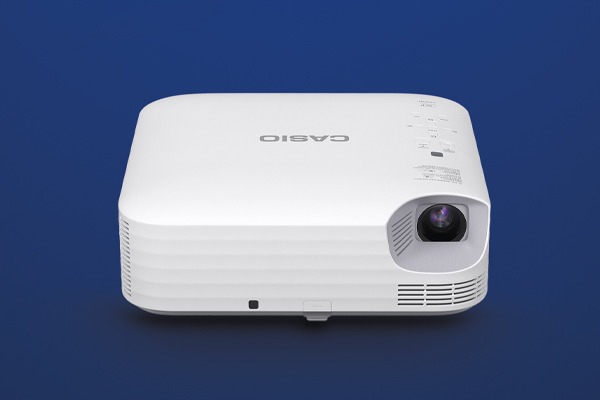 In an attempt to lock down the education market, Casio has debuted its new XJ-S400UN data projector. Stephen Dawson takes a look.
Casio makes no bones about it; the Casio XJ-S400UN data projector isn't for the home theatre. It's for the smart, computerised classroom. That said, it could also be used rather well in presentation rooms and certain kinds of business meetings. (And, of course, you can also watch movies with it.)
What is it?
The Casio XJ-S400UN is one of Casio's range of 'Superior' projectors. There are two ways to look at it. First, there's the hardware. Second, there's the software.
In its intended role, it's the software and the projector's network capabilities that make it something special.
Still, the hardware is also quite special. The projector is small/mid-sized and looks like a typical educational or business projector. It's just a little too large to be the kind of thing a person might carry around with them, and at 5.9kg is pretty well built.
The special thing about the hardware is the light source. This is an LED and laser affair. These typically work by shooting a highly efficient laser beam at phosphorous particles on a spinning wheel. Those particles have been chosen to react by emitting particular wavelengths of light, brightly. The life of this light source is specified at 20,000 hours. For a classroom using it for six hours per day, that would come well over a decade of use.
In the real world, the projector will be replaced for other reasons years before its light source reaches end-of-life. The projector is rated at 4,000lm output. It's intended to make a clear picture in a normally lit classroom environment. Installation, or desktop placement, is eased by the projector's 1.7:1 zoom range. Casio suggests that the brightness is sufficient for screens of up to 300".
It does not have lens shift, so projecting an undistorted image requires the projector to be properly square to the screen. Unless you wish to make resort to the keystone correction offered by the projector. That's best avoided because it throws away resolution.
The resolution of this projector is WUXGA or 1,920 by 1,200 pixels. That's one of the standard resolutions with which computers are comfortable, should it be used in accordance its data projection orientation.
There are plenty of connections on the back: two HDMI, two D-SUB15, even a composite video input. Plus, no less than three analogue audio inputs.
There is a speaker built into the unit. According to the specifications, it's provided with 16W of power. Perhaps, but it remained unremittingly tinny. Any classroom should, if AV from the projector is required, add any one of a million speakers to create respectable sound. There's an audio output on the projector
for this.
The projector has Ethernet connectivity, but not wireless. However, a wireless dongle can be plugged into one of its USB sockets. The dongle costs an additional $149, but of course wireless connectivity can add considerable versatility to any system. Given the likely operational environment, it's smart that Casio includes with the dongle a plastic cage that acts as an 'anti-theft' cover for the dongle.
Connections
This is where things get particularly interesting. The projector comes with the ability to display up to four network sources on the projection screen at a time, while up to 40 people can be connected to the projector at a time.
Forty is comfortably above the number of students in a typical classroom, so it covers a whole class. But they can do so only under the control of their teacher,
who possesses an override. Indeed, the teacher – or presenter in other contexts, but for convenience, let's assume we have a female teacher running things –is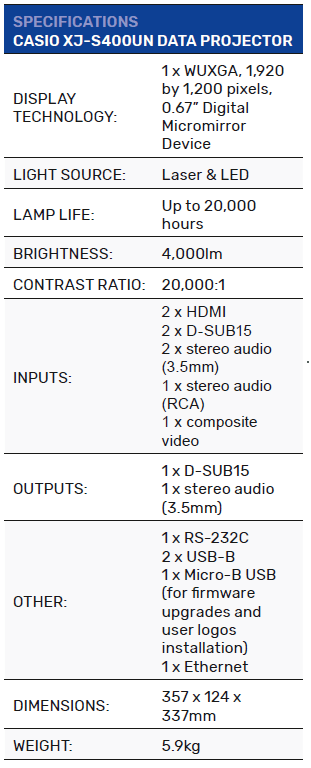 the maestro, managing everything. She can flip a student off the system, choose which four or fewer students' computers will be displayed, choose one of their computers to fill the whole screen.
The way this works is that each student sits with a computer. They double-click on a button on their laptop  computer and thereby connect to the projector. The teacher can leave the students to then mirror their screens to the projector, or she can take complete control.
Now, I said up to 40 students and that is the case where the projector is wired into the school network. But for smaller groups, with the optional wireless dongle installed, no network at all is required. In that mode the projector supports up to eight connected computers.
Before getting into the setup, I'll just note a couple of things that further show the school orientation of the projector. First, it comes with nine templates – grids, dots in a grid, ruled lines, all white on black, etc – which would be useful in a school setting to project onto a blackboard or white board. And one of the input selections is specifically for one of the USB ports into which has been plugged a compatible Casio scientific calculator. A teacher can demonstrate arithmetical stuff to student on-screen. There are also a couple of on-screen timers. There's a small 'presentation' timer which can be put in different places on the screen, and a big 'Countdown' timer which is just the thing to put up during exams.
Setting up
Some apps are required to use this system. It isn't Miracast compatible (Miracast is way too limited for this functionality). There are apps for Windows, Macs, Android and iOS.
When you switch to the network 'Input' on the projector, it tells you its IP address and name. If the projector is wired in, then the teacher uses the IP address with a browser to access a control panel. That lets her select which students screens will be displayed. The C-Connection software will be running on the students' PCs and Macs, or the MirrorOP Presenter on their Android or iOS devices. An 'occ' – One Click Connection – file will also be on the students' computers. With a double click on that, the C-Connection software will connect to the projector.
For a direct connection – remember, there's no need for a network for up to eight connections – there's an additional step. In this mode the projector, with the dongle inserted into one of the USB sockets – acts as a WiFi access point. The SSID is displayed on the same screen that shows the IP address. To be clear about this, you cannot connect the projector to an existing network via WiFi. That requires an Ethernet cable.
That WiFi access point must be selected on each device before it can be connected to the projector. Once that's  done, it's used in the same way. Likewise, the teacher's controlling device must use that WiFi access point.
One clear limitation of this mode of connecting is that students can't incorporate live on-line content in their on-screen work. That's because their computers are connected to the projector rather than the local network with internet access. In those cases, wiring up the projector is the better solution.
Of course, school network support should ensure that the occ file and C-Connection software are on the students' computers. The occ file is unique to each projector and is downloaded from the projector's internal web page. Should these projectors be installed in multiple classes, several occ files will be required on each student's computer. So, they should have their names changed to something that makes it clear which classroom projector is being connected to.
In use
The projector produced a strong, bright and colourful image. I used it in my office with the overhead lights on, and the projected image was clear and easily read.
The projector switches on fast – five seconds usually got something on the screen. And it switches off fast. There is a cooling fan, but it's not noisy and switches off as soon as the projector is put into standby. It does not linger like those in projectors with conventional lamps.
The software on Macs and PCs worked pretty much identically. If the projector can be found – it's either wired into the network, or the computer is attached to its access point – then the software shows the projector's name. You click on 'Connect' and after a few seconds, the panel shrinks to a small one controlling projection. Click on the 'Play' triangle and the screen is mirrored to the projector. If several computers are displaying, any user can maximise his or her display to fill the whole projection screen.
But the teacher can select 'Allow control from this page only' and then manage which computers can be shown. The only element of control left to the student is the ability to hit the 'Stop' button to disconnect. Or, of course, to change what's on his or her screen, since that's what's being mirrored.
Although the software has the same name for both Android and iOS, it works differently. For Android, the software simply mirrors the screen, just as it does
with computers. With iOS you use the app to select content, like documents, photos or videos to display.
To be clear, all this worked remarkably smoothly. As I'm writing this paragraph, I have up on my projection screen four separate devices being displayed. There's a Mac, a Windows PC, an image from an iPhone and a mirror of the screen of my Android phone. C-Connection software for the Chromebook is also available, so that really only leaves Linux users out of luck.
Finally, when it came to showing video content like DVDs and Blu-ray discs, the projector did a surprisingly good job. It had competent deinterlacing, good  colour and generally good picture handling. It did default to having overscan on, so that ought to be turned down to zero first.
Conclusion
The Casio XJ-S400UN projector is a clever, well thought out way of integrating computers and other devices into the classroom, while continuing to keep
control in the hands of the teacher where it belongs.