Review: BenQ TK800 home entertainment projector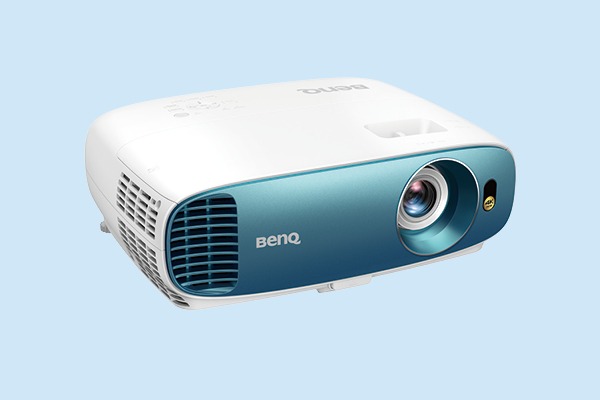 UltraHD projectors are notoriously expensive. Here, Stephen Dawson looks at a more affordable option from BenQ.
Last year, we looked at BenQ's first two UltraHD projectors. Those projectors, the W11000 and X12000, are premium models, big in build.
This year, BenQ has brought UltraHD projection to the masses, so to speak, with the sub-$2,500 W1700 and TK800 projectors. Here I'm looking at the latter.
What it is
As with the earlier projectors, the TK800 manages to generate its UltraHD (3,840 by 2,160) pixel image by some literal jiggery pokery with a lower resolution Digital Micromirror Device. I'll return to that shortly.
First, the projector is a shortish throw unit with a modest zoom range. For a 100" screen it should be placed between 3.254m and 3.896m from the screen. There is no lens shift facility, so some care should be taken during installation.
BenQ rates the output of the unit at 3,000 ANSI lumens and a contrast ratio of 10,000:1. BenQ says that it can cover some 92% of the REC.709 colour gamut. The engine supports 10 bits per pixel – needed for HDR.
Unlike those first two projectors, this is a compact model, weighing only 4.2kg. It has two HDMI inputs, although only one of them supports UltraHD signals and the HDCP 2.2 needed to permit use with UltraHD Blu-ray. You can always use the other with something like the Chromecast. The projector has a USB-style 5V output to power it.
It also has 3.5mm audio input socket. It has a 1W built-in speaker, although I doubt it will be often used. In general, a large UltraHD image should be accompanied by audio on a comparable scale. That means a proper audio system.
XPR
The bigger projectors use 2,716 by 1,528 pixel DMDs. The W1700 and TK800 use a 1,920 by 1,080 pixel DMD. Like the big ones, they use Texas Instruments' XPR technology to image shift the DMD output. But since there are fewer pixels, there are more shifts. With the TK800, there's a half pixel shift four times for each frame.
Think of the image as a grid that is filled in over time. Break it down to just four pixels. The projector fires one pixel's worth of image, filling in one of the four pixels. Then XPR processing shifts the image slightly before it fires another pixel's worth of image. And so on through the next two shifts. All four pixels will have then been displayed.
All this is made possible by the exceptionally fast switching speed of digital micromirror devices.
Over the years I've criticised this kind of pixel shifting in other brands of projector on the basis that when the pixel is shifted, it mostly means that the pixel partially covers adjacent pixels. Very little, if any, additional resolution is realised.
But things are different with this projector as we'll see below. You can actually make out the higher resolution. Which raises the question: why should that be?
I'd say the main reason is the use of a very small DMD. This one seems to have the same pixel density as the larger one used in the two bigger BenQ projectors. But that one has more pixels and is 0.67" in size. This one is consequently only 0.47" in size.
Remember, DMD's work by physically moving little mirrors – two million of them in this case – on their hinges through an angle of 12°. There must be a little clearance between these mirrors. Traditionally the aim has been to make this inter-mirror space as small as possible because it shows up as the screen door effect.
But because this DMD is smaller than usual for a full HD device, those gaps actually constitute a greater proportion of the total image. Were this DMD used in 1080p mode, the screen door effect would probably be verging on intolerable.
However, this projector does not have a 1080p mode. It always has XPR going, creating a UHD-resolution image. So where there would have been screen door effect there are actual pixels of real UltraHD content.
Watching
With all the jiggery pokery going on with the DMD, there isn't really the opportunity to do stuff like motion smoothing. That, after all, requires at least double speed display, with every second frame being a newly generated interpolated one.
When we looked at the BenQ X12000 projector last year, I was pretty harsh on its motion handling. I noted that "50Hz content is converted by the projector to 60Hz. That means repeating every fifth frame. That in turn creates visible jumps during what are supposed to be smooth pans." Furthermore, that also seemed to happen with 24fps material. (There, 60Hz is achieved by repeating a frame twice, the next one three times, the subsequent on twice and so on.)
Well, BenQ seems to have done something about the problem with this projector. At least in part. If you feed the projector 576i50 or 1080i50, though, it still turns it into 60Hz output and the motion becomes jumpy. But if you convert 576i50 and 1080i50 to 1080p50 – convert both to progressive scan – then this projector outputs the picture at 50Hz. And that makes for smooth motion. That's truly a great improvement. Likewise, the 1080p24 video mostly derived from regular Blu-ray.
If you have a digital TV receiver – a set-top box – and you're watching the footy, how things will look will depend on its output capabilities. If it can deliver 1080p50 from the HD stations, all will be well. But most set top boxes tend to output only 1080i50. Many higher end home theatre receivers, though, can convert that to 1080p50. So ideally you'll want to use a receiver with high quality progressive scan conversion.
BenQ seems to have also fixed the 24p to 60p conversion. There was still some judder on some scenes, but I'm fairly confident that it was just standard DLP judder. DLP projectors are inherently more inclined to judder, in my opinion, than LCD ones. That's because of one significant virtue that DLP projectors have. They switch their pixels much, much faster than LCDs. So LCDs tend to soften movement simply through that relatively slow pixel switching. If a scene is shot with too short a shutter speed, creating marked judder, a DLP projector is more likely to deliver it faithfully and jarringly.
Speaking of a different kind of switching speed, this projector often took many seconds to re-acquire the image once the format changed. Usually something around six or seven seconds. I'll merely note two things about this, and ask one question. First, this is common behaviour across just about all projectors. Second, this does not happen with TVs. They usually switch almost instantly.
The question is: why? BenQ makes computer monitors as well. I've got a fine one right here in front of my face. When I switch resolution on my display adaptor, the monitor flicks to the new resolution instantly, without even an intervening blank screen. If I change the display adaptor from 60Hz to 75Hz, it takes a couple of seconds to change, but far faster than most projectors. Why can't that happen with projectors?
Anyway, back to what this projector does do.
What it does is deliver surprisingly respectable native black levels. No, they aren't going to challenge OLED TVs blacks. But with virtually all content they made on-screen blacks look subjectively black (rather than dark grey). The only time they didn't was when the screen was supposed to show full black. As my eyes rapidly accustomed to the low light levels, it was clear a fair amount of light was making it through to the screen.
One other slight oddity: the projection frame is significantly bigger than the picture. That is, there is an area of brightness around all four edges of display area. That larger bright area is well-masked, providing a neat rectangle. But I do wonder why the making isn't brought up to the display boundaries instead.
The colour was strong and accurate. The 92% coverage of REC.709 didn't leave any obvious gaps in coverage even with UltraHD Blu-ray, although I do wonder what they might reveal when displays eventually appear with full coverage of the BT.2020 colour gamut.
There was no visible divergence of colour in any place on the screen. The mapping of a HDR image scales to the capabilities of the projector was good, ensuring that there was little crushing at the bright and dark ends of the scale, yet plenty of brightness anyway.
The projector was even bright enough to be usable for presentation purposes under fluorescent lights.
Conclusion
UltraHD has its benefits increasingly revealed as the screen size becomes larger. The BenQ TK800 projector is one of the first to deliver that UltraHD quality at a reasonable price.