PureLink releases 4K60 HDMI & USB/KM CAT and Fiber AV-over-IP Encoder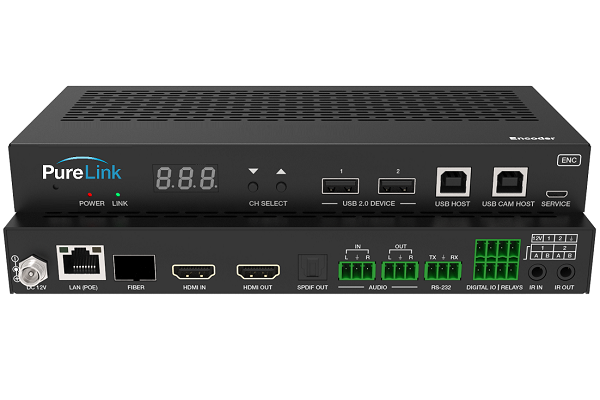 PureLink has released the 4K60 HDMI & USB/KM CAT and Fiber AV-over-IP Encoder providing UltraHD/4K60 4:4:4 HDR AV, RS-232, IR and USB 1.1, 2.0 and USB camera signal transport over IP networks.
The VIP-400 can be used as a point-to-point extension system supporting distances up to 120m over CAT6a and up to 2kms over SFP Singlemode Fiber.
The VIP-400 is designed to handle multiple signal types for applications that require reliable distribution, switching, matrixing and layered matrix switching.
Multiple control options are available including the VIP-400's own rich API, PureLink's VPX IP video management software and QSC plugin. Providing complete and reliable AV-over-IP extension, the VIP-400 is the ideal solution for your application.
Key features for the products include low latency, data rate 300Mbps typical; 50-850Mbps range variable, Fiber or CAT transport with 1G port, HDCP 2.2 compliance, comprehensive diagnostics via API with device discovery, signal data and EDID, rack-mount options and TCP/IP to RS232.
Also included is same resolution instant switching support, multiple control interfaces with built-in web interface, front panel buttons, VPX management software, QSC modules and third party control development via API, as well as built-in video wall processing to up to 8×8, 90° and 180° rotation.
Lastly, the product offers IR and RS232 extension, HDMI loop-out on TX, included AC power adapter or via PoE 802.3af 8.5W, matrix switching systems up to 999 sources and 65K displays alongside audio options supporting Dolby, DTS and LPCM.
ADVERTISEMENT

ADVERTISEMENT
ADVERTISEMENT

ADVERTISEMENT