PulseEIGHT releases ProAudio 8 package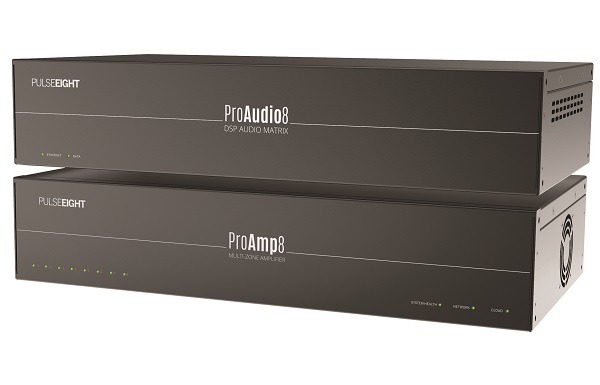 The PulseEIGHT ProAudio 8 Package consists of the ProAmp 8 and ProAudio 8, allowing custom installers to take 24 digital or analogue inputs and send them to either 8 zones of distributed DSP corrected audio or a 5.1 theatre zone.
It also features 12V triggers, multiple subwoofer options and RS232/IP control.
The ProAmp8 offers a wide range of feature sets such as: full audio DSP and EQ settings; Multi- Zone Mode; and, Dolby Digital 5.1 Surround Sound Mode. This level of versatility allows for a 5.1 "home theater" alongside a multi-room whole-house distributed audio system all in one box.
The amplifier is the perfect partner to Pulse-Eight's ProAudio DSP pre-amp range and latest neo video matrices.
The ProAudio8 DSP Pre-Amp Audio Matrix features 24 audio inputs alongside 8 analogue outputs and eight digital outputs, enabling simultaneous audio distribution to multiple zones. Each output zone can be enhanced with built-in features including five-band equalizer on each zone, adjustable volume and gain settings, subwoofer control, serial and TCP/IP control, lip sync delay and much more.
ProAudio has been designed for the custom install AV market, in many cases the need for an audio receiver can be eliminated by using the audio features of the ProAudio Series.