Polycom introduces meeting space innovations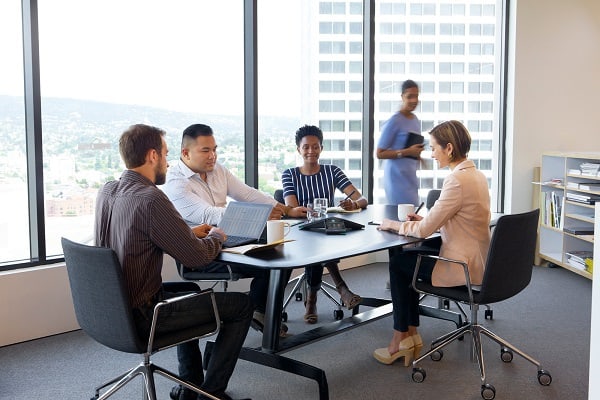 Polycom has announced the latest capability to be added to Polycom Trio which will be able to power the high-end video potential needed by large meeting rooms and auditoriums.
New features include facial tracking, dual monitor support, increased audio coverage and easier content sharing.
"Customers have higher expectations than ever before for meeting rooms—they want every meeting space to be a true collaboration centre with simple voice, video, and content sharing," says Polycom chief executive Mary McDowell.
"Polycom continues to lead the way with Polycom Trio, making it the easiest way for our customers to connect, communicate, and be productive."
Polycom Trio will work with Polycom's video CODECs as well as VisualPlus meaning larger conference rooms can use things like facial tracking found in Polycom EagleEye Director II and Polycom EagleEye Producer. Polycom Trio will also be able to offer better room experience with dual monitor support, better audio coverage with ceiling mics, and easier content sharing with HDMI connections.
Polycom Trio's touch screen allows users to manage call volume and camera zoom which will be supported by software updates to Polycom Trio and Polycom's Group Series CODECs, available in July 2018.
"Polycom Trio continues to grow in popularity and market share across Australia and New Zealand. It looks great in any meeting room with its sleek design, while also keeping customers ahead of the digital transformation curve. Its market leading innovations are focused on making it easy for customers to connect and collaborate in a more natural and meaningful way," says Polycom vice president of Australia, New Zealand, Japan and Korea.
Polycom has also announced an update to its wireless content sharing system, Polycom Pano, adding a guest access feature to allow users to connect and share content through guest Wi-Fi networks.
Polycom Pano is on a second wireless network in receive-only mode to maintain security, allowing all meeting attendees to confidently connect and share with a single touch. Polycom Pano allows up to four different devices to connect at the same time allowing them to share presentations, documents, videos, and images, and easily annotate them with the 'infinite whiteboard' feature.