Peerless-AV delivers DS-LEDUNV universal mounting system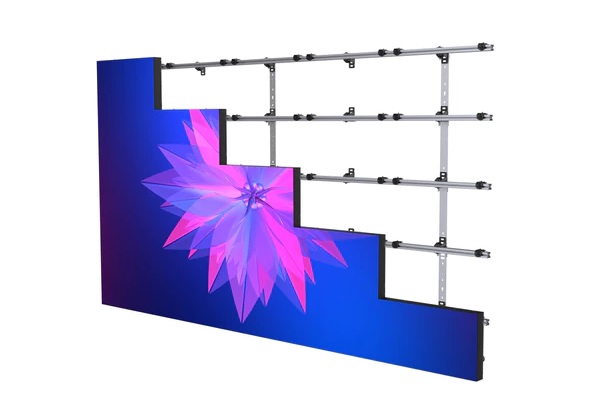 Peerless-AV has delivered its first SEAMLESS Kitted Series Universal dvLED Mounting System (DS-LEDUNV) compatible with the majority of flat-to-wall latching dvLED displays.
The kitted solution is feature-packed to offer superior flexibility, scalability and adjustability when installing flat-to-wall dvLED video walls, unlike any other mount on the market.
"dvLED integration has come in leaps and bounds over the past few years, but there is still no standardisation of latching mechanisms on OEM cabinets. Until now, this has made specifying, stocking, shipping and installing flat-to-wall dvLED video walls expensive, time-consuming and challenging," Peerless-AV executive vice president Nick Belcore says.
"With our new Universal dvLED mounting system, we are the first to the market with a truly universal solution that resolves these issues, making life easier for all parties involved in a project and saving valuable time and costs versus dedicated mounts."
The DS-LEDUNV addresses the complexities of achieving a perfectly flat, seamless finish on uneven wall surfaces with its display adaptors and X, Y and Z axis adjustment features on Peerless-AV mount infrastructure.
A key USP is the unassuming, yet fundamental component, the quick-connect clamps. With assistance from the installer-friendly wall template, the lightweight aluminium mounting frame quickly and accurately attaches to the wall while the quick-connect clamps attach along the frame to facilitate fast, easy latching of dvLED cabinets. This results in a dramatically simplified installation.
The kitted design of the DS-LEDUNV also makes it far more reconfigurable should project requirements change. For example, if modifications are requested by the customer to the size of a dvLED video wall before the mounting system is installed, easy adaptations can be made without incurring substantial extra costs.
To assist installation, drawings of the chosen Universal dvLED Mounting System are included in the box along with instructions to assist the team in deploying the solution. The open architecture of the system also provides ease of cable management keeping the install tidy.
The SEAMLESS Kitted Series Universal dvLED Mounting System is currently available for Absen, Barco, iNFiLED, LG, Philips, Sharp/NEC, Sony and Unilumin models as well as similarly sized and configured cabinets from other manufacturers.
The DS-LEDUNV is available in black and silver and an optional Trim Kit Accessory (DS-LEDTK), compatible with most displays, provides a finished aesthetic to the sides and corners of the wall.
ADVERTISEMENT

ADVERTISEMENT
ADVERTISEMENT

ADVERTISEMENT