Panasonic releases HVAC controller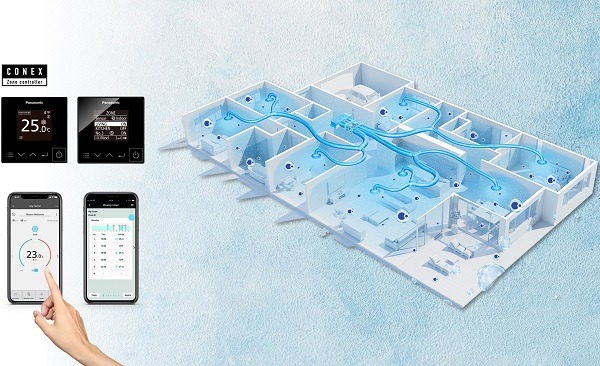 Panasonic has launched a new air-conditioning zone controller which can be used on any smart device.
With built-in Wi-Fi, the CONEX Zone Controller can be wall-mounted in one or several locations in a modern household environment, connecting directly to a ducted system. Users can use the wired remote control or download Panasonic's Comfort Cloud App to their smart device to personalise and control various air settings at the touch of a button.
This controller allows up to eight zones in the home to be managed individually, offering tailored comfort to meet the specific needs of each family member.
Panasonic Australia's product marketing manager for air conditioning, Jack Tey, says: "COVID-19 has changed the way we live, with people spending more time at home whether working, studying, entertaining, relaxing, or exercising. The new CONEX Zone Controller supports this new flexible lifestyle by making it easier than ever to adjust air settings across multiple zones to suit different needs at different times of the day or week."
The controller offers daily and weekly timers that can be set up for each zone, and also aims to help reduce household energy consumption.
Another new feature is the Smart E Box which, when installed inside the ceiling and connected to a Damper kit, can restrict airflow to certain areas to help control room temperatures and save electricity.
Panasonic's nanoe X technology can also be controlled from the CONEX zone controller and app, letting you turn the function on even when away from home.
Jack adds: "At Panasonic, we aim to provide heating, cooling, and air purifying solutions that allow for convenience and comfort. Our CONEX Zone Controller is the ultimate solution, giving users complete control of their ducted air conditioning and settings from their smart devices."