OpenWeatherMap for Control4, by Chowmain Software & Apps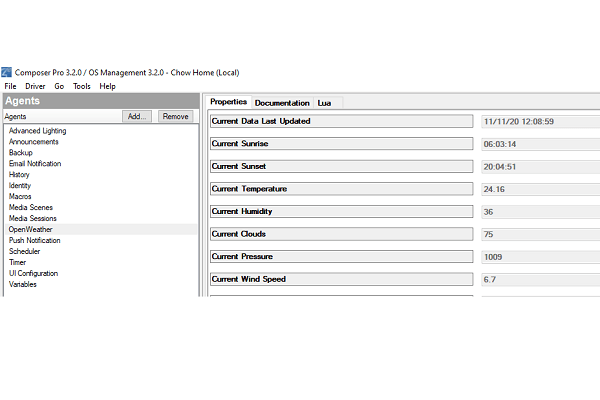 Chowmain Software & Apps has released an OpenWeatherMap driver for Control4 OS 3.1.3 and above.
It gives Control4 users access to OpenWeather, providing current and forecasted weather data based on a team of IT experts and data scientists that have been practising in the area since 2014.
The Chowmain OpenWeatherMap agent brings all of this data into Control4 for use in the home automation system. This is useful for automating services within the home based upon the external environment.
It recognises the project's location and temperature to scale automatically, ensuring the data received is specific to the project, automatically polling for information every 15 minutes.
It also boasts bindings for current temperature and humidity which allows users to connect to temperature display driver and other thermostat drivers.
An example of how it would be used is automatically turning on humidifiers if it's going to be a dry day, closing shutters automatically if it's hot outside or opening motorised windows which face the wind direction if it's hotter indoors than out.
A list of current weather conditions it reads are:
Sunset (time)
Sunrise (time)
Temperature Minimum
Temperature Maximum
Wind Speed (miles/hour or meters/sec)
Wind Direction (degrees)
Temperature (degrees Celsius or Fahrenheit)
Pressure (hPa)
Humidity (percentage)
Dew Point (degrees Celsius or Fahrenheit)
Clouds (percentage)
Rain (mm)
Snow (mm)
To find out how to download the driver, more details and test cases, visit the Chowmain Software & Apps website.