The next generation of media servers
A new wave of media centres aims to silence the critics. Angela Tufvesson finds that manufacturers have learnt from the past and are looking towards a bright future.
Let's be honest. Media centres have had a bad rap in the past – from limited storage capacity to poor platform stability and inferior heat management, the problems are well known and well documented.
However, a new wave of media centres has emerged on the market, showing signs of an industry fighting back.
Although Kaleidescape leads the way in brand recognition and prestige – and, for that matter, in price – it is small and medium manufacturers that are leading the surge.
The Crestron Adagio Digital Media System (ADMS) was recognised as the industry's Best Future Technology at the 2008 CEDIA awards in Denver, Colorado.
"The ADMS is the only digital media system that features Crestron-exclusive WorldSearch to simultaneously search multiple media libraries – including the local hard drive, network hard drives, Blu-ray changers and the Internet," Crestron says.
"Results are displayed in an aggregate listing onscreen or on a touch panel in an elegant graphical interface, enabling intuitive selection for instant playback as streaming media or direct rental purchase for download."
It offers the ability to select and play a DVD or high-definition Blu-ray disc from the front panel. The optional ADC-200BR 200-disc Blu-ray changer allows for access to an entire DVD and Blu-ray disc collection, and up to five changers can be added for a 1,000-disc storage capacity.
Also a CEDIA award winner in the New Product and Electronic House Product of the Year categories, the Crestron iServer connects to home computer networks and automatically synchronises with an iTunes library whenever new content is added or new playlists are created.
It plays all the content stored on an iPod, including music, audio books and videos.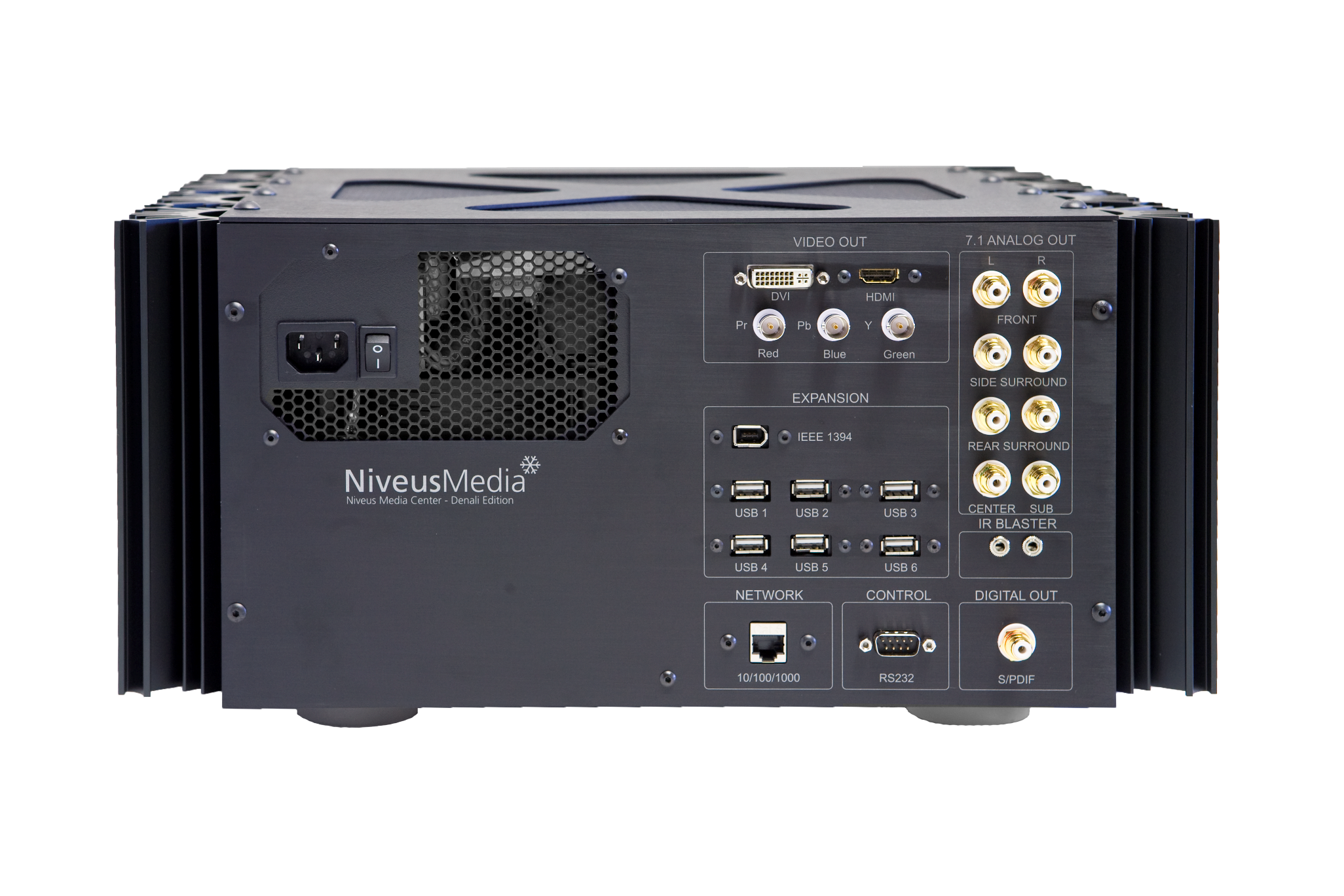 Niveus manufactures a number of media centres, including the Denali limited edition, pro series and Rainier HD edition.
Each of these models features the patent-pending Glacier passive cooling system, which operates in virtual silence.
Heat-pipe technology in the Denali is noteworthy. It draws heat away from internal components and out to external fins that radiate it away from the chassis, so the product is cool and quiet.
"The Denali is an enthusiast-grade solution for those that demand the best in AV output but also want a showcase or display piece," Niveus chief executive Tim Cutting says.
"Additionally, our customers like the familiarity of the user interface. And, because the platform is open, the Denali can be enhanced and upgraded, providing a level of future-proofing that other closed platform manufacturers have a difficult time enabling."
Niveus maintains valuable working relationships with Microsoft on the software side, and with Intel, Nvidia, and Seagate on the hardware side.
The company believes this has allowed its products to be at the forefront of technological development and superior performance.
"We are now using the Seagate Pipeline HD specialised media server hard drives," Tim says.
"Pipeline HD drives deliver unprecedented levels of acoustic, power and vibration performance and are the gold standard for high-definition performance and capacity. The Denali is available in a two-terabyte configuration.
"The Denali features Niveus' most powerful video performance, leveraging the next-generation GeForce Series 9 graphics with PureVideo HD technology for high-quality video scaling up to and beyond 1080p."
Total Q managing director Rob Sanders believes Interact-TV's Telly TV stands out from the rest because it operates on a Linux-based system, rather than the usual Microsoft Windows.
"With a Linux operating system customers can't go out and buy video cards or hard drives off the shelf," he says.
"But the one thing you do get with it is proprietary hardware designed to work reliably all the time.
"We have experience building proprietary hardware, and the best part is that the software works perfectly on it. It's not open to breaking down beyond that point."
Rob believes the product is superior because it is easy to navigate.
"People don't have a lot of difficulty understanding it – they pick up the remote control and move through the menus very simply."
He describes the product as a 'home entertainment server' rather than a 'media centre', as the generic term has been harmed in the past and doesn't take into account the product's distinctive operating platform.
Support services for the Telly TV are strong, and Rob emphasises the central point of contact should problems arise.
"Who stands by a Windows system and who supports the product? Do you call Windows when you have a problem with the software? There's no single point of call, but with our product you have a dedicated point of call."
The Mediamax from Axonix is also marketed as a 'server' to highlight its stable platform. Network Audio Visual director Claver Harper distributes the product and believes its Blu-ray capabilities set it apart from competitors.
"It's the only one on the market at the moment that's doing Blu-ray. It can store, deliver and stream Blu-ray in native form around the house. We can deliver 35 streams of Blu-ray – up to 50 zones simultaneously over one Category 6 cable," he says.
"Blu-ray is going to be the last disc format we'll ever see. But I think it will be around for a long time – maybe another 10 years, because people like to collect media."
The number and breadth of next-generation media centres on the market suggests the problems of the past have been dealt with and the future is bright for these symbols of a truly convergent media landscape.