MuxLab to showcase new products at annual home tech tradeshow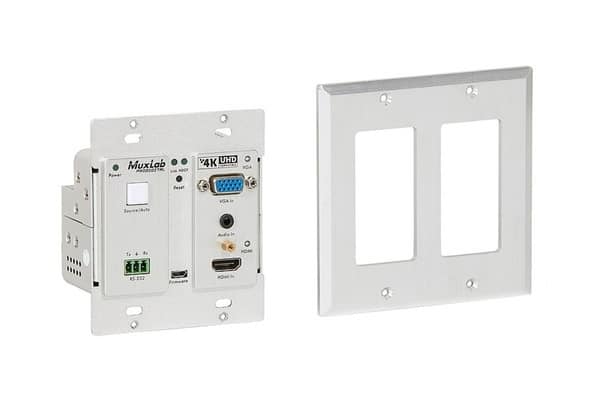 MuxLab is showcasing several new products and an app at the annual home tech tradeshow event which includes two new wall plate transmitters that offer a slick method of AV connectivity with brushed metallic enclosures.
MuxLab's HDMI/VGA/USB over IP PoE Wall Plate Transmitter, UHD-4K (model 500777-TX) connects AV sources via HDMI, VGA and USB ports. Integrators can use this Wall Plate Transmitter to create an IP-based AV system in which all connected equipment links to a local Ethernet network. End users can access all their AV sources from various displays and smart boards all riding on an IP-based infrastructure and routing through an Ethernet Switch.
"For ideal point-to-multipoint and multipoint-to-multipoint AV distributions, the Ethernet Switch must have Gigabit ports, Jumbo Frame capability and DHCP Server capability, while supporting PoE and the IGMP communication protocol," says MuxLab director of product development Joe Teixeira.
"MuxLab recommends using the Cisco SG300 or SG500 Series Managed Switches."
AV equipment can also be connected locally up to 100m using one CAT5e/6 cable in a traditional point-to-point extension. In this case, end users can switch between their HDMI and VGA inputs with automatic switching or by manually selecting using the front panel. Both methods of signal delivery support HDMI 2.0 resolutions up to 4K (3840×2160) @30Hz or 4K @60Hz (4:2:0) and VGA resolutions to 1920×1200@60Hz with two-channel audio.
MuxLab's HDMI/VGA over IP PoE Wall Plate Transmitter, UHD-4K (model 500773-TX) offers the same HDMI and VGA over IP functionality without the additional USB input. Equipment routing through this Wall Plate Transmitter can be connected from up to 100m away. HDMI 2.2 resolutions are supported up to 4K (3840×2160) @ 30Hz or 4K @ 60Hz (4:2:0) and up to 1920×1200 @ 60Hz for VGA.
MuxLab's HDMI 4×1 Switcher with Audio Extraction, 4K/60 (model 500437) provides end users with a method of accessing up to four AV sources from the same display, while supporting HDMI 2.2 and resolutions up to 4K@60Hz (4:4:4). Audio from the selected AV source can be extracted as LPCM 2.0 or 5.1, Dolby 5.1 and DTS 5.1 and delivered via S/PDIF Toslink outputs. LPCM 2.0 audio can also be extracted and delivered via two-channel audio RCA jacks. This switcher supports an Audio Return Channel for when end users opt to feed audio to add-on systems for an enhanced performance.
MuxLab's AV over IP 4K/60 Uncompressed Extender, Fiber (model 500761) supports the interconnection of hundreds of AV sources and displays all riding on an IP-based local Ethernet network. Integrators can easily create custom video wall arrangements, virtual matrix and signal splitting configurations. This extender supports both HDMI and DisplayPort sources and displays at resolutions up to 4K@60Hz (4:2:0) with zero latency and up to 4K@60Hz (4:4:4) with visually lossless light compression.
As a result of this model using OM3 multimode fibre cabling, equipment can be connected to the 10Gbps Ethernet Switch from up to 300m away, providing lots of options when storing AV equipment in a rack mount. Two-channel audio can also be delivered separately alongside the video. A 1Gbps Ethernet Switch port is provided for connecting additional network devices; RS-232 and IR ports allow for remote control.
MuxControl is a new software control application designed to manage all of MuxLab's AV over IP devices via Android and Apple smart phones and tablets. It provides an intuitive, easy to operate GUI that simplifies the setup, access and management of any size AV over IP installation. The system allows end users to manage many locations or zones with quick access, supporting floor plans, room layouts, and colour-coded indicators for easy identification.
On-board customisable templates include options for various residential installations. Room layouts can be immediately tailored to match the actual environment by taking a picture of the room and instantly using it as a backdrop, or make use of an overhead floor plan view for larger installations. Connected displays automatically take on the colour of the source they are connected to for simple identification.
MuxControl allows users to create sources that can be graphically represented from a library of options. Content can be instantly directed to specific zones using simple, colour-coded icons that represent connected equipment. Repetitive tasks can be preconfigured and instantly activated. Users can create very expansive video walls of almost any user-defined size and control multiple zones that all support up to 4K@60Hz resolutions.