MSE Audio announces ISE 2020 line-up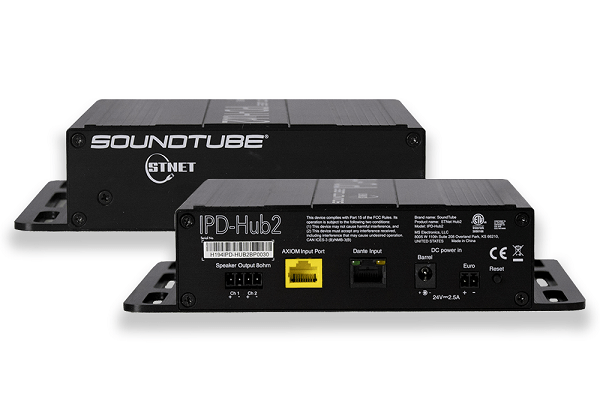 MSE Audio has announced its line-up of pro AV and residential loudspeaker solutions for ISE 2020. On show will be a range of products from the companies MSE Audio distributes including SoundTube Entertainment, Soundsphere, dARTS, Phase Technology, Induction Dynamics, SolidDrive and Rockustics.
SoundTube's Dante ecosystem will feature the new Dante-enabled Soundbar which is an ultra-thin two-way digital end-point solution in a soundbar configuration. With a built-in amplifier and DSP, it's only 1.5" thick where the bar meets the TV.
It incorporates a right and left speaker with four 3" ultra-long throw polypropylene woofers with NBR surrounds, four bass radiators and two 0.75" synthetic soft dome tweeters.
STNet will debut the first pendants in the pro AV industry with Dante capability. It uses BroadBeam Ring high-frequency dispersion technology for clear, understandable messaging and music over a wide area even while off-axis from the speakers. It's ideal for any facility with high or open ceilings, such as large retail stores, houses of worship, schools, hotels, meeting spaces, bars and restaurants.
The IPD-HUB 2 DSP amplifier is designed for small-to-medium applications including bars, restaurants, education and hospitality among others. The heart of a complete networked audio system, multiple IPD-HUB 2's can be linked together to distribute audio over a large area or set up in up to eight zones.
All the SoundTube products will be shown using the new STNET Control Centre software which makes use of the Dante platform to enable interoperability with a host of other products worldwide. The ST-Net Switch II offers up to 40W PoE to each speaker or with standard PoE or PoE+ switches.
Also on display are MSE's EN 54 part 24-rated loudspeaker solutions for fire detection and alarm systems including Focal Point for sound-triggering devices and Solid Drive's invisible sound transducers for foreground, background and sound-masking applications.
On the residential side of things, Phase Technology's CI angled ceiling speakers will be on display as well as the Periscape landscape speakers, the award-winning Cherry Bomb and classic Rockustics rock speakers.