Modus VR announces new software and enterprise partners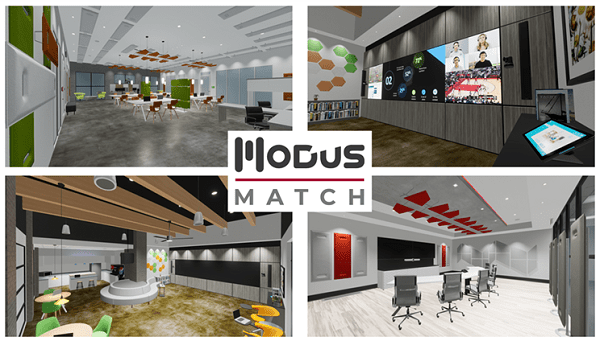 Modus VR made a number of announcements for the commercial sectors at InfoComm last week.
Leading the wave of news, four new commercial manufacturers have joined the Modus Match Partner Program that was launched in December 2021. Modus VR has also announced their upcoming software release that will add many new products and delivers on an integrator-requested new Bill of Material (BoM) generator.
The latest group of Modus Match manufacturer partners includes Jabra, Snowsound, Q-SYS, and Yamaha UC. The Modus Match Program expedites and facilitates the addition of partners' products into Modus VR for use by all Modus VR subscribers, and those who opt for the just announced Modus-as-a-Service turnkey project service provided by the Modus VR team of specialists.
With the new Modus VR Software release, the latest products now available include the Crestron (TS-770 & TSD-2220 Touchpanels, SB-200 Soundbar, ICE 4/6/8 In-Ceiling Speakers, and Occupancy Sensor), Q-SYS (AcousticDesign Series loudspeakers, NC Series network conference cameras, and TSC Series Gen 3 touch screen controllers), Steelcase (I2i Chair and Migration SE Sit/Stand Desk), and Snowsound (Flat, Flap, and Mitesco Acoustic Panels).
Thanks to the upcoming Modus VR release, subscribers can use Modus Docs to output complete, branded project line drawings and annotations, and now a full Bill of Materials (BoM). This feature produces a list and quantity of all items in the project, including dimensions and finishes, and the ability to filter out certain items as they wish. The BoM can be exported as a CSV file that can be easily incorporated into popular custom integration software such as D-Tools, Jetbuilt, or most any other proposal software.
Modus VR co-founder, Ken Brueck says: "New partners, new products, and new features are key to our vision for a seamless project design and delivery experience. With each addition, Modus VR continues to make creating today's commercial rooms and A/V technology systems even faster and more exciting than ever. It's particularly gratifying to watch our Modus Match Program so rapidly evolve, as manufacturers, integration companies, and their partners learn the benefits of designing projects in real time in VR. We continue to add products, as evidenced by today's announcement of 16 additional objects—with many more to come."
Ken adds: "Further, by seamlessly integrating our new Bill of Materials feature into Modus Docs, integrators can confidently turn their design recommendations into a final proposal, start to finish, including a list of every single item they need to complete the installation. This feature removes any guesswork from proposals, allowing integrators and clients to move forward with approvals fast and without concern of hidden costs or unforeseen requirements."