Middle Atlantic unleashes integrators' inner speed demons at CEDIA Expo 2019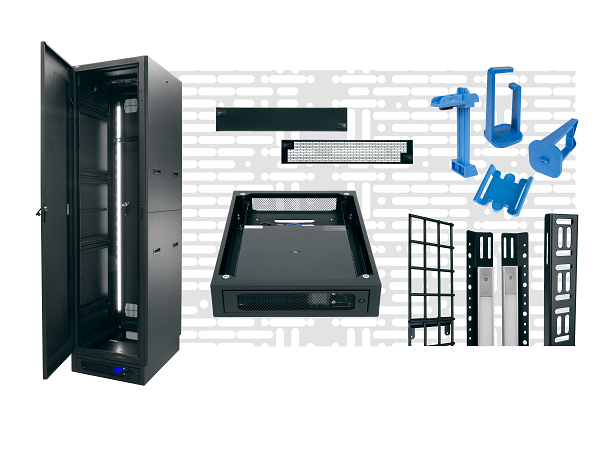 Middle Atlantic, brand of Legrand AV has shown Forward at the CEDIA Expo 2019. Forward is a family of toolless rack options and accessories that deliver greater system reliability, efficiency and flexibility to the integrator.
Forward lets users install the family's blank and vent panels, cable management, lighting and other rack solutions without tools, completing the project in a fraction of the time.
"The rack installation story is a tale of site transport woes, fumbling around pitch-black rooms, wrestling with cable spaghetti and dealing with power blips. This adds up to hours spent toiling inside the rack," Legrand director of product management Paul Dolynchuk says.
"We wanted to rewrite this story. Forward achieves the fastest possible installation while ensuring reliability. Now integrators can install today's systems at tomorrow's speed."
Research has indicated that black racks with dark closets are one of the biggest complaints from integrators. Because of this, Forward lighting mounts directly in any of the horizontal slots alongside the rack rail brackets. This means integrators don't have to hold up a flashlight or phone to perform intricate work.
It also includes an IR sensor to switch on automatically when the door opens and a dimmer to adjust the brightness.
To ensure that your cables are neat and tidy, Forward includes cable management accessories including horizontal and vertical solutions that range from C and D rings to full-height grids. This offers limitless cable routing flexibility without the need for tools.
With Forward, integrators can now add panels in a matter of seconds rather than minutes thanks to the Forward blank and vent panels. Instead of screwing vent panels in, they now simply click into place.
With today's AV equipment needs, a UPS is vital on every job. Due to its size and weight, installing one can be challenging and is usually a two-person job. The Forward UPS Base eliminates this problem with a 2200VA Premium Series UPS that comes preinstalled and ready to plug in out of the box.