Meridan Audio expands Reference range with DSP730 loudspeaker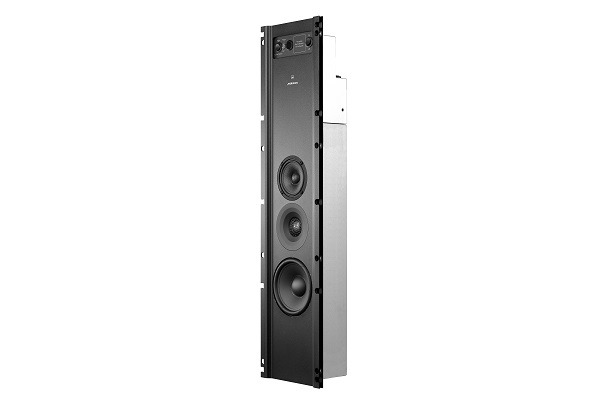 Meridian Audio has introduced the DSP730, an in-wall active digital loudspeaker that gives users power and fidelity.
Designed to deliver high-resolution audio in small and medium-sized rooms, it joins the DSP750 in the Reference range of Meridian Audio's Architectural product series. It's also ideal for home cinemas and theatres or for distributed audio applications, letting listeners enjoy every detail from a whisper to an explosion.
It boasts a maximum output of 115dB at one metre and bass extension down to 38Hz. The drive users deliver superb off-axis performance which gives users a wide dispersion for a huge sweet spot and optimal coverage of listening positions.
It also has the same beryllium tweeter as the DSP750, capable of playing high-res audio over 40Hz while a 100mm mid-range driver delivers clear dialogue alongside a 160mm bass driver, producing deep, powerful and complex frequencies.
Three drive units in the DSP730 help unleash the full potential of the amplifiers and a Class-M DSP engine provides thermal and dynamic bass protection for detailed and accurate sound.
Additionally, three bridged pairs of Class-D amplifiers deliver over 100W to each drive unit and have been integrated into the design of the loudspeaker, eliminating any need for rack mounted amplifiers. These amps have been designed to operate comfortably and run perfectly cool, even at the highest listening levels.
As with all Meridian loudspeakers, the DSP730 features Meridian's unique Enhanced Bass Alignment (EBA) technology to provide accurate bass alignment. EBA allows the bass to arrive at the listener in time with the higher frequencies, delivering perfectly timed playback.
The DSP730 also comes with Meridan Centre Elevation technology and 'L+R' soundbar-mode for TV applications. In the soundbar mode, the loudspeaker plays a balanced mix of left and right audio, while the Centre Elevation technology raises the perceived image location from an under-screen loudspeaker to the centre of the screen. The DSP730 can be combined with the Meridian DSW600 in-wall subwoofer to produce a full-range, two-box solution.