Magewell Pro Convert Audio DX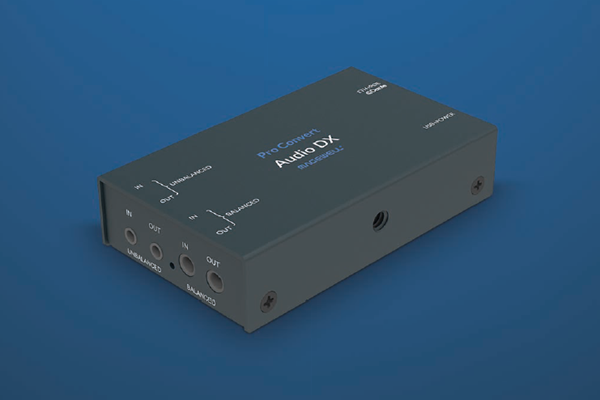 Magewell has released a multi-format IP audio converter and capture device. Myke Ireland gets his hands on the unit to find out how well it works.
I'll preface this article by highlighting that I'm a Generation X kid, and the one thing we all agree on being from Gen X is we are old enough to remember a world that was very analogue, yet young enough to have lived the majority of our lives in a digital world. Where I'm going with this is; my professional audio life has been exactly that, one foot in analogue and one in digital all the way back to my early days.
When I started my music degree it was all geared towards digital recording, but the signal paths were still very much analogue. My formal education taught me how to operate a 4" tape machine, but I've never used one in the real world.
It does feel like we are finally arriving at the last stages of analogue audio, so the question for today's read really becomes, is the Pro Covert DX from Magewell one of the final bridges between the analogue and digital realms of audio?
Out of the box
Like all Magewell converters, the DX is small, sturdy, lightweight and perfectly engineered for live production environments as it is for studio or corporate spaces. The Pro Convert comes with a standard quarter-inch microphone thread for easy mounting and there's also a handy L-bracket included in the box for alternative mounting options.
On one side of the unit, you're provided with a network port for all network streaming and control features and a USB port for PC connectivity. Both ports can power the device itself which is handy, and the included power supply will power the box over USB if no POE options are available. However, I wouldn't advise powering the device from a connected PC over USB, or the box will lose power each time a PC is disconnected or powered down. The best outcome here seems to be using POE if you have a capable switch or injecting POE if using a switch without POE. This ensures you get full access to all the device's core functions without any hurdles.
On the opposite side of the box is the analogue I/O options. The two unbalanced connections support TRS mini jacks for stereo in or stereo out (this could also be dual mono). The balanced I/O supports two dedicated TRRS mini jacks and supplied with the Pro Convert are two dedicated breakout cables providing either two male or two female connectors for their respective input and output pathways. Awesome little attention to detail here are the flat-sided breakout cables ensuring both of them fit snuggly side by side in their sockets.
Inside the box
This is really where the magic is. The GUI options for configuration and device setup are rich and well-presented. You can access the internal GUI either via a USB connection from a PC or over the network.
The dashboard landing page has a stack of really helpful information that highlights which connections are being used, how many channels are available over that connection and the current sampling rates of that channel.
Other handy displayed info includes CPU usage, memory usage, temp, board index and uptime. The USB connection is capable of either two or four channels of USB audio, this can be selected in the USB preferences, channels can run either way defined as either "playback" or "record".
You can set the sample rate of the box via a global setting, giving you access to common industry sample rates, however worthy of note is that USB connection is fixed to 48kHz so altering the sample rate affects only analogue to digital pathways. Input sensitivities of the analogue inputs can also be adjusted to deal with professional or consumer-level connected devices and there's a built-in test tone generator to check functionality of the analogue devices.
Flipping to the digital side of things and in this case, it's all about streaming options. The first and most obvious streaming option is Dante, but the Pro Convert is capable of streaming over NDI, SRT and RTSP which really does make it so much more than a simple AD/DA. You can employ the DX to span across wide area networks and even public internet making it a pocket-sized tool of ultimate versatility.
Installation
To be specific, the time it takes to install the Pro Covert DX is relevant to where it's being installed, but the reality is it's a minimal physical install and in some cases none at all. Depending on the functions you're employing with the unit, there is likely to be some hefty set-up time. I'd say if you're using all channels and all streaming functions, it's probably between one and two hours for a full set-up, testing and then active use.
As a cautionary tale, this is a network streaming device, so for it to work correctly there is a good amount of network configuration involved to get things singing. My advice would be to ensure any network is set up correctly before trying to configure the Pro Covert, or you'll lose time chasing your tale thinking something is up with the device itself.
What do I love about it?
It's size! If ten years ago, you were to hand me an AD/DA specifically for audio and told me it had eight analogue I/O, four digital I/O, USB and network, I'd probably expect you to deliver a 2RU rack-mounted device with an extra chunky power supply.
The Pro Convert DX is not much bigger than a deck of cards, powered over the network and capable of all of the above and that's really what makes this device shine. Having an onboard matrix mixer means that in a recording environment, you can do some creative things like managing headphone mixes or re-amping a guitar and recording it back at the same time.
What do I wish it had?
This is definitely a reach, but if I had to request one additional feature of the DX, it would most likely be an optical I/O. I know damn well that this is simply my ADHD brain trying to come up with an additional feature because optical audio is nowhere near as prominent as it used to be.
The only thing I can think of is that including an optical pathway might open the device up to for further opportunity in broadcast environments, but either way, it's far from any sort of deal breaker.
Final words
The Pro Convert DX is as portable of a device as you could hope for but also well suited to the installation and to be honest, it's a bit of a chameleon in the AV world. Able to stand up to the demands of live sound and production and yet small and adaptable enough to be a permanently installed AD/DA converter and on-the-spot matrix mixer, the DX is an exceptional addition to the Pro Convert Line Up.
So, is the Pro Convert DX a final stepping stone to the end of analogue audio? I think yes, and I also think analogue still has a place.
What no one can argue is that the world of analogue audio gets smaller and smaller every day, and digital networks of audio get larger and larger. It's only a matter of time… but for now, there is still time.
ADVERTISEMENT

ADVERTISEMENT
ADVERTISEMENT

ADVERTISEMENT