LG's HDBaseT-enabled XE4F digital signage guarantees exceptional outdoor experience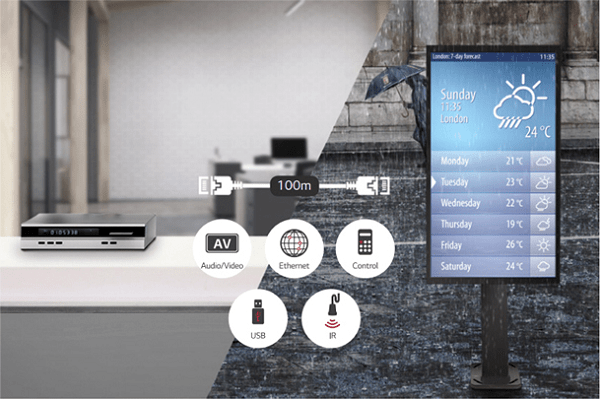 LG Electronics has released the XE4F HDBaseT-enabled outdoor digital signage displays which deliver high-quality dynamic digital content for outdoor installations.
LG is a co-founder of the HDBaseT Alliance and the LG XE4F gives integrators a range of features like a slim and robust design, upgraded brightness even whilst under strong and direct sunlight and easy customisation to suit a number of environments without a need for separate casing.
It also supports the transmission of ultra-high definition AV, Ethernet controls, USB and IR over a single, long-distance cable up to 100m and the HDBaseT plug-and-play technology simplifies installations while also saving on costs.
"Addressing the need for advanced outdoor signage displays is increasingly critical, and we work on providing a slim form-factor, filter-less sealed cooling system and HDBaseT connectivity for outdoor displays," LG senior engineer Mr Lee says.
"The XE4F represents our commitment to deliver next-generation solutions that best meet our customers' needs, such as superior viewability in the challenging outdoor environment. With HDBaseT, the XE4F further enhances the overall experience."
HDBaseT Alliance president Tzahi Madgar says that LG has been deeply embedded in the alliance's activities over the past decade and continues to contribute to the success of the technology: "As a leader in the outdoor display market, LG continues to pave the way for other players in the market to leverage HDBaseT for digital signage, to the benefit of the AV industry as a whole."