LG 48" 4K OLED coming to Aussie shores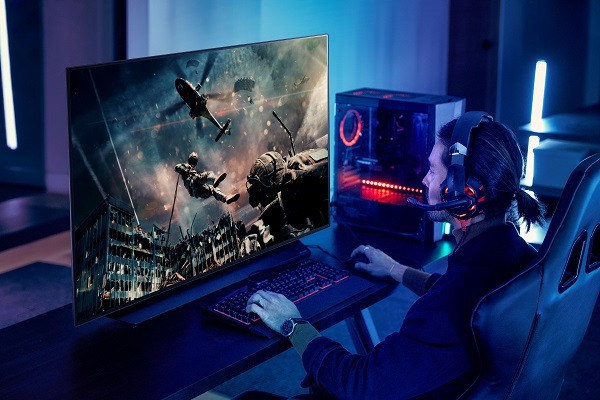 LG Electronics (LG) has announced that the much-anticipated LG 48-inch CX OLED 4K TV (48" CX), packed with sophisticated gaming capabilities, will be available to Australian consumers in September.
First previewed as CES 2020, LG brings its high picture quality and 'Perfect Black' of its OLED TV panel technology in a new 48" screen size. The 48" CX complements LG's comprehensive lineup of 55", 65", 77" and 88" OLDEN models and supports consumer desires for a mid-size second Smart TV without compromising picture quality.
"We continue to push boundaries with our home entertainment offering at LG whilst meeting the needs of a wide range of Australian consumers. We first showcased the 48" OLED TV at CES and are excited to finally bring our premium OLED display technology to the mid-size TV market," LG marketing manager for home entertainment Tony Brown says.
"Gamers will especially gravitate towards this model as it meets the needs of both PC and console gamers."
The 48" CX doesn't hold back on picture quality with its self-illuminating pixels with a high pixel density of eight million on a compact screen reproducing vivid and sharp 4K picture quality.
Designed for both PC and console gamers, the new screen pairs exceptional picture quality with premium gaming features. LG OLED TVs are the first in the industry to be NVIDIA G-SYNC compatible, meaning graphics are rendered in sync with the gaming console. The technology adapts the TVs refresh rate to the frame rate of the connected hardware in order to increase player immersion.
LG self-emissive OLED technology employs the precision of individual pixel control to produce exceptional picture quality, low input lag and 1ms pixel response time, for an immersive gaming experience without flicker or stuttering.
In addition, the 48" CX TV delivers content the way creators intended it appear through HDR formats such as dynamic HDR10 and Dolby Vision at up to 120fps for 4K HDR content. There are four ports with HDMI 2.1 features, the 48" CX also offers users the benefits of advanced HDMI specifications such as auto low latency mode (ALLM) (as specified in HDMI 2.1) to automatically enable Game Mode and eliminate unnecessary processing when the console is detected.
Heightening gamers' sense of immersion even further, the 48" CX incorporates support for Dolby Atmos and LG deep learning-based AI sound acoustic tuning, which understands the acoustic room environment and adjusts the sound for greater accuracy.
Additionally, it's also Bluetooth surround compatible, enabling two PL7 or PL5 LG Bluetooth speakers to be connected simultaneously, up-mixing stereo sound to virtual 4.0 surround sound for more immersion.