Let it all hang out with pendant speakers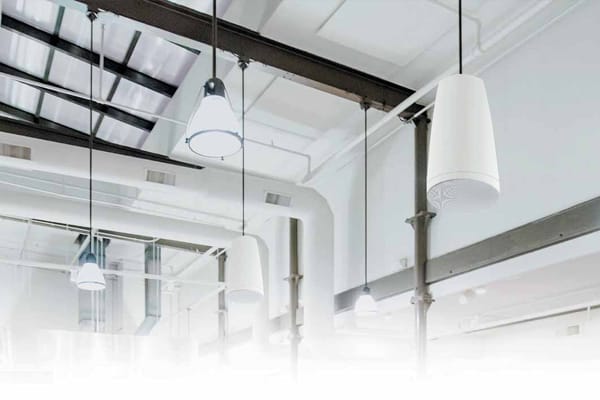 The commercial audio market has recently seen a small explosion in the number of companies offering pendant speakers. Jacob Harris looks at the reasons why.
As a glance skyward in many major retail outlets will confirm, pendant speakers are a growing trend in commercial audio. In part, this stems from the architectural trend of high, open ceilings that are often complemented by hanging lights and pendant speakers. But the benefits of these speakers go further than aesthetics alone.
"The open ceiling design seems to be trending for retail spaces these days. The industrial style lighting that often accompanies those retail stores hangs off the high ceilings at a lower level, so bringing the speaker to the same level keeps the look consistent. Community pendant mount speakers have actually been designed to have a similar look to lighting fixtures. So when they sit next to lights in a retail space with a high ceiling they look comfortable together and don't stand out," says Hills product manager Blake Kirby.
The fact pendant speakers look good in these settings is, according to Blake, only part of their appeal. They also deliver better clarity and lower distortion because of their proximity to the listener. In spaces with very high ceilings, in-ceiling and even surface-mounted speakers need to be driven harder causing them to throw dispersion in a wider pattern by the time the audio reaches the listener – the simple ability to have the speaker at a lower physical height allows for better coverage and frequency response.
"When you're able to get speakers down to that level, frequency response really starts to come into play. Community pendant mount speakers, for example, have a consistent wide-dispersion on their high-frequency components which means you have greater high-frequencies off axis, and that's where a lot of people are listening in retail environments."
Of course, in retail environments people are generally moving on and off axis as they walk around the space. This is an important issue to address because retail is also a sector where sound reinforcement really needs to be considered and delivered as effectively as possible.
"A sound system needs to deliver full-range sound throughout the entire store, so people can walk around and get even coverage – retailers don't want to have customers walking under hot spots or walking to one area with too much base and another with too much high-frequency.
"If you can deliver constant, high quality sound throughout the store, customers are going to stay longer and spend more money. The longer they're in the store, the more they're going to spend, so a high quality sound system is crucial for retail stores these days. I personally have been to retail stores that deliver this and have found myself feeling much more comfortable. By making the customer comfortable in the store, it's likely they'll stay longer and that usually results in increased sales."
We've all been to a retail store that had tinny music pumping out of a single speaker in a corner – it's unpleasant and most of us want to get out of there as soon as possible. The problem is compounded further in spaces with very high ceilings with hard, reflective surfaces. In these situations, audio from in-ceiling speakers, or even surface mounted speakers, is often subjected to a loss of clarity. By hanging the speaker from a pendant, at a lower level, you eliminate the issue and create a more welcoming professional environment.
Pendant speakers not only look the part in modern interiors inspired by the industrial aesthetic, they out-perform many of the alternatives – making them a sound choice for installers working in the commercial sector.
JBL Control Contractor 60 Series
JBL Control Contractor 60 Series pendant loudspeakers, available in A/NZ through Jands, integrate proprietary Radiation Boundary Integrator (RBI) technology, providing consistent pattern control and even coverage of the listening space. This allows the use of fewer speakers to cover a larger area while at the same time eliminating drop-out spots. Fewer speakers equals reduced costs.
Internally, the Control 60s have the same RBI as found in JBL's Control 40 in-ceiling speakers. This makes it easy to combine flush mount and pendants in the same venue or area, and have the same sonic signature across all speakers.
Redback C1057
Designed for use where traditional ceiling-mounted speakers are difficult or impractical to install and available through Altronics, the Redback C1057 pendant speakers are ideal in areas with very high raked, suspended, concrete or exposed ceilings.
Installation requires a single fixing with the connection concealed within the ceiling rose provided. This model is fitted with a high efficiency 114mm (4.5″) full range 30W driver, fitted with internal 100V line transformer with an 8Ω bypass.
Sonance Professional Series
The Sonance pendant's minimalistic design is purposely intended to be as unobtrusive as possible – the speakers taper away towards the hanging point and have no embedded design in the outer case. Thoughtfully, the pendants ship with a terminal and hanger cover that conceals all the wire terminations and hanging hardware, so that no unsightly loose ends can be seen if the speaker is viewed from above (such as the case as being overlooked from a mezzanine level).
The same one-piece grille design as the in-ceiling speakers is used for consistent sight lines when installed in the same space. Each speaker includes a hardware kit which includes Gripple hangers and a 5m steel suspension cable.
Sonance is available from Amber Technology Australia and Amber Technology NZ.
TruAudio BeatDrop
The new TruAudio BeatDrop pendant speakers from Advance Audio are the ideal choice for rooms or venues with open architecture or high-ceilings.
The BeatDrop is an 8" two-way ported pendant speaker designed with an accurate and wide dispersion pattern. Combined with a low bass extension, the BeatDrop provides excellent sound reproduction. It is specifically engineered for popular commercial areas such as sports arenas, restaurants, bars, stores and shopping centres. With 70V/100V and 8Ω settings, black or white options, and Gripple-brand tool-less hanging kits, the BeatDrop is the perfect versatile speaker for commercial and residential applications.
Apart Audio SPHERE
The Apart Audio SPHERE Series allow a loud and wide sound dispersion to be produced with a minimal number of loudspeakers.
Apart is distributed by Amber Technology.
The SPH20 is suited for both announcements and background music and is a suitable solution for background music or speech in industrial buildings or supermarkets with high ceilings (at least 4.5m).
The 360° dispersion characteristics reduce the quantity of speakers that are needed, lessening the amplifier power requirements and reducing installation costs.
The SPH20 comes with 3.3m cable with a safety cord inside and 20/10/5/2.5W 100V transformer. It has ABS plastic housing, coated 8″ paper dual cone woofer and is 255mm wide.
Community Distributed Design DP8
The Distributed Design DP8 from Community Loudspeakers (distributed by Hills) is a high performance 8" pendant loudspeaker featuring high power handling, high sensitivity and realistic sound reproduction. The DP8 is equipped with a built-in autoformer, allowing the full loudspeaker output to be realised with 70V or 100V distribution lines.
Uniform voicing means that the DP8 can be combined with other ceiling and surface mount models in the Distributed Design Series without compromising consistency from zone to zone. The genuine coaxial design uses separate magnets for the LF and HF drivers for reduced distortion and industry-leading sensitivity, thereby permitting 3dB to 6dB greater output level while requiring half the amplification power of competing products. The proprietary Tru-Phase waveguide and perfectly centered driver produce a consistently wide conical polar response up to 16kHz. Community's patented Carbon Ring Cone Technology increases the effective cone area to further reduce distortion while reinforcing the cone for improved durability.
Soundtube 4″ Coaxial Open-Ceiling Speaker
The Soundtube RS400i, distributed by National Audio Systems, features one 4″ polypropylene woofer and one 1″ convex titanium tweeter with FerroFluid cooling. It includes UL listed hanging hardware with adjustable galvanised steel cables and integrated SpeedClamp self-locking cable grip for fast, easy and secure installation.
It also includes a Euroblock connector and terminal weather boot.
Patented ZeroReflection enclosure technology offers optimal sound reproduction and cabinet rigidity. An easy access five-position selectable tap switch for 25V, 70.7V and 100V applications with transformer bypass position simplifies ordering and inventory tracking. An average sensitivity of 82.5 dB offers high-output capabilities and reduced amplification costs.
ADVERTISEMENT

ADVERTISEMENT
ADVERTISEMENT

ADVERTISEMENT