Legrand introduces digital catalogue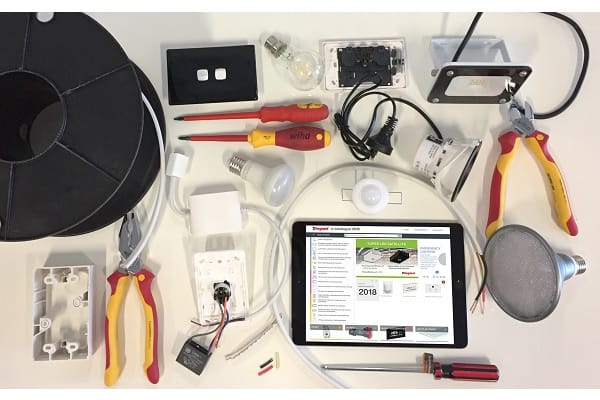 Legrand has announced the introduction of its first digital catalogue that has been specifically designed for convenience. It allows users to navigate between pages, quickly access topics, zoom in on a product and download product images, datasheets and other essential information at no cost.
The digital catalogue also features rapid search and filtering capabilities, as well as an overview of the wide range of products and systems for electrical and digital building infrastructures.
The catalogue includes Legrand and its range of product brands, including HPM, Excel Life, Arteor, Linea, Como and BTicino.
Products showcased include MCBs, RCCBs and RCBOs, surge protectors, contactors and time switches, distribution boards and enclosures, industrial equipment and accessories, switches and powerpoint series, general wiring accessories and mobile products, home automation and door entry, ventilation, lighting and sensors, emergency lighting and testing systems, and commercial lighting.
Each brand and product category has been divided into sections for quick navigation and easy download.
Key ranges include:
TX3 RCCBs
RCBOs
Connection accessories
Plug-in MCBs
Changeover switches
Analogue time switches
Digital time switches
Load centres
IP42 distribution boards
IP55 distribution boards
Cable ducting
Marking systems
Terminal blocks
Ferrules and crimping tools
Linea
Excel Life
Excel
Mechanisms
Aqua weatherproof
Soliroc
Mounting blocks
Junction boxes
Plug tops and bases
Mobile products
Door entry system kits
Door chimes
Bathroom heaters
Ceiling sweep fans
Hand dryers
Lighting accessories
Motion sensors
Photoelectric smoke alarm
Garden lighting
Emergency exit signs
Satellite LED series
Emergency luminaries
Power packs and batteries
Industrial weatherproof battens
Industrial LED highbays
Outdoor LED bulkheads
Lighting
Cable and energy management