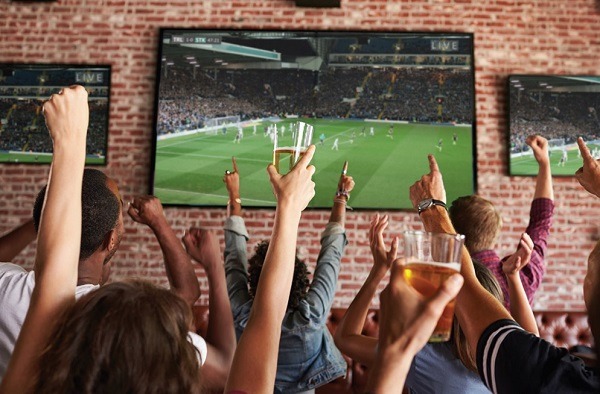 As businesses look to get back on their feet after the most disruptive period in most of their histories, Jands and Blustream look forward to providing top quality solutions to, in particular, hospitality venues as they seek to enhance their entertainment offering.
In any venue, the onus is on the proprietor to create a fun and engaging atmosphere that will keep patrons entertained and, ultimately, create repeat business.
A venue's AV offering plays a large part in this relationship.
Imagine sitting down to watch the 2020 AFL Grand Final and being greeted with a video stream that flickers, or audio that doesn't line up with the events on the screen, or, worse still, the cheers of people watching a different screen when, on yours, your team is still only on the attack?
The struggle is real too for those working behind a bar. Complicated control systems can make life difficult, particularly on a busy night when it's all hands on deck at the counter. The last thing you need is to have to leave your position to channel surf with a remote control in different areas of the venue.
The beauty is that all of these problems can be easily fixed once you know the right people to talk to.
Blustream, through distributor Jands, offers a range of HDBaseT, Video-over-IP and HDMI solutions that deliver seamless AV integration within any installation environment.
With an award-winning team of AV specialists, with over 30 years of experience, they can deliver the ultimate entertainment experience.
The average sports bar, on an average weeknight, might be juggling between five and ten different sporting events; you could have rugby on one screen, AFL on another, cricket on the next, etc. That's where Blustream comes in.
And while Australia hasn't seen the proliferation of behemoth sports bars like those in the USA, Martyn Shirley, general manager and founder of Blustream says that there is a lot of investment in the area and he believes that similar type venues will start popping up all over Australia, symbolic of its status as a sport-loving nation.
The Challenges
As with any large scale installation, there are challenges.
"Visual synchronisation, audio delay and usability are the big factors in installations like these," says Martyn.
"If you have a system that is out of sync, you might have screens showing the same content but maybe half to one second apart. A lot of AV-over-IP solutions use heavy compression or have a level of buffering inside – that buffer will be different depending on endpoints and network traffic. So as different endpoints require different levels of buffering, over time they could become one or two seconds out of sync."
This also affects the audio, something that irritates Jands' technology lead Jeff MacKenzie: "As an audio guy, that's one of my main gripes. Quite often, the audio gets out of sync, which is fine if it's just a long shot of a game. It's not out of sync enough to a big problem but when they cut to a shot of someone holding a microphone or a singer on an entertainment segment, the lip sync is completely wrong. Viewers will disconnect from that."
Traditionally, older venues or those on a budget have used video modulation which is very cost effective method of video distribution. However, latency is a huge issue with video and sound falling out of sync by multiple seconds, and quickly antagonising the ardent viewer.
The third major challenge is usability.
Jeff points out that bar staff are not employed to be AV technicians and, with the traditional rate of staff turnover in such venues, any AV system needs to be easy to operate.
So, how do you address these issues?
Blustream offers two solutions.
Matrixing
The first is matrixing. Typically, the biggest such cost-effective system is 16×16 which allows for 16 inputs going to 16 displays. The big positive here is the picture quality.
"You would be able to deliver 4K with no compression. So the quality is as good as what Foxtel is delivering to the premises. The latency is almost zero – there is some but it's less than 100-millionths of a second @ 100m," Martyn says.
It's also a simple installation, with no advanced networking skill set required.
"It's just point-to-point, almost plug-and-play in its configuration," he adds.
However, matrixing does require a third-party control system to make it user friendly for bar staff or those without AV knowledge.
It is also not an easily scalable system – the 16×16 setup is fixed, making it less flexible in a very big venue.
Jeff adds that cabling can also be an issue: "It has to be cabled to a central location so that can be impacted by the venue design." This also has an impact on the distance that any AV signal can be sent over a CAT cable.
AV-over-IP
The second solution offers more flexibility, using a standard, commercial grade network switch as a matrix.
The first advantage is that the networks are almost infinitely scalable, although a certain level of networking understanding is required for installation.
Martyn explains that the biggest system Blustream has deployed to date is 80×800. They were also due to install a 150×1500 solution for a major global sporting event that was postponed as a result of the COVID-19 pandemic.
The second advantage is that there is no need for centralisation – the source device could be anywhere as long as it is within 100m of the network switch. Or, by adding a fibre backbone to the solution, the distances could run into kilometres.
The solution is also very flexible in terms of how displays are used.
Martyn explains: "We can take nine displays in a video wall configuration and form one display with them, then dynamically make them nine displays independently again. Or we can have multiple video walls within one video wall."
In terms of latency, Blustream's solution has a consistent single frame latency, about one-fiftieth of a second.
Blustream's AVoIP solution also includes the drag-and-drop user interface, which can be used from any enabled device, that makes using the system a piece of cake.
Jeff points out that, in the case of AVoIP, network delivery converges with IT, a sector that is growing faster than AV.
"Currently we're running 1GB networks – if we have this chat again in a few years, we'll probably be on 10GB networks and that will enable us to deliver more content. We've got a guaranteed scalable solution going forward."
For more information on any of these solutions or products, feel free to get in touch with Jands by phone: 02 9582 0909 or via the website: www.jands.com.au/contact.