Key Digital adds to proprietary HDMI extension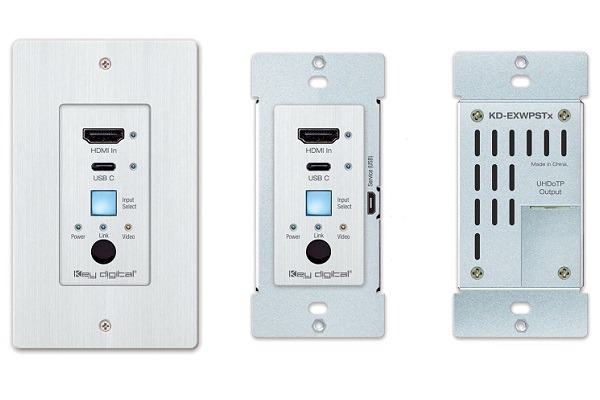 Key Digital has added to its product line with its newly developed proprietary HDMI extension technology – Ultra High Definition over Twisted Pair (UHDoTP) – a new cost-effective protocol for extending 4K 18Gbps HDMI signals with HDR over a single CAT5e/6 cable.
Dubbed the KD-EX18G, KD-EXWPSTX and KD-EX18GRX, the range comes with UHDoTP and fully automatic adjustment of cable length compensation feedback, equalisation and amplification parameters as well as 4K resolution support up to 4096×2160/60Hz/12-bit at 4:4:4.
Using the UHDoTP 4K-to-1080p down-convert feature allows integrators to mix display models and capability within a system, accommodating integration of new and legacy displays by giving the option to choose where this feature should be enabled per output.
"A great example of when down-converting might be necessary is when our integrators discuss projectors," Key Digital vice president of sales DeWayne Rains says.
"Without down-convert technology, a costly 4K projector would be necessary, which adds a significant price increase that the end user may not be ready for. How many 4K PowerPoint presentations do you see? With UHDoTP technology you can have a mix in which perhaps a front lobby needs to be 4K, but the remainder of the system is great to go on 1080p sets. Our integrators asked for this technology, and we're happy to see what a huge value it adds to systems by reaching a higher quality and a lower price point."
ADVERTISEMENT

ADVERTISEMENT
ADVERTISEMENT

ADVERTISEMENT