Just Add Power to showcase new transmitter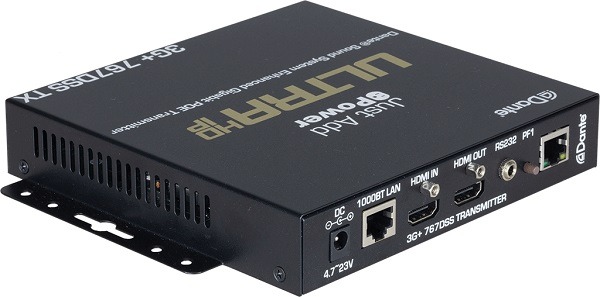 A new sound system transmitter will take centre stage at the Just Add Power (J+P) stand at InfoComm 2019 which takes place next month in Orlando, Florida.
The company, which provides Ultra HD over IP video distribution, will showcase its new 3G+ 767DSS Dante enhanced sound system transmitter. The new product adds compatibility with Dante and AES67 audio networks to Ultra HD over IP systems, with separate switching of audio and video.
The company is also offering a new five-year warranty on all HDMI over IP transmitters and receivers in the company's 2GΩ/3G and 3G families, the 726TVI 2G/3G+ TVI PoE transmitter, and the new Q-SYS plug-in for QSC control.
Other products on display include the 726TVI which eliminates the need for a TVI-HDMI converter in the IP video distribution chain. The Q-SYS plug-in offers full control of J+P AV over IP systems using any network switch.
J+P sales team manager Taft Stricklin says the new transmitter will make it easy to incorporate Dante and AES67 audio networks into J+P systems.
"Our customers will be blown away by our new five-year warranty, which is unheard of and really speaks to the performance and durability of our solutions. If that isn't enough, we'll also highlight solutions that add even more flexibility to our HD over IP system, including a transmitter that supports HD-TVI sources and a Q-SYS plug-in for QSC control."