Just Add Power just adds control through Aveo Systems' Mira Connect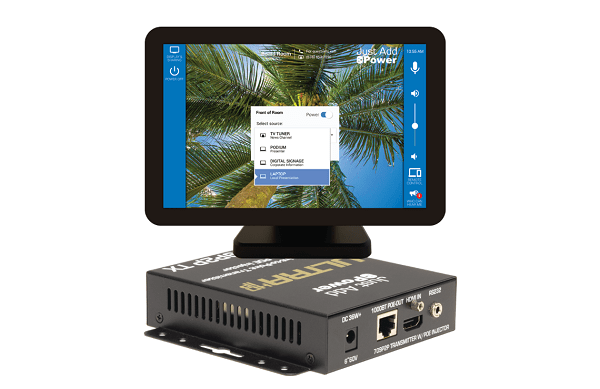 Just Add Power's video-over-IP distribution solutions are now supported by Aveo Systems' Mira Connect smart AV control system.
The integration simplifies control setup for integrators while providing users with intuitive operation of a Just Add Power system and associated displays and sources via a touchscreen controller or their own personal device.
Unlike traditional control systems, Mira Connect requires no programming. It is easily configured and managed through Mira Portal, Aveo's secure, cloud-based management platform. The user interface is automatically created based on integrated components, while built-in remote management and equipment status notifications allow integrators and remote IT teams to control the system from their browsers.
Aveo's patent-pending Mira Connect Me allows them to access Mira Connect's user interface temporarily on their mobile devices.
J+P sales team manager Taft Stricklin says they are excited to add Mira Connect to the list of control platforms supporting their systems.
"Without the need for programming, Aveo's solution makes it simple and fast for integrators to provide their customers with intuitive control over installations of any size. And by allowing users to utilise their own devices instead of a shared touch screen, it's the perfect system for addressing health and safety concerns in the COVID-19 era."
Aveo Systems chief executive Craig Richardson adds of J+P: "The company's solutions are on the cutting edge of video over IP and can be found in installations of all sizes — from bars and restaurants to airports and sports facilities. No matter the size of the system, integration with our Mira Connect platform ensures quick and easy setup for integrators and an intuitive control experience for their customers."