Just Add Power delivers ultimate sports viewing experience for Mexico City homeowner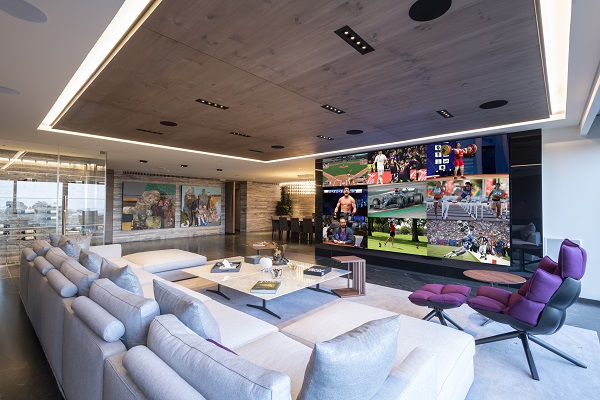 Just Add Power helped to create the ultimate sports viewing experience in a luxury home in Mexico City by installing its Ultra HD over IP system.
Integrator SmartLab used Just Add Power's solutions to deliver games and other programming through four satellite receivers, an Apple TV and a Roku to a 3×3 55" living room video wall which gives the end user simple one-touch flexibility for layouts and impressive performance.
"In this video wall scenario, it was imperative that the homeowner be able to easily send any source to any display and change the video wall configuration, whether it be one large image across all nine displays, nine independent images, or any combination in between," SmartLab chief executive Albert Mizrahi says.
"To achieve this, a cost-effective video distribution system with integrated video wall capabilities was required. Just Add Power met both qualifications, allowing us to deliver a state-of-the-art viewing experience that far exceeded our customer's expectations, at a cost that didn't break the bank."
Each video wall display featured a Just Add Power VBS-HDIP-508POE 3G receiver, while each source is outfitted with a VBS-HDIP-707POE 3G transmitter. On top of 4K resolutions, there is HDMI 2.0 devices with HDCP 2.2 and uncompressed lossless multi-channel audio formats including Dolby Atmos.
An integrated scaler on the receiver lets the user adjust any picture to the desired screen size and a Control4 touchscreen used as a remote control lets users change any display to any source when needed with just one touch.
"Given the size and resolution of today's displays, there's never been a better time to take in a live game in the comfort of your own home," Just Add Power sales team manager Taft Stricklin says.
"With the ability to view nine games at once and our Ultra HD over IP system for seamless source switching, this installation takes that experience to the nth degree and highlights the entertainment possibilities in today's luxury spaces."
Just Add Power is distributed by Avation in Australia and Midwich in New Zealand.