Jabra embraces UC at Integrate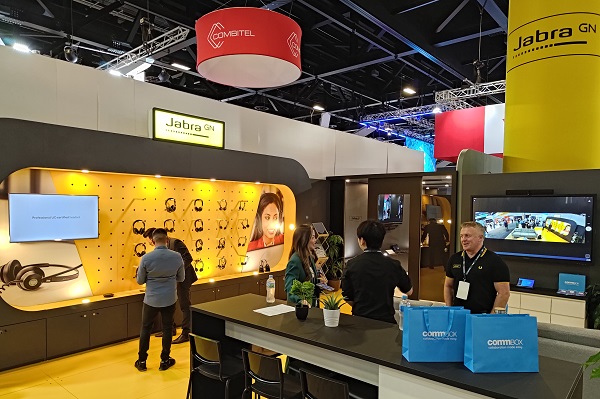 At first glance, Jabra's Integrate stand exhibited a wall of personal audio products. However, on closer inspection, we were given better insights into the company and the direction it was heading.
Nu Phan, ANZ sales director of collaboration solutions and business development, explained: "Jabra's really known for its audio content. We've been around for 150 years. We're part of a bigger organisation called GN and we're known for making professional audio products. But we're really tapping into that 'audio and video solutions' segment now so we're showing off the launch of our PanaCast 50 hero product which is a room kit developed in partnership with Lenovo."
The company also had a sound-isolated room for the purpose of demonstrating system.
PanaCast 50 came from the acquisition of Altair and was centered around a soundbar with four speakers and eight microphones. There were also two cameras: a 4K, panoramic, 180-degree, multi-lens unit which can intelligently stitch a whole meeting room together. Plus, a separate one for a whiteboard.
It displayed a 'dynamic composition' on the screen, which identified the focal points of conversation to ensure meeting equity. It also tagged recorded audio according to who was speaking. The latter technology is greatly enhanced by Jabra's celebrated algorithms which cut out residual echoes, static and background noise.
The platform has built-in analytics called Jabra Xpress which can count the number of people in a room and also display meeting histories. It can come with an optional remote control while a potentially-useful, seldom-seen feature is that it can work without a computer connection.
Ultimately, while there were many 'similar' UC systems on display, few offered such a low cost of entry, easy-to-implement and easy-to-scale solution.
ADVERTISEMENT

ADVERTISEMENT
ADVERTISEMENT

ADVERTISEMENT