ISE's Mike Blackman speaks on the shows widening appeal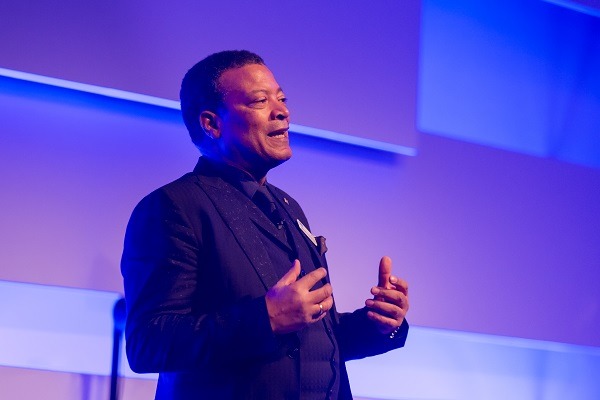 ISE 2020 will take place next February at the RAI Amsterdam, running over four days and will showcase everything the professional AV industry has to offer.
Spanning across 15 halls, ISE managing director, Mike Blackman says the event will eclipse last year's number of 81,000 visitors and feature more than 1,300 exhibitors as well as additional conferences and teaching sessions.
"Two important changes for this year are that the hall 5 extension has been made larger and permanent, while hall 14 will be the home of a new innovation zone – a specially designed area for companies that are new to ISE to showcase their technology," he says.
"The ISE Main Stage theatre will relocate to Hall 14, and will offer a full program of free-to-attend thought leadership and best practice sessions from ISE, AVIXA and CEDIA among others."
To help visitors make their way around the world's largest exhibition for AV and systems integration, ISE has split the exhibitors into six different technology zones: audio and live events, digital signage and DooH, education technology, residential, smart buildings and unified communications.
"One of the biggest challenges is ensuring that visitors can easily locate what they're looking for – and relevant exhibitors can easily be found," Mike explains.
There is also no shortage of learning sessions, conferences and professional development at the upcoming ISE show.
"All the conferences held at ISE 2019 will be back in 2020 – covering smart buildings, XR, digital signage, digital cinema, hospitality, visitor attractions, stadiums and pro audio, plus AVIXA's two What's Next… conferences, focusing on enterprise and higher education," Mike says.
"In addition, we have a couple of new ones – the Control Rooms Summit and the CEDIA Design & Build Conference. Like in 2019, many of the conferences will be held at the Hotel Okura, near the RAI, which proved very popular with our attendees.
"As well as its conferences, AVIXA is running 20-minute FlashTrack sessions on its stand. CEDIA has a four-day program of training sessions, beginning on the Monday with a workshop on cybersecurity, as well as hosting free CEDIA Talks on its stand."
The ISE tagline remains the same with 'learn, discover and be inspired' which speaks to the changing demographics of visitors to ISE with an increasing number of end-users visiting to see what's next in the AV and systems integration technology.
Mike spoke about how the ISE has welcomed this shift from just purely AV channel professionals and systems integrators to a mix of all those who visit now.
"Our exhibitors want to engage directly with them, as well as meeting their existing and prospective channel partners. Today, ISE has become as much of a 'must attend' event for end-users as it is for the channel," he says.
"End-users have told us they get enormous value not just from the opportunity to talk directly to manufacturers and to find out about the products and technologies that will shape their companies' AV strategy – but also to network and to learn from industry experts and their peers."
ISE 2020 will be the final event hosted at the RAI Amsterdam before ISE 2021 moves to Barcelona. The largest AV event has been in Amsterdam for over a decade but Mike believes it will be finishing on a high note with the biggest yet.
"The RAI has been a great venue for us for over a decade now, so of course, there's some sadness: I'll leave with many fond memories of our time there. It's served us very well, and has been part of our rapid growth to become the world's largest professional AV event."
To register to attend ISE 2020 for free, use our code 417919 when signing up.