ISE 2022: Kordz launches PRO3 HDMI cables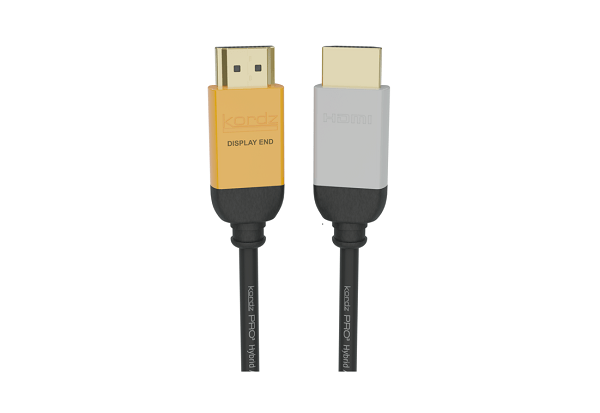 Kordz has launched range extensions to its popular professional grade PRO3 HDMI Passive Cable Range, with new long length active HDMI.
This ultra-reliable range of cables features 18Gbps 4K resolution performance support and uses active HDMI technology whilst remaining easy to install. The product of decades of experience, and manufactured with a focus on usability, the cables are suitable for professional grade installations requiring dependable high-quality signal distribution in HDR/3D/4K/UHD/High frame rates.
According to Kordz managing director, James Chen: "The Kordz PRO3 HDMI Cable range delivers on our commitment to 'Connectivity Assured'."
He adds: "With this cable, we wanted to simplify one-time HDMI installations and provide a high-quality solution that delivers on both performance and affordability, without sacrifice to materials and quality. HDMI cabling is a vital component of AV installs, and we are committed to ensuring that every product delivers on the high standards that integrators and end users have come to expect from Kordz."
Integrators will appreciate the cable's 1kg retention connector, which makes cable installation a one-time job and helps prevent the cable from becoming stuck or dislodged, leading to costly and time-consuming reconnection work.
Additionally, integration is simplified, as the cable doesn't require the additional power an extender would. With reinforced internals, the product offers superior flexibility and pull strength.
Kordz PRO3 Long Length Active HDMI cables feature a slim profile, with a high-quality shielded ABS connector shell measuring just 18mm wide and are available in a range of sizes to suit a variety of installations. The active copper cables are available in7.5/10/12.5m while the active optical cables are available in 10/15/20m.
The cable's 18Gbps certification from DPL Laboratories ensures that the product delivers on its performance promise with each cable individually performance tested prior to packaging.
Kordz spent the last two years engineering this range, using decades of combined integrator experience in HDMI cabling to create a product with exceptional design, material selection and manufacturing methodologies for professional dependability.
ADVERTISEMENT

ADVERTISEMENT
ADVERTISEMENT

ADVERTISEMENT