Intel encourages Unity at Integrate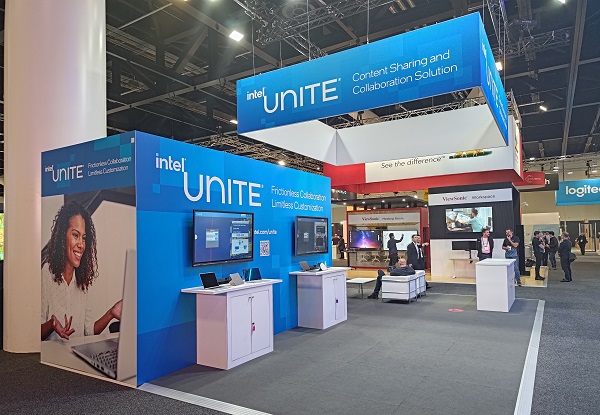 Intel's Integrate stand was all about promoting its Unity collaboration platform.
The whole premise is to create 'Frictionless Collaboration' and eradicate the pain of connecting different devices to different boardroom, classroom and meeting rooms' eclectic assortments of wires, dongles and adapters.
It enables participants using multiple platforms to securely join, share content and switch presenters in a meeting with a single click (or prod of a touchscreen). This might occur over a video conference (with all parties being remote), in a conference room (with potentially any brand of UC equipment) or a mixture of both.
An optional feature is the Telemetry plug-in which Intel states: "allows IT administrators to collect usage information about the Intel Unite application and the client devices connected to each Hub. The IT administrator will be able to view information such as the number of connections in each room, connections by day, average time used per connection, etc."
Other plugins include Skype for Business and Microsoft Outlook but anything can be added via an extensive Software Development Kit.
Centralised management enables hosts to choose which screen or which screens are shared at any one time to ensure that an audience's focus is in the right place. Compatibility with Intel vPro means that remote IT support can diagnose, manage and update devices from elsewhere.
ADVERTISEMENT

ADVERTISEMENT
ADVERTISEMENT

ADVERTISEMENT