Houses of worship and AV: a broad church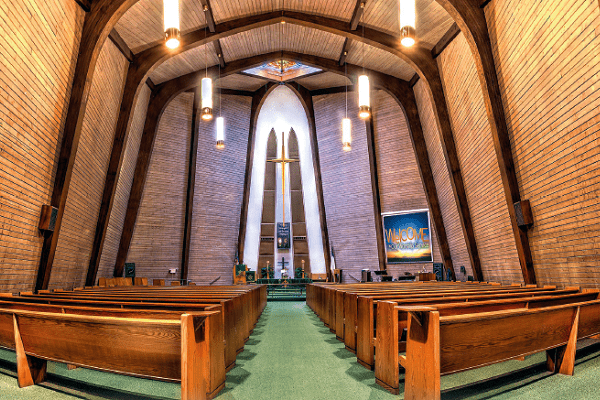 Churches, mosques, synagogues, temples… houses of worship and the needs of their parishioners vary widely, writes John O'Brien. The opportunity for custom AV solutions has never been greater.
AV technology is agnostic. It doesn't care what environment it finds itself in, it will perform its electronic wonders.
Increasingly, many Australians are also agnostic but there are still many more that practice their faith on a regular basis. They generally convene around a House of Worship (HoW) and the bigger the gathering, the greater the need for technological enhancement, even if only for speech articulation.
A good opportunity for an AV integrator is to find the right approach with these assemblies to form a partnership that benefits all parties.
Religious trends
According to the 2016 Census data, approximately 60% of Australians identify with a particular faith. This contrasts with about 75% in 1986, showing a slow decline in overall participation. The majority is still predominantly Christian but there is a steady rise in other religions such as Islam, Buddhism, etc.
Statistically, Christian attendance percentages seem to be declining but many are steady and overall numbers are growing. The burgeoning denominations are the Pentecostal churches, where great emphasis is placed on music and singing and the main outlier of these is Hillsong Ministries. This flock put tremendous amounts into AV production, to the point of running its own in-house audio engineering and stage management courses. Its budgets are concert-like and its conferences showcase the best technologies.
However, the bulk of Australian HoWs, regardless of denomination or sect, have much more moderate purses and requirements.
The other relevant demographic trends are around ageing. Steady or declining congregations tend to feature older participants. Growing congregations are attracting younger participants and recent immigrants. Comprehending this is helpful in understanding your clientele.
Broad trends for gear
All those older ears need help with hearing the services. The simple fix might just be upgrading some old column speakers to more contemporary versions. It might be installing an augmentation loop or getting some equalisation in the signal path. Your main brief could just be enhancing speech intelligibility in an acoustically difficult environment, however it's achieved. It's unlikely that the smaller congregations will either need or enjoy an extravagant concert PA and glittery light show but a growing and more youthful ministry might see the benefits.
Although most HoW installations and upgrades revolve around audio enhancement, a few use vision as a key component. From simple projection to cameras, vision mixers and video distribution backbones – there might be scope for video tech. A recent theme for some HoWs has been overlaying of lyrics and text onto a screen. Others also stream their services to the world, adding another layer of technology to the mix. WiFi connectivity to in-house apps, digital signage and strong web presence are also emerging trends. The younger congregations likely drive these transformations.
Online and print publications about AV in HoWs are mainly US-based, where the worship demographic is greatly different to that here. In America, a typical AV budget is equivalent to a very high-end one in Australia and they have many more venues than our country ever will.
There's also some very active user groups and forums on the web for church sound techs – worth looking into if you are interested in this sector.
Keeping it simple
All the cool toys in the world are no good if no-one knows how to operate them.
The younger, tech-savvy volunteers who make the weekend service look and sound amazing might not be around for the midweek gathering when running a
mic is all that's required. The AV system interface needs to be simple enough for most parishioners to operate but expand to allow the power users to get the best
out of it.
Digital audio consoles are a boon here, allowing pre-programming of settings and simple recall for regular events. Time spent on programming these functions
to be seamless is time well spent on not doing site visits. That said, there is still a case for using an analogue mixer that everyone already knows and keeping the
smarts in a downstream DSP. There's no one-size-fits-all solution here.
Relationships/trust/needs analysis
As with all business, forming a good relationship with your client is critical to getting the best fit.
When doing domestic AV, you have one family to contend with. In corporate, there is usually a consultant brief to abide by and assurances are mitigated with contracts. In the HoW sector however, the relationship maybe somewhat unique.
Here, you are dealing with multiple stakeholders who may or may not be the champions that you need to back the project to successful completion. Expending some effort in establishing trust will pay dividends. This will take time and patience. Listen to their wants and analyse their needs but be prepared for some to
and fro before finding the optimal solution.
Needs analysis should be a primary consideration in any AV proposal but none more so than with HoWs. What have they got? What do they want? What can they
afford? If there are younger members who've been wowed by Hillsong or similar, it can be tempting to overreach with all sorts of bling. Equally, if one of the key
players has been talking to their mate down the music shop and now thinks they know everything technical, it is difficult steering a proposal away from "must be
X-brand" to something more realistic.
By asking the right questions you can analyse user needs to find a clarity of purpose. What are they trying to do? Who are they trying to be? Are they 'keeping up
with the Joneses' or do they have a real need? Does what you propose fit into their broader ethic? Will it see them through another 10-20 years? Hopefully, you can present your queries to the right people in a sympathetic manner and get an understanding of the scope and needs.
The church buying schedule
Commercial and domestic AV consumers are often on the hunt for the next step up, so it's easier to get in the door. HoW upgrades can run at a different pace and
may happen in batches with long lulls in between – it's almost intergenerational.
With that in mind, it's worth planning long term with each stage but equally making each stage count. Sometimes it's worth walking away if they are not quite ready and coming back in a year or two. Stay patient and spend a little time getting to know the people involved. If the HoW is ready and willing to spend on new gear, they may already have a set amount in mind. Now that you have established trust, if you can mount a good enough case, extra budget may be found to take it to the next level. Here's where your efforts in building a bond with the key individuals might show reward.
HoWs are a slow ticking sector but a unique opportunity for the respectful and considerate AV contractor. It's well worth remembering that we are not America
nor SE Asia, so our budgets are modest in comparison.
Approached with personal modesty and due empathy, spending some time with these groups might be the start of a long relationship for you.