Home is where the smart is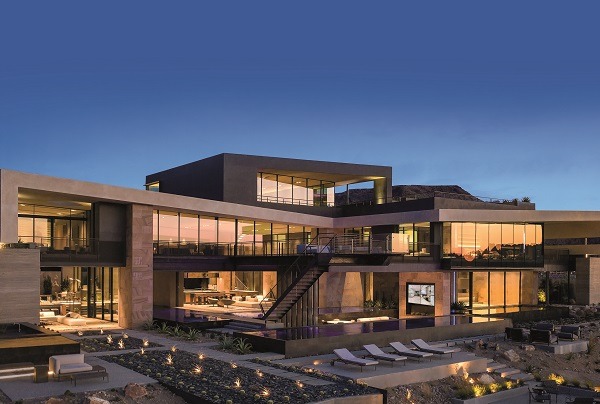 What do you get when you cross over US$1million of technology and 15,000 square feet of prime real estate? The answer is a showhouse like no other. Anna Hayes checks out Savant's Vegas Modern 001.
If you're of a certain age you'll remember (or possibly be reliving if you've got kids) the old Warner Bros cartoons where some of the Looney Tunes characters, Daffy or Bugs, stumble through the dessert and come upon… the notorious mirage.
Of course, it disappears as soon as they start slurping from the springs giving them nothing more than a mouthful of sand but for a brief moment, it was there.
There's nothing so brief about Savant's new showhouse. Nestled in the Nevada desert, it might seem like a mirage to anyone seeing it from a distance, but it's very real and it's possibly the most complete showroom you are ever going to see.
Viva Las Vegas
I've never been but it seems to me, from the outside, that if somewhere is going to do something bigger and better, it's going to be in Sin City.
It seems most appropriate then that Savant's behemoth showhouse, Vegas Modern 001, keeps the city firmly in its eyeline.
Built by Las Vegas-based design-led development firm Blue Heron, the 15,000ft² home features over US $1million worth of the latest technology, all hidden in plain sight and installed by integration firm, Eagle Sentry.
Savant's specification development director in the US, Aaron Gutin, says that this was a forward-thinking project by Blue Heron, offering the opportunity for Savant to be involved in the house conceptually right from the start.
"Blue Heron creates homes for the luxury buyer, and they know that many of these clients want the luxury, convenience, security and efficiency of a modern smart home."
The project would give Savant the ability to share a true Savant smart living experience with dealers and their clients in an elegantly appointed residential space.
"Conceptually, this provided Savant with an opportunity to create the most advanced smart living experience ever conceived, including a power management solution that works seamlessly within the Savant smart home ecosystem."
This is not Savant's first foray into showhouses – the company also provides an east-coast offering in the New York Experience Centre. But a loft apartment in Manhattan presents a very different reality to an expansive residence in the desert.
"With Vegas Modern 001 (VM 001), we have the ability to immerse prospective clients in the Savant smart living experience. We can hold various events in the home for targeted demographics, and we can also provide training support for our internal teams and dealers who can see the technology in action as they may have never seen it before," Aaron explains.
Let there be light
While Savant is an all-round smart home provider, there is a certain element of pièce de resistance about its lighting solution. Here, the award-winning smart lighting system is paired with the latest in tunable LED lighting and specification-grade fixtures from USAI Lighting.
It's a design that manages to complement both the wealth of technology placed in the building – hundreds of fixtures were provided by USAI – and also the biophilic design brought to the table by Blue Heron.
Biophilia (a topic that was explored by Sean Carroll in Connected #1 2020) is a concept that, according to Aaron, has seen cautious interest and uptake in the USA:
"The design of VM 001 was focused on taking advantages of the stunning natural light inside the space and blending it with tunable LEDs that work with Savant's Daylight Mode, which mimics the circadian cycle of each day from sunrise to sunset."
This involved installing 381 USAI Lighting Infinite Colour+ fixtures, 70 USAI classic white specification-grade fixtures, along with over 700ft of LED tunable white and WRGB LED strips.
"The result is a lighting presentation that seamlessly blends the outdoor ambience with the interior during the day, with access to limitless personalised Savant Scenes for specific tasks or events," Aaron adds.
In addition, every room also features motorised shades, designed in partnership with JGeiger.
There's also a range of control and user interface options including Savant's Pro Remote X2, touch panels or the mobile app.
Let me entertain you
The house boasts 43 different entertainment zones which, on top of the lighting, helps you to understand how the technology costs racked up to over a million dollars.
The company deployed fifteen 4K video sources distributed to 17 rooms, and an audio system featuring 43 zones of high-resolution digital music powered by over 19,000W of crystal-clear amplification, all elegantly fitted to the home without impeding décor.
All of Savant's capabilities are on display here, from audio and video-over-IP solutions to smart multi-zone amplifiers with streaming access, architectural loudspeakers, soundbars, subwoofers and more.
Aaron says the home will benefit from the company's continued evolution of its smart home ecosystem through regular software updates delivering new features and functionality.
People have the power
For various reasons – aging infrastructure, weather volatility, and global warming to name just a few – the team at Savant believes that energy management will become a very vital aspect of the modern home and it was certainly made to be a focal point of VM 001.
Aaron says: "All of these factors are driving significant investment into more resilient and sustainable power solutions. People want reliable power in their homes."
VM 001 features the largest residential solar array in the region, a fully automated power panel, as well as Savant Power's (formerly Racepoint Energy) microgrid technology. The Savant app tracks daily energy production as well as usage with a full history log by load type. These solutions, paired with the solar infrastructure, can keep the house operating under normal conditions for up to eight hours, or nearly 24 hours if only essential devices are active.
Aaron points out: "Savant Power brings a robust and scalable software platform to manage distributed energy resources such as solar and storage plus Savant's unique approach to flexible load management that uses breaker companion modules, delivering both reporting and control of each circuit.
"By reimagining the concept of smart energy through an advanced automated platform, Savant Power brings to market the key components needed to achieve a smart living experience as well as a modernised energy infrastructure."