HDMI, part 3: Connectors and price
In the third part of this series on HDMI, we examine connectivity issues and discover some home truths about HDMI pricing.
Many factors affect the price of a cable. One of these is gold plating which, as with many other forms of AV connector, is common. But does it give it better performance?
Well, the simple answer is no.
"Gold is a fascinating metal, as it does not corrode – ever," says Kordz director David Meyer.
Kordz – an Australian manufacturer of audio, video and digital cables and accessories – is the only Australian-based licensed adopter of the HDMI format that specialises in cables.
"You only have to look at the perfectly preserved gold death mask of Pharaoh Tutankhamen to see this.
"However, gold is not a particularly good conductor, so it will definitely not improve performance. But it will protect the connector from corrosion."
David says a standard nickel-plated connector – the matt grey or silver-coloured connectors you may see on some cheaper gear – is the common alternative to gold-plated. But such connectors may be susceptible to corrosion over time, as would bare brass, copper or silver.
Gold offers protection, ensuring consistent performance for many years.
"Never assume gold-plated products are superior," David says.
"A manufacturer may simply choose to spend a little extra on gold plating or, more commonly, cheaper gold flashing, to make it look more expensive.
"Don't buy based only on the presence of gold-plating but rather on real performance. If this is too hard to determine, perhaps brand reputation should be the basis."
So what factors differentiate connectors?
"A limited number of specialist HDMI connector manufacturers supply cable producers, and the consistency in quality is actually quite good.
"Due to tolerance variation in the HDMI specification, there may be a little difference in how tight-fitting the connectors are in application, with a tighter fit being preferred. Otherwise they are all similar on the outside.
"The biggest difference between connectors is under the shell, where you can't see it. It's in the termination with the cable, in the join called the 'transition'. This is one of the greatest sources of cable-induced jitter.
"Maintaining the integrity of the cable's twisted pairs right up to this transition, then controlling the way in which it is soldered onto the connector, vastly affects total bandwidth potential.
"Connectors don't vary much in manufacturing cost, but there can be some significant differences in cost with raw cable construction and termination method."
The price of cables is a contentious point for many users, installers and manufacturers, but it needs to be tackled. Is an expensive cable better than a cheaper one?
"This is the one question that is truly difficult to answer diplomatically," David says.
"Like many things, you can't judge what is best by how much it costs. It's easy to make an expensive cable but not so easy to make a good one.
"Comparing the price of two different-level cables in the same brand will help to determine how they rate, but you can't compare apples with apples between two brands.
"In the market there's a high point and a low point. Somewhere in the middle is usually the best value, but that's up to the individual to gauge.
"A 10m cable that just meets the minimum standard realistically shouldn't set you back more than $100. But if you're going that distance you should really be questioning the integrity of the brand – its certifications and its relationship with HDMI (ie: is it legitimate?)."
The question of cost has also piqued the interest of consumer watchdog agency Choice, which has conducted an inquiry into the cost structure of HDMI in a bid to dispel the confusion and unrest that surrounds the format.
Four panellists 'tested' cables from leading manufacturers – Belkin, Monster, Concord, Phillips, Panasonic, Sony and Audioquest – in different environments and applications.
"An HDMI cable of the same length and specification sells for anything from about $30 to more than $300, depending on the make and model," the report says.
"Our testing found no statistically significant variations in score either for picture or sound."
Although the results were slightly in favour of the more expensive brand for greater lengths, the report indicated the differences were not enough to conclude that any brand delivers a significantly better result.
But how reliable are these tests?
"Choice has taken an unscientific approach to HDMI testing," David says.
"The tests were based on subjective opinions of whether the viewer could see the difference. But the report is not completely wrong; it just doesn't allow for subtleties and higher-end gear.
"Picture quality is determined by so much more than the HDMI cable. In a typical Blu-ray/HDTV set-up the Blu-ray's power supply, laser, HDMI transmitter, joiners, extenders, and the display's HDMI receiver and image processing abilities all play a part in picture quality.
"After all, if it was just a matter of 'ones and zeroes' then all Blu-ray players would perform equally – and clearly they don't."
"However, if you can't see the difference then I agree it's unjustifiable to spend the extra cash. The spend on cable should remain proportional to the system to which it's being connected, as has always been the case.
"Admittedly the difference in performance between the minimum spec and a high-end cable is a smaller margin than it was with previous analogue formats like component video. But there is still a difference.
"Seek out higher-end options when you go for a higher-end system."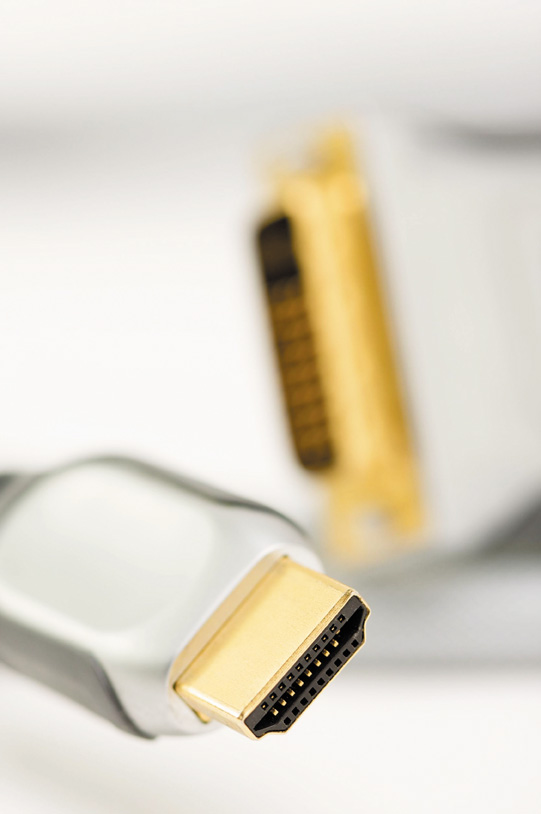 The Choice report also questions the marketing practices of the brands tested.
"In an effort to justify such exorbitant prices, performance claims on the packaging attempt to make the purchaser feel better about the investment," it says.
"One company claims its product eliminates digital-to-analogue conversion between your video source and display for the most accurate high-definition picture.
"In other words, it's an HDMI cable that does what it's designed to do."
David also urges people to be wary of misleading marketing spiels, particularly relating to the cable's sheathing.
"Cables with a fancy outer braided sheathing may claim some additional benefit, but such a sleeve is most commonly made from polyethylene terephthalate, or PET – the same stuff as the retail blister pack.
"Realistically, it's there for improved looks. It has no effect on the cable's performance and does not improve flexibility or reduce vibration, as some may claim.
"It's like dressing up in a tuxedo and saying you are a better person for it. A pretty cable doesn't imply superiority.
"There's nothing wrong with making it look better, as long as it is clear that's the only purpose. It is what's inside that counts."
David says it would be nice to think the format could just stay put, but that probably won't happen unless the technology does the same.
"HDMI is a constantly evolving technology. If it had stayed with version 1.1 we would all be using 2003 technology, and it wouldn't support 1080p or HD audio, etc.
"HDMI has allowed everything else to progress. It's a bit like computers – there are always upgrades.
"The good part about HDMI is the policy that the format will always be backward compatible. You can never guarantee forward compatibility with anything, but you can guarantee backward compatibility if you are truly trying to be consumer friendly – and HDMI is.
"If an older HDMI device is added to the mix, the system simply dumbs itself down to accommodate it."
Overall, as HDMI becomes more prevalent there will be no going back to component, composite or S-video. HDMI is here to stay.